The new Dyle website was unveiled on Wednesday, showcasing a cleaner, more product-focused design. The real gem of the new site is the rotating carousel on the homepage. This allows us to highlight specific markets and individual stations, as well as new devices, various creative promos and featured programming. Take a look at the carousel piece below welcoming our friends at CBS4 in Miami to the Dyle family of stations.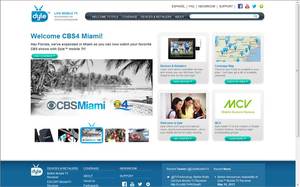 In addition to aesthetic updates, the site is easier to navigate with cross page links throughout the site and a site map in the footer. There's also a dedicated mobile site that optimizes the mobile user experience. With a large portion of our users coming to dyle.tv via mobile devices, we knew we had to get it right. Go ahead... check it out!
Important: We'd love to promote your station and your market on the new website. Send us your station logo art, iconic city images and any promo pieces you may have created, and we'll get them into the rotation.