FOR IMMEDIATE RELEASE
February 10, 2015
Media contact: Ruth Lednicer, 734-668-8397 ext. 46 or rlednicer@michtheater.org

Michigan Theater hosts February 15 special screening of "Still Alice"
featuring post film panel discussion

Ann Arbor, MI – The Michigan Theater will host a special screening of the new film STILL ALICE on Sunday, February 15 at 3 PM, featuring a post-film panel discussion and Q & A with representatives of the Alzheimer's Association and the UM Geriatrics Center Silver Clubs, as well as a UM Professor of Neurology. The event is open to the public and tickets are available at the Michigan Theater box office.

The film stars Oscar nominee Julianne Moore as linguistics professor Alice Howland, who finds her family bonds tested when she is diagnosed with early-onset Alzheimer's disease. Her struggle to stay connected to who she once was is frightening, heartbreaking, inspiring – and real. According to the Alzheimer's Association, of the more than 5 million Americans with Alzheimer's, up to 5 percent have early-onset and women are at the epicenter of the Alzheimer's epidemic. Almost two-thirds of American seniors living with Alzheimer's disease are women, and women in their 60s are about two times more likely to develop Alzheimer's disease in the rest of their lives than they are to develop breast cancer.

"In hosting this special screening and discussion, we hope to offer our patrons more than just a moving film, but also help to answer questions they may have about Alzheimer's and introduce them to the many local resources available to assist anyone grappling with this disease," said Michigan Theater Executive Director Russ Collins.

Following the film, Jennifer Howard, Executive Director of the Alzheimer's Association Michigan Great Lakes Chapter, Kathy Tobey of the UM Geriatrics Silver Club programs, and Dr. Nancy Barbas, of the Michigan Alzheimer's Disease Center
and Associate Professor of Neurology at
UofM, will discuss memory loss and Alzheimer's and the resources available for anyone affected by the disease, both patient and family. The audience will also hear from Barbara Cumming, a local resident and member of the Elderberry Club for women with memory loss, about her personal experiences.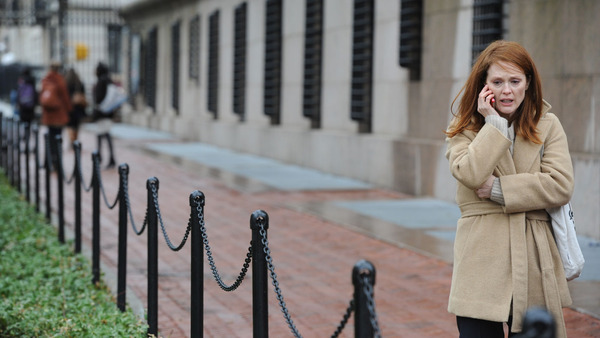 About the Michigan Theater: Now celebrating its 88th year, the Michigan Theater is Ann Arbor's award-winning non-profit historic center for fine film and performing arts. The Michigan Theater welcomes more than 250,000 visitors each year to its art house films, concerts, lectures, live theater, and special programs such as Sundance Film Festival USA and Cinetopia International Film Festival. The Michigan Theater also owns and operates the historic State Theater located just up the street at 233 State Street. The Michigan Theater is located in downtown Ann Arbor at 603 East Liberty Street. Visit michtheater.org or call the 24-hour information line at (734) 668-TIME for schedule and ticket information.

About UM Geriatrics Center Silver Club Programs: Since 1998, Silver Club Programs have been providing meaningful and engaging activities for families in our community living with dementia. We provide a safe, nurturing environment for older adults with memory loss or other cognitive changes. We strive to improve the memory, motivation, mood and overall well-being of our members.

About the Alzheimer's Association: The Alzheimer's Association is the world's leading voluntary health organization in Alzheimer's research, care and support. Our mission is to eliminate Alzheimer's disease through the advancement of research; to provide and enhance care and support for all affected; and to reduce the risk of dementia through the promotion of brain health. alz.org | 800.272.3900

---
---
Michigan Theater
603 East Liberty Street
Ann Arbor, Michigan 48104
US


Read the VerticalResponse marketing policy.