Dear Queer Humboldt Subscriber,
Welcome to the latest edition of Queer Humboldt's Newsletter.
Queer Humboldt is a non-profit organization dedicated to providing resources for the queer community.
We provide a website to list local events, resources, groups, links, visitor information, news and a photo gallery that will benefit the queer community and it's supporters.

Join our e-newsletter list with over 750 Humboldt subscribers and growing!
Click to view this email in a browser
---

Where's Queer Bill Presents "I See A Glow" Dance Party at Nocturnum, Saturday, May 5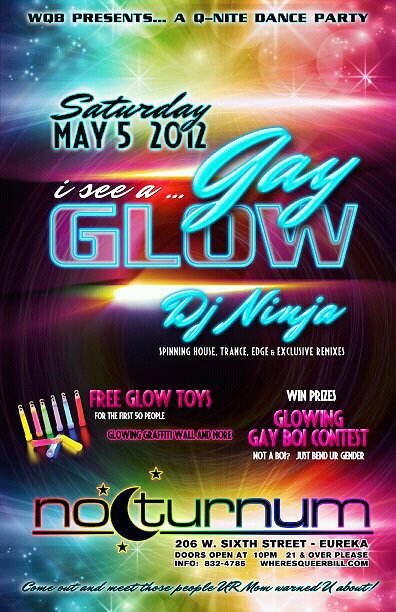 WOW are you ready for the GAY GLOW Party on Cinco De Mayo. (Saturday). We will have Glow Stuff for the first 50 Gays (Disclaimer: yes if your not Gay you too can get some glow stuff, but you must be one of the first 50 to enter the door).
Doors open at 10pm. Come on by after the Superhero's Queer dance, If your 21 and older. DJ Ninja has some awesome remixes that are off the hook. And you can win some fabulous prizes by entering the GAY GLOW BOI Contest (Disclaimer: no you don't have to be a Gay boi to enter contest. Open to all humans).
Nocturnum Nightclub. 206 West 6th street in Eureka will be glowing Saturday night!

HINT: Scan the QR Code and get a deep discount at the door!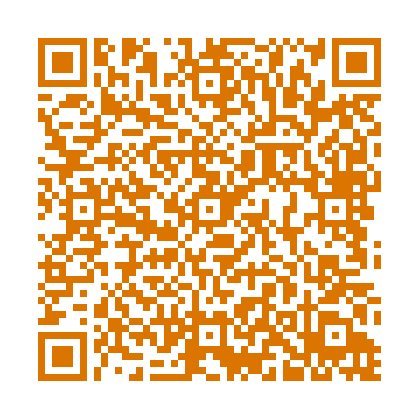 ---
Q-Grad at Humboldt State University, Saturday, May 5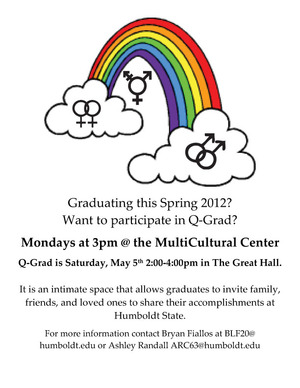 2:30pm to 4:30pm in the Great Hall at HSU
Q-Grad is an intimate space that allows graduates to invite family, friends, and loved ones to share their accomplishments here at Humboldt State! Light refreshments will be served If you are also graduating this semester and would like to participate in Q-Grad send Bryan Fiallos an email at BLF20@humboldt.edu or Ashley Randall at ARC63@humboldt.edu















---

Queer Prom 3: Superheroes, Saturday, May 5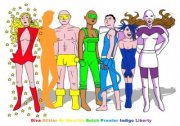 The RAVEN Project is hosting our third Queer Prom. It will be in the main room of the Eureka Veterans Memorial Building (in the past, it has been on the bottom floor).
Dress up for the best Queer Superhero costume contest!
This event is strictly ages 21 and under. No drugs or alcohol. This is a FREE event. (Collecting donations at the door.)
This event will be chaperoned by the Eureka Sisters of Perpetual Indulgence! Eureka Veterans Memorial Building 1020 H St, Eureka

---
Humboldt County Department of Health and Human Services & The Mental Health Services Act present "Voices That Heal", Sunday, May 6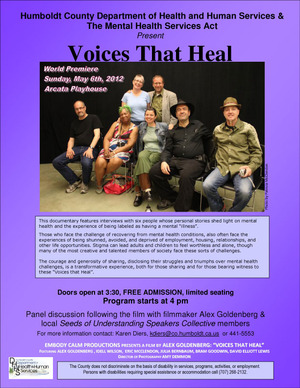 This documentary features interviews with six people whose personal stories shed light on mental health and the experience of being labeled as having a mental "illness". Those who face the challenge of recovering from mental health conditions, also often face the experiences of being shunned, avoided, and deprived of employment, housing, relationships, and other life opportunities. Stigma can lead adults and children to feel worthless and alone, though many of the most creative and talented members of society face these sorts of challenges. The courage and generosity of sharing, disclosing their struggles and triumphs over mental health challenges, is a transformative experience, both for those sharing and for those bearing witness to these "Voices that Heal".
Doors open at 3:30, FREE ADMISSION, limited seating Program starts at 4 pm Panel discussion following the film with filmmaker Alex Goldenberg & local Seeds of Understanding Speakers Collective members For more information contact: Karen Diers, kdiers@co.humboldt.ca.us or (707)441-5553
---
The Humboldt Impropriety Society presents their first 18+ Social, Saturday, May 19


The Impropriety Society is thrilled to announce our first 18+ Society Social! We invite you to join us on May 19th 2012 from 8PM to2AM for "May I Have Another?"; a BDSM-oriented event complete with a large dungeon space and Dungeon Monitors who will help create a safe space for you to explore your most erotic and kinky fantasies…but wait, there's more!

We will start off the day offering an introduction to BDSM Society Salon that will provide excellent information, opportunities for open dialogue, chances to connect with other kinksters before the play event, and time to practice some fundamental principles and techniques. Details of this Salon are listed below (including the fact that there will be kinky vendors selling product!), and best of all, there is a discounted price if you attend the workshops and play event! As always, costumes and sexy clothing are never required but always encouraged. For this 18+ BDSM-oriented event, there is no alcohol permitted on the premises and intoxication is highly discouraged.

Tickets for the May I Have Another? event are $20 and are available at Good Relations in Eureka or online at www.humboldtimps.com. This is a 18+ event, ID required. Please read the Guidelines and Waiver as there have been recent changes to this document: http://www.humboldtimps.com/waiver.html

**BDSM 101 ~ A Society Salon**

We will begin this day of kinky delights with the BDSM 101 Society Salon. The first portion of the salon will include presentations and demonstrations by community members on practical BDSM topics such as bondage, sensation play, negotiation, safety considerations, aftercare, etc., with opportunity for questions and discussion. The second portion will be a presentation by author Deborah Addington and leather craftsman Lawrence L'Varado on the deeper psychological, emotional and sacred potentials of BDSM practice and D/s relationships with opportunity for Q&A.

The Salon is an 18+ event. It will take place from 11:30 a.m. to 3:30 p.m. at the Eureka Women's Club (1531 J Street, Eureka). Doors will open at 11:30. Presentations begin at 12:00. Kinky vendors will be selling their wares from 11:30-12:00 and 3:00-3:30.

Salon tickets are $10 at the door and only $5 if you show us a ticket or Paypal receipt for the May I Have Another? Social or are a Social volunteer!
---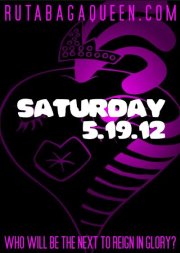 The Grand Kinetic Championship Rutabaga Ball, Saturday, May 19
The Kinetic Grand Championship Rutabaga Ball
Doors open at 7:00 PM ~ $10 or $7 with your own cup.
A three round pageant to choose who will reign gloriously over this year's Kinetic Grand Championship. Run for Queen, or come watch the kooky competition. Rock out to musical guests: Eyes Anonymous.
At the Portugese Hall, 1185 11th St, Arcata
www.rutabagaqueen.org







---

Humboldt County Public Health Recommends Pet Rabies Vaccination Clinics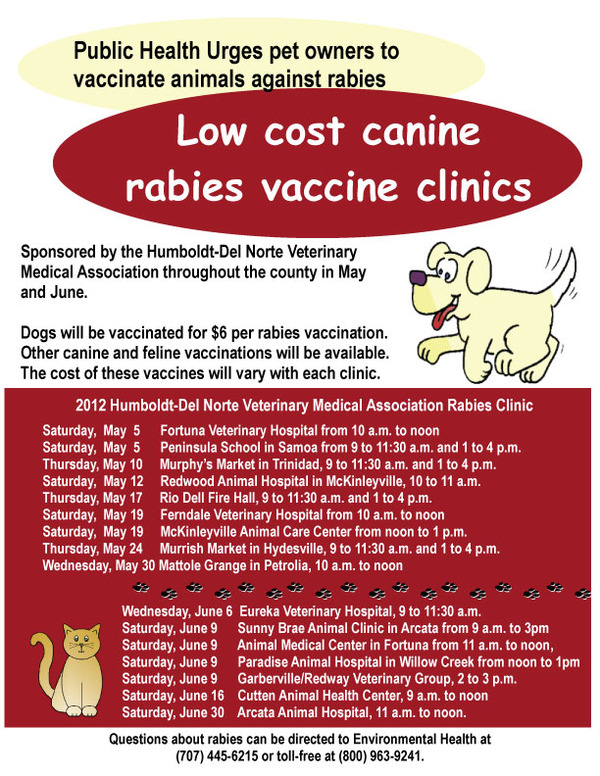 ---


Gay Tuesday Dinners hosted by Where's Queer Bill Presents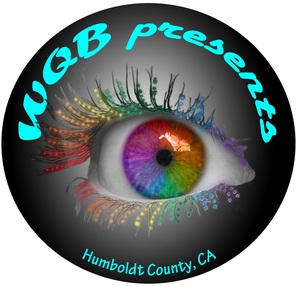 Every Tuesday, 6pm at La Chaparitta, 4th and R in Eureka
Join the LGBT Community to our weekly Tuesday dinners at La Chaparrita. We meet at the tables in the back. It is a night to mingle, chat and meet new friends. Everyone and all ages are welcome to attend.







---
Humboldt Pride: Now Accepting Participants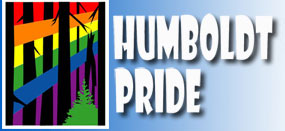 Humboldt Pride is scheduled for Saturday, September 8th at Halvorsen Park. Our theme this year is: 20 Actions for 2012, celebrating our 20th year!
If you know anyone who would like to be involved through sponsorship, volunteering, vendors, entertainers etc, please feel free to reach out to us at info@humboldtpride.org or calling (707)223-2591.
ALSO - we are working on a calendar of events for a WEEK of PRIDE the week prior to 9/8! We would love to have some other organizations help with this by putting on events. If you are interested in doing this and have some ideas of what you would like to do - let us know! We will help promote the event via the Pride poster and website.
We are discussing ideas like a skate night, movie night... but we can't do it all! Please contact us if you want your group to take part.
Thanks so much!
Anthea
Humboldt Pride
anthea@humboldtpride.org

---
Out In The Redwoods Archived Humboldt TV Shows
Check out these great shows put on locally for our community:
http://archive.org/search.php?query=Out%20in%20the%20Redwoods

---
Queer News:

Ousted Ohio Lesbian Scout Leader: 'Surprised, Amazed & Humbled' by Support

Billy Graham Backs NC Anti-Gay Marriage Amendment (so much for Billy Graham!)

Calif. Man Sues: 'BMW Bike Gave Me 20-Month Erection'

Gay aide's resignation shakes Romney campaign

Colorado civil unions bill clears a hurdle--could be 9th state to offer partnership rights

Is Philadelphia the most gay-friendly city in America?
---
Classifieds:

Roommates Needed:
I'm looking to fill my spot in a 6 bedroom, 3 bathroom house in Blue Lake. You would have your choice of 3 bedrooms upstairs. Beside your main bedroom, you would have full access to the other 2 empty rooms and the full bath. It's like having your own apartment... Downstairs is where the other 3 roommates bedrooms are located along with an additional common full bath. There is a large living room, kitchen, full laundry, dining area, fenced backyard with deck, and a very large detached garage. It's a very nice house and 3 friendly roommates who are all in their early twenties and working as professionals. All of which are queer... 2 females, 1 male. So you would have to be queer friendly. I don't have a set move out date which means I can work with what YOU need. Either ASAP or on the 1st... whatever. Two dogs currently live here so no more dogs. But a cat is more than welcome. It's $450 a month, plus split utilities including pg&e, water, internet, and dish. Works out to about $50 a month. There is a deposit and an extra $300 pet deposit. The house is located within walking distance of the casino, downtown, and the river. Email me with any questions or to set up a time to view the home at watercaged@hotmail.com.

McKinleyville Nice Home For Rent: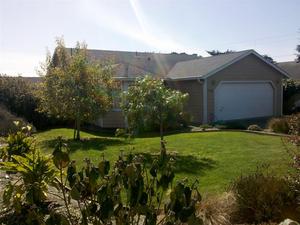 Mckinleyville 3 bedroom/2 bath newer home with landscaped front yard and large fenced back yard with lawn and fruit trees. Available now. Located near School Road and Washington.
Wood stove, refrigerator with ice maker, built in microwave, dishwasher, garbage disposal.
2 car garage with remote garage door, wired alarm system and central heating. Remote ceiling fan in living room.
Washer & Drier hookups in laundry room for both gas and electric. Garbage, yard and front and back lawn care included in rent.
Tile in kitchen and dining room with bay windows. Plush carpet throughout. Tile in kitchen and dining room. $1,475/month, lease, $2,000 security deposit. Pets okay upon approval. No smoking/no growing 707.839.5205 leave a message.


Attention Queer Humboldt Subscribers: Submit your community classified ads to info@queerhumboldt.org.
---
---
Donations
Queer Humboldt is a qualified non profit 501(c)3 organization that relies upon donations for our community website and events. All tax deductible donations are greatly appreciated. Queer Humboldt has raised over $53,000 to give to local charities over the past six years! If you'd like to help contribute to our ongoing efforts, we welcome contributions by credit card.
Help Support Queer Humboldt With A Donation