Hi Terri,
The CoolMom team is excited to begin the new year by welcoming our new program director, Ms. Sonja Nash Murray. With 15 years of experience working with non-profits, Sonja (also known as "Nash") brings a background of grassroots organizing and fundraising to our organization. She has a five year old, lives with her family in Seattle and considers herself lucky to be able to to walk and bus to almost everything she needs.
Sonja has a long history of organizing on behalf of the environment. Her passion began in college and cemented into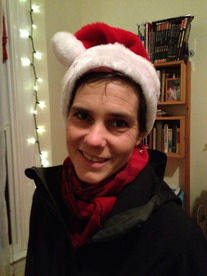 a life-long path in response to the Exxon Valdez oil spill. Since then, she has moved to Seattle, worked on environmental campaigns, and advocated as well as fundraised to fight for change. Since the birth of her son, Sonja has come to believe that climate change is the most important issue facing us. She finds CoolMom's practical approach to global climate change particularly powerful. She is excited to meet the people involved and work to expand the programs and impact of our organization.
Please join us in welcoming Sonja! And read on for information about energy audits (and staying toasty) this winter.
We hope you and your family have a very happy New Year!
The CoolMom Team
From the CoolMom blog: CoolMom's Kimberly Christensen had her home's energy use audited. She gives CoolMoms everywhere the inside scoop.
Two years ago, I signed up to be part of a pilot program through which our family received a home energy audit. Through a super-cool process that involved blowing a giant fan in the doorway, inspecting appliances and light bulbs, and poking around in the attic to look at the insulation, our auditor discovered several things that we could do to make our home more comfortable and to increase our energy savings. He sent us a very snazzy report that included descriptions of the problem, the fix and the savings (both in energy and dollars).
Every couple of months following the audit, a researcher called me to see if we had made any of the recommended changes. And every month I reported to her with chagrin that we had not done a single thing. We had not even installed a balloon in the chimney to prevent drafts: a $40 fix that required no construction skills at all!
The last time the researcher called, it was to discern the barriers that I was encountering in making the changes and to get some ideas of what I needed in order to maximize my energy audit. I knew exactly what I needed: a referral to a reliable contractor who could provide me with an estimate and who was well-versed in home weatherization and other energy-saving types of construction.
Additionally, I needed more information about the simpler fixes like the chimney balloon. After failing to find chimney balloons at my local hardware stores, I had done an online search. Only to discover that there was a dizzying array of chimney balloons sizes and styles. Clear or black? Round or rectangular? Small, medium or large? Did it matter? I had no idea. And so the balloon was never purchased. There was sibling bickering to mediate and dinner to make and various other details of life that ranked higher on the immediate priority list.
Apparently I wasn't the only person to give this feedback to the researcher, because now the home energy audit process for Seattleites is new and improved! And it includes Community Power Works, a partner of the City of Seattle that specializes in helping home and business owners identify areas where they can save energy and then actually implement the ideas.
Community Power Works will help home owners who have already had an energy audit performed (like me) or people that need an energy audit. By working with Community Power Works, the energy audit costs $95, instead of the normal $400.
Once the audit is complete, Community Power Works automatically sends out a contractor to bid on your project AND they connect you with their affordable loan program in case you need help financing your project. Since windows and oil furnaces are commonly needed upgrades, it is terrific to have access to low interest loans. They will also hook you up with significant CPW rebates and other utility incentives that might apply to your energy-saving project.
Along the way, I've learned a few fun facts that I know other families will want to make the most of:
Fun Fact #1: When I started this whole process, I was thinking exclusively of energy and money savings and not about the connection between home efficiency and children's health. It turns out that crawl spaces and attics are notorious for spewing dirty air into a home. Cut off the air pathways that flow through those spaces, and voila!, cleaner air.
Fun Fact #2: Across all building sectors, Community Power Works projects have already reduced 48,000 metric tons of greenhouse gases, the equivalent of taking 7,700 cars off the road for an entire year. Yippee!
Fun Fact #3: Community Power Works for Home participants are achieving an average of 27 percent energy savings, with some homeowners saving more than 50 percent! That can add up to at least $2000 of savings in CPW rebates.
Fun Fact #4: Seattle is one of 25 communities that have received funding through the US Department of Energy's BetterBuilding grant program. Seattle's inclusion in this project means that we get to invest federal funds in local infrastructures like our own homes, while helping build green jobs. And at the end, we get to enjoy a comfortable, snug home. Win-win-win!