Click to view this email in a browser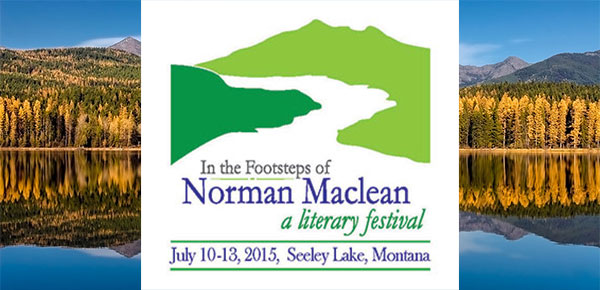 A River Runs Through It
Co-Producers to speak at Film Screening at Missoula's Top Hat Lounge


Thursday June 25, 6:30 pm - Free!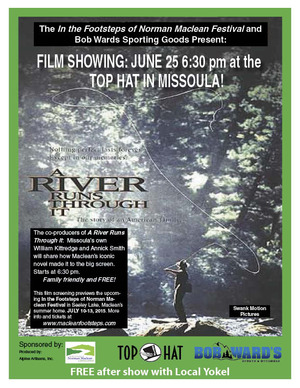 Annick Smith and William Kittredge, co-producers of Robert Redford's A River Runs Through It will be the featured speakers at a screening of the film on Thursday, June 25, 2015 at Missoula's Top Hat Lounge. These celebrated writers will give us the inside scoop on how Norman Maclean's iconic novel made it to the big screen in 1992, telling stories from their collaboration with Maclean
prior to the screening. Smith and Kittredge researched and worked with Norman Maclean for several years to develop an initial screenplay for this popular film and are well-known as the editors of The Last Best Place (1990), an anthology of some of the greatest stories and storytellers of the American West. This screening is the first event in the upcoming In the Footsteps of Norman Maclean Festival to be held in Seeley Lake, MT from July 10-13. This film screening is sponsored by Bob Wards' Sports & Outdoors, the Top Hat Lounge and Alpine Artisans.
Governor Steve Bullock will open the inaugural In the Footsteps of Norman Maclean Festival the morning of July 11 at the Double Arrow Resort in Seeley Lake. The Festival will feature keynote speaker and National Book Award Winner Pete Dexter who will share his experiences with Norman Maclean in the early 1980's. Alpine Artisans, a local arts organization, is convening an unprecedented gathering of family, friends, scholars and smokejumper friends of Norman Maclean to honor and celebrate his works.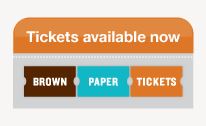 Purchase tickets on-line >>