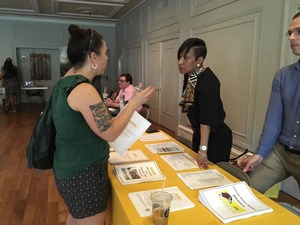 Philadelphia Family Pride was proud to present a School Fair for LGBTQ Communities (and Allies!) on Saturday, April 29th from 12-2pm at the William Way LGBT Center in Philadelphia.

This event featured representatives from 18 public and private schools that cover all ages and grades as well as information on homeschooling, plus a representative from the Children's Scholarship Fund Philadelphia.
This free event was well attended and intended for LGBTQ parents, prospective parents, LGBTQ kids and youth as well as allies.
Click here for a photo album of the event.
We published an accompanying school fair booklet that we handed out in print at the event and is also now available for download as a PDF here. The booklet includes a list of participating schools and a spreadsheet showing each school's LGBTQ-related policies, trainings, etc. We'll have more copies available at the upcoming Philly Pride Festival on June 18th.
Many thanks to our community partners the William Way LGBT Community Center and Equality Pennsylvania and media partner Philadelphia Gay News for supporting this event.
Also present was PFP friend Rachelle Smith and her Speaking OUT! Queer Youth in Focus photography book.
Thank you to schools that registered and supported our event. Public schools indicated by italics. Bolded schools were able to sponsor the fair.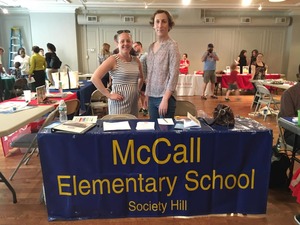 Abington Friends - 3 years old - 12th grade
Children's Community School - 18 months through 5 years old
Crefeld School - 7th - 12th grade
Friends' Central School - Nursery - 12th grade
Friends Select School - PreK - 12th grade
George School - 9th - 12th grade
Germantown Friends School - K - 12th grade
Greene Street Friends School - PreK to 8th grade
J.S. Jenks Academy of Arts & Sciences - K - 8th grade
Lansdowne Friends - PreK - 6th grade
McCall Elementary & Middle School - K - 8th grade
Media-Providence Friends School - 3 year olds - 8th grade
Meredith School - K-8th grade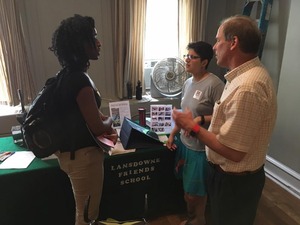 Miquon School - Ages 3-12, Nursery through 6th grade
The Philadelphia School - PreK - 8th grade
Philly Free School - Ages 4-19
Plymouth Meeting Friends School - PreK - 6th grade
Powel Elementary School - K - 4th grade
Springside Chestnut Hill Academy - Single-sex PreK–8, Coed 9–12
Stratford Friends School - K-8th
Thanks again to everyone who made this event possible!