FEBRUARY 2015
New "Maybe Baby" Support Group Launched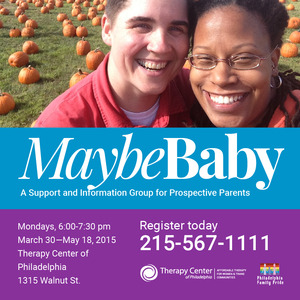 Therapy Center of Philadelphia, in partnership with Philadelphia Family Pride, is launching a new eight-week information and support group for LGB women and transgender communities considering parenthood. It starts March 30 and will run weekly on Monday nights through May 18.

A similar group for cisgender gay and bisexual men is in the works for another location in the fall.

"Starting a family as a queer or trans* person can be overwhelming and scary. The Maybe Baby group will help members learn about resources, share experiences, and support the process as they move along their journey into parenthood. TCP is thrilled to finally be able to offer a group like this in Philadelphia" said Alison Gerig, TCP's Executive Director.

Maybe Baby offers an eight-week support group experience that will provide information from legal, financial, and medical experts, as well as emotional, social and community support. Members will come out with a sense of their options, how to navigate the process as a queer or trans* person, and connection with others on a similar journey.

Meetings will take place on Monday evenings from 6-7:30pm at the Therapy Center of Philadelphia office at 1315 Walnut Street from March 30 to May 18. The group will be co-facilitated by Monique Walker, PhD, MFT and Julie Lipson, MA, MT-BC.

Cost for participation for the full eight weeks is $240/couple ($120/individual) for Philadelphia Family Pride members or $320/couple ($160/individual) for non-PFP members. Those prospective parents not already PFP members can join for $25 for the year on our web site www.phillyfamilypride.org.

To register or for more information contact the Therapy Center of Philadelphia at 215-567-1111.
PFP at Crayola Experience!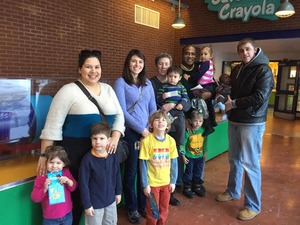 Philly Family Pride's LGBTQ-parented families had a great time on Saturday, February 15 at the Crayola Factory in Easton, PA.

Four families met at the Crayola Experience and spent the day making wax drip spin art, watching a show about how crayons are made and making fun creations out of model magic.

Despite the range in kids ages there was something fun for everyone. The group ate lunch together in the cafeteria mid-day.
PFP Conference Planning Committee Needs You!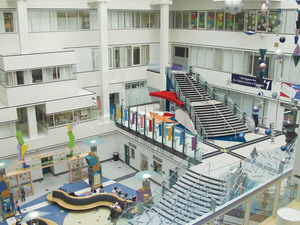 This year's PFP Family Matters Conference (our sixth annual!) is going to be our BEST EVER! It is slated to be held on October 17, 2015 at the Children's Hospital of Philadelphia (CHOP) in their beautiful conference facilities. (Atrium pictured at right.)

Being a part of the planning committee means attending a few scattered meetings throughout the spring and summer, maybe a Skype call or two, and then a few more detail-oriented meetings in the fall. It also means attending the conference itself and having an awesome time.

But, most importantly, it means having a big say in what goes on at this event. Be part of deciding the theme, choosing the keynote, selecting workshops, reaching out to vendors, and deciding on the lunch and breakfast menu.

The committee is forming now. Don't miss out on this opportunity to get in on the ground level of this amazing event. If you're interested, contact PFP Executive Director Stephanie Haynes at stephanie@phillyfamilypride.org.
Member Milestones

On February 5, longtime founding members of PFP Marla Gold and Deb Brady celebrated their 30th anniversary. Congratulations!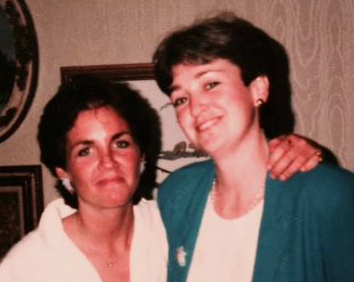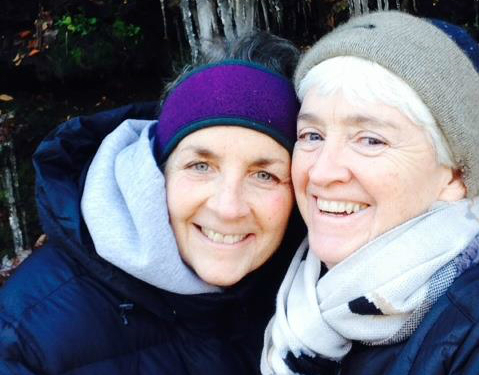 Former PFP members and now Florida residents Chrissy Pomroy and Shannan Currier will celebrate their fifth wedding anniversary on March 13th. Their twin girls will turn 3 on March 9th. Happy Anniversary and Birthdays!

David D'Amico and Brad Kushner will celebrate their son Noah's 1st birthday on March 27th. Happy Birthday Noah and happy one year of parenthood to David and Brad!
If you have a milestone you'd like included in next month's newsletter, please reply to this message with the details and a photo. Thanks!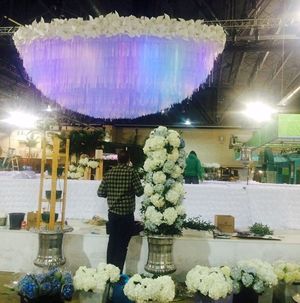 Wednesday, March 4: Smith Playhouse is the place for another meetup of parents with kids 5 and under at 10am. This is our regular first Wednesday meetup at Smith.

March 6: Check out the Philadelphia Flower Show with other PFP families on Friday, March 6 at 5pm. This year's theme is based on Disney and Pixar movies! (Photo, right, is this year's Flower Show being set up!)

March 7-8: Neighborhood potlucks are back with a set of get-togethers in and around Philadelphia this weekend. Locations include Queen Village, Camden, Wyncote, Doylestown and West Philly.

March 21: Monthly Saturday get-together at Smith Playhouse (or playground if it's warm enough!) This group is for LGBT parents and kids 5 and under.

Wednesday, April 8: Come out on a weeknight and see David Sedaris with PFP at the Keswick Theater. We have four tickets left, so act now. The show is sure to sell out. As always, parents nights out are also for prospective parents!

Sunday, April 12: Dads and Pops Potluck in Perkasie, PA (say that five times fast!) at the home of Bryan and John.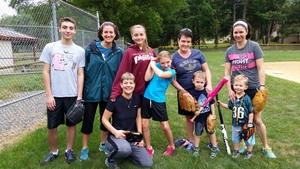 Sunday, April 19: PFP trip to Sky Zone for big kids. Save the date - details TBA.

Sunday, April 26: Play softball with PFP in Elkins Park. This is a pickup game. RSVP for field address with number and ages of players to kelly@phillyfamilypride.org.

Saturday, May 2: PFP goes hiking in the Wissahickon Gorge! Meet at Valley Green Inn at 10am.
Saturday-Sunday, May 9-10: PFP returns to Great Wolf Lodge! Stay tuned for details and discount code. This trip is for PFP members only, so renew your membership for 2015 if you haven't already!

New Board Member Profile: Greg Girdy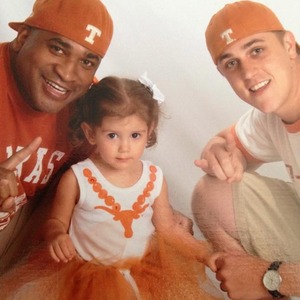 Meet PFP's new board member Gregory Girdy (pictured left) and his husband Paul Yorgey.

Greg and Paul were married March 19, 2014, and have been together 11 years. The couple has three children: Shane is 4 1/2; Bella is 4 and Xander is 3 months old. They live in South Philadelphia.

(Pictured with the couple is daughter Bella. The other two kids' adoptions have not been finalized.)

Greg was born and raised in Victoria, Texas and attended the University of Texas. He moved north to attend law school at Widener University in Wilmington, Delware and is a litagator currently doing compliance work.

As you can see from their family photo, Greg is a self-described "huge" University of Texas Longhorns fan and has had football season tickets for over 17 years.
Greg is also the president of the Philadelphia Chapter of the University of Texas Alumni Assocation (Texas Exes) and is a very active liberal Democrat in city politics.


Paul was born and raised in Plymouth Meeting, PA. "Paul's family is a mirror image of the "Silverline Playbook" family when it comes to loving the Eagles," Greg said, "therefore, we are also Eagles fans."

They love to go out to eat, watch football, travel and love PFP's family outings -- especially meeting other diverse families.

"I found out about PFP on the Internet when I was searching for gay-friendly family social events. Paul and I think it is very important to surround ourselves with other LGBT-parented families to normalize our family for our kids," Greg added.

As a PFP board member, Greg would love to educate the world (or at least Philly) that there are very diverse loving LGBT families out there who also share the same joys and pains as families with straight parents.

Greg can be reached at gregory@phillyfamilypride.org.

Philadelphia Family Pride
2015 Board of Directors

Robin Matthews, Chair

Sandra Telep, Vice-Chair

Andreah Sanders, Treasurer

Gregory Girdy, Secretary

Bryan Berchok, Education and Advocacy Committee Chair

Kelly Durand, Fundraising Committee Chair

Tracy Smith, Membership Committee Chair

Yoel Solis, Youth Programming Committee Chair

Sandy Gilardi, Member-at-large
Suggestions for what else we should include in our newsletter? Want to sponsor our next issue?