Winter Wonderland Brunch a Hit
New Board Elected for 2019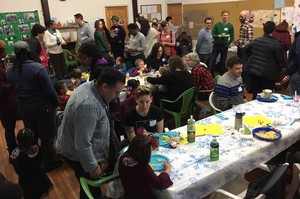 Philadelphia Family Pride held our annual meeting and New Year's party on Saturday, January 5th from 11am-2pm at the Children's Community School in West Philly.

There was a big crowd in attendance! Families enjoyed winter-themed games and activities and yummy food by Caterer Chef Ariq Barrett. Thanks to the parents who helped speed up the line with their top-notch organizing skills.

Thanks also to those in attendance who bought items in our silent auction. We were able to raise over $1,000 which covered the cost for the event and more. Additional thanks to those who also renewed their family's membership with PFP for the year. If you haven't renewed for 2019, please support our efforts with a "pay what you can" membership on our web site.

The brunch also served as our annual membership meeting where we voted in our 2019 Board of Directors. New members are indicated with an asterisk.*

Adam Podowitz-Thomas, Chair
Nijah Newton-Famous, Vice-Chair
Ruby Augustus, Secretary
Greg Yorgey-Girdy, Treasurer

Leigh Braden, Education & Advocacy Committee Chair
Terinae Holland, Membership Committee Chair
Gina Cline, Event Planning Comittee Chair
Tariem Burroughs, Fundraising Comittee Chair

Members-at-large:

April Alexander*
Jadzia Axelrod*
Angel Brice
Chloe Harris
Lori Keslowitz*
Becca Levin*
Hunter McCorkel*
Jessica Tayler*

The first board meeting of the year was held on January 26th, so the ball is rolling on several new ideas for the new year including new energy behind redesigning our logo. If you'd like to volunteer to get more involved in any of the committees listed above and/or our conference planning committee, please email Stephanie Haynes at stephanie@phillyfamilypride.org.
Visit the Adventure Aquarium with PFP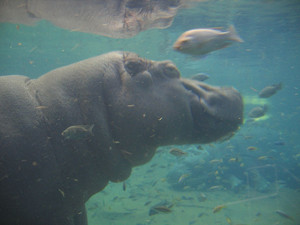 Join Philly Family Pride families at the Adventure Aquarium in Camden, NJ on Saturday, February 16th at 10:30am and visit the sharks, hippos, rays and penguins.

Meet in the lobby at 10:30am and then for a group lunch at 12:00pm in the cafe. Feel free to bring your own lunch or buy it there.

Get your tickets here. Choose the ticket price at the above link for Adults (13+) or Children (2-12) that best fits in your budget. Regular ticket prices are $30 for adults and $22 for children. Babies and toddlers under 2 are free. As with all of our events, prospective and expectant LGBTQ parents are welcome to attend.

Note that parking is an additional $10 per car, unless you are member of the Adventure Aquarium, in which case it's discounted to $5.
If you are already a member of the aquarium and get free admission, please meet the group in the lobby at 10:30am, but RSVP by replying to this email so we know to look for you. If you can bring in additional people free on your membership, post in the Facebook event to connect to others who could use the help. Thanks!
PFP Co-founders Marla Gold (right) and Debra Brady (left) celebrated their 34th anniversary on February 5th, pictured here with kids Casey (27) and Katie (15)! Congratulations!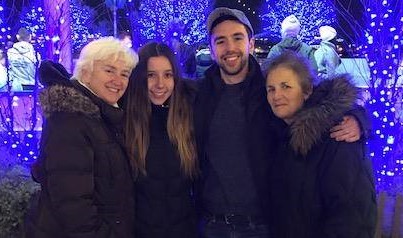 Congratulations also to PFP board member Tariem Burroughs (center), his husband Nick Wood and their kid Finn on Finn's adoption being finalized on February 5th! Read more about Tariem, Nick and Finn in this Philly.com article.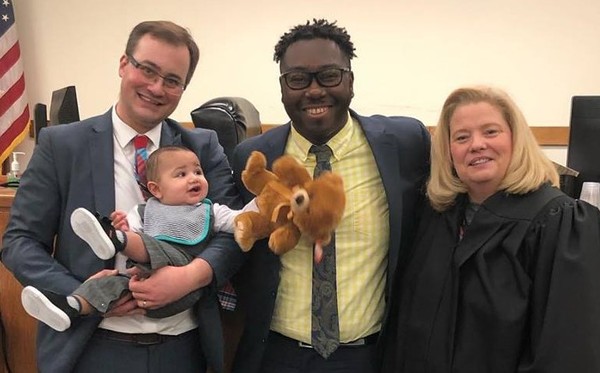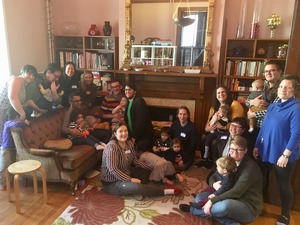 Saturday, February 16th: Join PFP families at the Adventure Aquarium in Camden, NJ. More info and tickets.

Sunday, March 3rd: Another fun Potluck for Parents of Young Children will meet again, this time at the home of Lea and Lauren in West Philly. More info and RSVP details.

More events to be announced soon, including:

- Foster Parent Information Sessions
- Neighborhood Potlucks
- Maybe Baby classes for prospective parents
- Pride Picnic in June

Take Action with Family Equality Council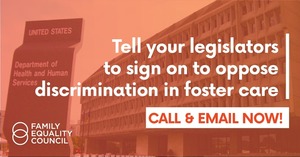 Take action to oppose the horrific waiver the Trump administration issued to South Carolina last month, so that taxpayer-funded faith-based foster care and adoption agencies can continue to turn qualified Jewish foster parents away – as well as other qualified applicants who don't pass the agency's religious litmus test.
Take action by contacting your Representative to tell them: Sign on to end foster care and adoption discrimination.
Three LGBTQ members of Congress – Rep. Katie Hill (CA-25), Rep. Sean Patrick Maloney (NY-18) and Rep. Angie Craig (MN-2) – are asking their colleagues in Congress to sign a letter to the U.S. Department of Health and Human Services (HHS) demanding that HHS "stop this despicable taxpayer-funded discrimination and uphold the essential nondiscrimination protections that ensure that every child has a loving home."
Please contact your Representative and urge them to sign on to the letter and tell HHS: stop sanctioning discrimination!


Philadelphia Family Pride
2019 Board of Directors

Adam Podowitz-Thomas, Chair

Nijah Newton-Famous, Vice-Chair

Ruby Augustus, Secretary

Greg Yorgey-Girdy, Treasurer

Leigh Braden, Education and Advocacy Committee Chair

Gina Cline, Event Planning Committee Chair

Tariem Burroughs, Fundraising Committee Chair

Terinae Holland, Membership Committee Chair
Members-at-Large: April Alexander, Jadzia Axelrod, Angel Brice, Chloe Harris, Lori Keslowitz, Becca Levin, Hunter McCorkel and Jessica Tayler.
Suggestions for what else we should include in our newsletter? Want to sponsor our next issue?