The 9th Annual PFP Family Matters Conference will take place at the University of the Sciences in West Philadelphia on Saturday, October 6, 2018 from 9am-3pm. Registration is now open!
This year's keynote speaker will be Naomi Washington-Leapheart. Her talk is entitled, "Queer Parenting as Revolutionary Spiritual Practice." She'll touch on what keeps us whole, alive, and grounded in this political climate, and what it means to survive – and how survival is an act of resistance. Read her bio.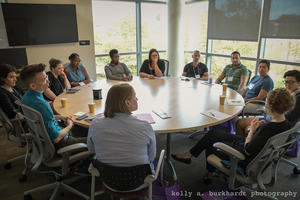 There are also 14 workshops and panels planned for LGBTQ parents and prospective parents. (Photo of last year's conference by Kelly Burkhardt)

- LGBTQ Baby Making Options
- Limiting Screen Time for Your Family
- Trans and Genderqueer Parent Conversation Hour
- Legal Challenges to Our Families
- Maintaining Intimacy for LGBTQ Parents
- Finding and Maintaining Safe Spaces for Our Families
- Domestic Adoption Options
- Talking to Kids About Sexuality and Gender
- Getting Your Legal Ducks in a Row
- Self Care for Single Parents
- Political Advocacy for the LGBTQ Parent
- Becoming a Foster Parent
- Donor Sibling Registry
- Queerspawn in the Family: A LGBTQ+ Parent and Queerspawn Dialogue

Free chair massage will be provided as well as a drawing for a free night at a local hotel. We also have four passes for Disney World that we will auction off to the highest bidder. (This will be a silent auction at the registration table.)

The cost this year is a "pay what you can" sliding scale from $1 to $50 per adult. The fee includes child care, lunch, and parking. Kids of all ages attend free of charge.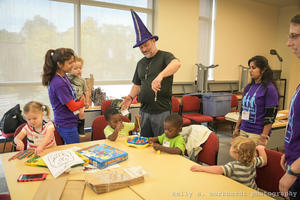 On site child care for those 0-6 years old will be provided by the staff from St. Mary's Nursery again this year. COLAGE will be on hand with programming for kids 7-14 years old. (Photo by Kelly Burkhardt)

Many thanks to our sponsors (so far) for this year's event. Our conference would not be possible without their support.
PREMIER
American Reading Company
Fairfax Cryobank
Main Line Fertility
Reproductive Medicine Associates of Philadelphia
PLATINUM
Children's Hospital of Philadelphia
Germantown Friends School
St. Mary's Nursery School
GOLD
Dennis Debiak, PsyD Licensed Psychologist
Donor Sibling Registry
Fairmount Pediatrics
Jerner & Palmer, PC
Turning Points for Children
SILVER
A Baby Step Adoption
Advocare Society Hill Pediatrics
ACLU of Pennsylvania
Creative Business Accounting & Tax Service
Family Equality Council
Modern Eye
Springside Chestnut Hill Academy
Thom Duffy Massage Therapist LLC
BRONZE
Gay Parent Magazine
Hornstein, Platt and Associates Counseling and Wellness Centers
Open Arms Adoption Network
Philadelphia Midwife Collective
Redfin
Refuge Midwifery
Tabernacle United Church
Want to sponsor the conference this year? Go here to fill out a form to sponsor and to pay for your support.

Please help us spread the word about the event through our Facebook event.

District Court Grants PFP's Motion to Intervene in Fulton v. City of Philadelphia
After the city of Philadelphia learned in March 2018 that two of its foster care providers would not license same-sex couples to be foster parents, the city ceased referring children to these agencies. Catholic Social Services ("CSS") and four of its foster parents, represented by counsel from the Becket Fund for Religious Liberty, sued the City of Philadelphia asking the court to order the city to renew the agency's contract. CSS argued that its right to free exercise of religion and free speech entitled it to reject qualified same-sex couples because they were same-sex couples, rather than for any reason related to their qualifications to care for children.
On June 8, 2018, the ACLU and the ACLU of Pennsylvania filed a motion to intervene in the lawsuit on behalf of the Support Center for Child Advocates, a nonprofit that represents and advocates for children in the foster care system, and Philadelphia Family Pride, a nonprofit membership organization of LGBTQ+ people and their families, whose members include same-sex foster parents and prospective foster parents. The motion to intervene argued that Child Advocates and PFP and the people they serve would be harmed by a ruling in favor of CSS, and asked the court to allow them to participate in the litigation as defendants in order to protect their interests. The district court granted that motion to intervene on August 14, 2018. Read more on the ACLUPA.org web site.

Biggest Foster Parent Recruitment Event Yet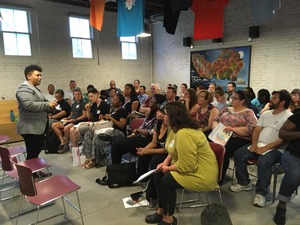 On August 16, 2018, PFP held the largest foster parent recruitment event yet at the Penn LGBT Center in conjunction with the Philadelphia Department of Human Services and the Mayor's Commission for LGBT Affairs.

Over 50 prospective parents packed the room to hear from DHS about the requirements and process for becoming a resource parent, and then held a lively discussion with a panel of LGBTQ foster parents and a former foster youth. Thanks to all who supported and participated in this event!

The next foster parent recruitment session will be part of our conference on October 6, followed by another informational event the last week of October.

Event photo by Stephanie Haynes