MARCH 2015
PFP Spring Neighborhood Potlucks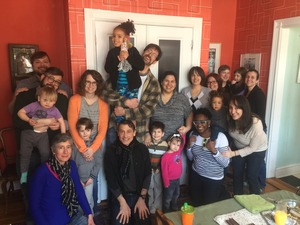 Philly Family Pride families made connections at four PFP neighborhood potlucks the weekend of March 7-8 in and around Philly.

In West Philly on Saturday, families gathered at the home of Ray and Joel and enjoyed quiche, sticky buns and mimosas.

The kids had fun building with blocks and playing with wooden trains and tracks, while the parents got to know each other.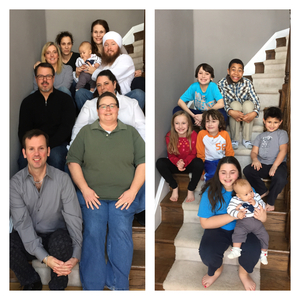 Also on Saturday, families met up at the home of Renee and Dow in Doylestown. Much delicious food was shared and new friends made - both adults and kids!

They decided to take an adults and baby photo and a kids photo separately. What a bunch of cuties!

On Sunday, folks met up at the home of Andrew and Lee in Wyncote.

Prospective
parents soaked up helpful information, newer members and PFP veterans got to know each other, and they all met someone who lives nearby.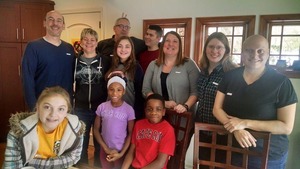 Meanwhile, the kids played ping pong, blocks and hide-and-seek with their new friends. Everyone enjoyed the delicious brunch food.
Finally, several families got together at the home of Amy and Mary Ann in Queen Village for delicious casseroles and running up and down the long hall.

(The adults ate the casserole; the kids ran up and down the hall.)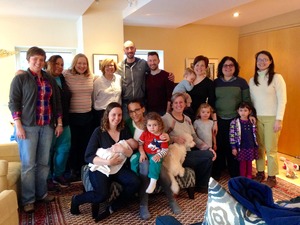 Thanks again to everyone who hosted and attended. Our next round of neighborhood potlucks will be in the fall.

Check the Upcoming Events below for details on a Dads and Pops Potluck in Perkasie on April 12.

If you'd like to host a gathering at your home, please e-mail PFP Director Stephanie Haynes at stephanie@phillyfamilypride.org.
PFP at SkyZone this Thursday April 2nd!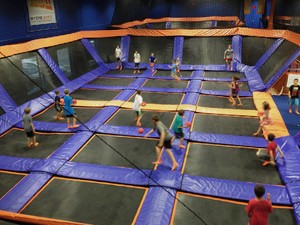 This Thursday, April 2, meet up with PFP families and kids (about) 10 and up for a trip to SkyZone in Levittown from 6-7pm.

They only let kids jump together who are roughly the same size, thus the age suggestion.

Arrive at 5:30pm to get ready and sign waivers.

We have a private dodgeball court and access to the rest of the place including the foam pit, sky slam/basketball and open jump.

The price is $18 per jumper. The cost will go down if we get more than 20 people to participate.

RSVP on Facebook, invite your friends and let Tracy know you're going at tracy@phillyfamilypride.org.
First meeting of Conference Planning Committee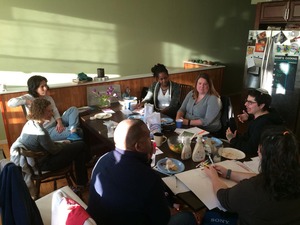 The first meeting of this year's Conference Planning Committee was held at Vice-Chair Sandra Telep's house in West Philly on Sunday, March 22.

The group brainstormed ideas for this year's theme, keynote speakers and programming. Stay tuned for more on this as well as a request for proposals survey coming out in a few weeks.
PFP Director Stephanie Haynes has also met with the directors of Camp Highlight who will be working with us to provide programming for kids 8 and up.

This year's Family Matters Conference will take place on Saturday, October 17 at the Children's Hospital of Philadelphia main hospital conference facility.

The next planning meeting will take place on Sunday April 19th from 5-7pm. Location TBD. Reply to this email if you are interested in participating!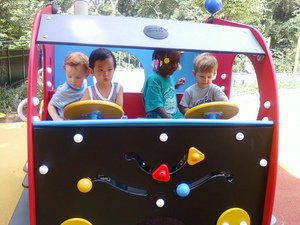 Wednesday, April 1: Meetup with other parents and kids at Smith Playhouse. Weather permitting we'll meet this week on the tot lot outside!

Thursday, April 2: Kids ages 10 and up at SkyZone-Levittown! See article above for details.

Wednesday, April 8: Come out on a weeknight and see David Sedaris with PFP at the Keswick Theater. SOLD OUT!

Sunday, April 12: Dads and Pops Potluck in Perkasie, PA (say that five times fast!) at the home of Bryan and John.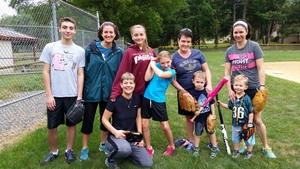 Sunday, April 26: Play softball with PFP in Elkins Park. This is a pickup game. RSVP for field address with number and ages of players to kelly@phillyfamilypride.org.

Saturday, May 2: PFP goes hiking in the Wissahickon Gorge! Meet at Valley Green Inn at 10am.
Saturday-Sunday, May 9-10: PFP returns to Great Wolf Lodge! E-mail andreah@phillyfamilypride.org for the discount code. This trip is for PFP members only, so renew your membership for 2015 if you haven't already!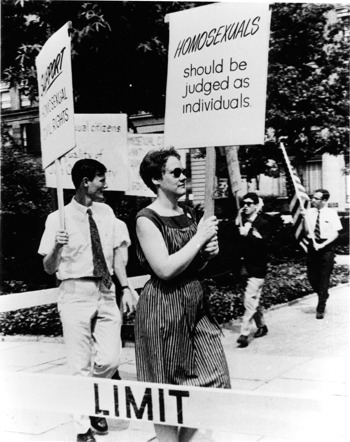 Save these dates:

Sunday, June 14: Ride the PFP trolley and visit the family zone at Philly Pride!

Sunday, July 5: Annual Reminders Block Party to celebrate the 50th anniversary of LGBT rights demonstrations in Philadelphia.

Saturday, October 17: PFP's annual Family Matters Conference at Children's Hospital of Philadelphia.

New Board Member Profile: Sandy Gilardi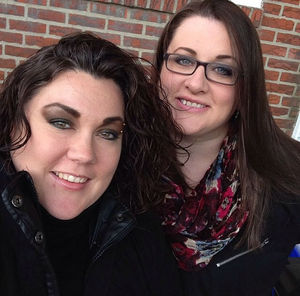 Meet PFP's new board member Sandy Gilardi (pictured right) and her fianc

é

e Denise.
Sandy and Denise live in Northeast Philadelphia. They have been together for four and a half years and got engaged in December 2014. The couple are currently planning a February 2016 wedding. They even recently started taking dance lessons to get ready!

These women are do-it-yourselfers! Since moving in together, they have changed almost every room in their house: finished the basement, painted, and knocked down a wall. Sounds like they always have a project going.

When they're not fixing up their house, Sandy and Denise like to try different restaurants in the city, go to concerts and shows, and spend long weekends travelling.

Sandy works for a mortgage subservicing company in Ewing, NJ in the payroll department. She previously worked eight years in Accounts Payable. Denise is a freelance court reporter for an agency in Philadelphia.
They got involved with PFP after stopping by our table at OutFest last year.

"We had just started the process of trying to get pregnant a few months before. The annual conference was a few weeks later, so we attended and were very impressed with the information we received. It was perfect timing! I've had a desire to volunteer and get involved in the community for quite some time, and an open board position was the perfect opportunity," Sandy said.

"It's important to us that our future children know other families like theirs. We understand that although we have made many advances in the last few years, it may not always be easy for our kids to have two moms. We want them to have a positive, supportive place where they can experience the normalcy of having a diverse family," Sandy added.

As a board member, Sandy would love to get more prospective parents involved in PFP. "Going through the process of becoming a parent is a constant learning process. Denise and I learn something new every day. I think prospective parents can benefit from PFP's resources and support from other members," she said.

Sandy can be reached at
sandy@phillyfamilypride.org
.

Philadelphia Family Pride
2015 Board of Directors

Robin Matthews, Chair

Sandra Telep, Vice-Chair

Andreah Sanders, Treasurer

Gregory Girdy, Secretary

Bryan Berchok, Education and Advocacy Committee Chair

Kelly Durand, Fundraising Committee Chair

Tracy Smith, Membership Committee Chair

Yoel Solis, Youth Programming Committee Chair

Sandy Gilardi, Member-at-large
Suggestions for what else we should include in our newsletter? Want to sponsor our next issue?