Message from the FNLM Leadership
Dear Colleague:
Many thanks for your continued support of the Friends of the National Library of Medicine (FNLM). Your contributions allow us to promote and advocate on behalf of the National Library of Medicine (NLM), the largest biomedical library in the world. The NLM is truly a treasure – an institution that researchers, clinicians, and patients around the globe rely on for up-to-date information on diseases, conditions, medicines, treatment options, and healthy living – all available on-line, 24 hours a day.
Our Fall 2016 Issue of AmongFriends reports on many of this year's highlights. First and foremost please know how very pleased the FNLM are to have welcomed the new NLM Director, Dr. Patricia F. Brennan, at her swearing-in ceremony. Please be sure to check out the NLM In Focus Article.
Dr. Brennan Publicly Sworn in as NLM Director

On September 12, Patricia Flatley Brennan, RN, PhD, raised her right hand and was publicly sworn in as Director of the 180-year-old U.S. National Library of Medicine. She is the first woman and first nurse appointed as Director.
In a ceremony at NLM's Lister Hill building, Dr. Brennan became the 19th Director of the Library and the fourth person to serve as Director since the institution became the US National Library of Medicine 60 years ago.
2016 Annual Awards Gala held on September 13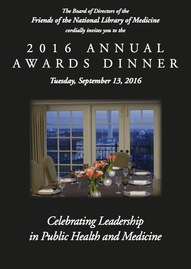 Awards Given:
Paul G. Rogers Public Service Award
Distinguished Health Communications Award
Michael E. DeBakey Library Services Outreach Award
Nursing Informatics Award
2016 Portrait Unveiling of Former NLM Director Dr. Lindberg
On February 10, 2016 the National Library of Medicine was the scene of a very moving unveiling ceremony for a portrait of former NLM Director Dr. Donald AB Lindberg and his wife, Mary. Dr. Lindberg retired in 2015 after over 30 years of service as NLM Director. During his tenure, Dr. and Mrs. Lindberg were a much-admired duo, always closely involved with the people and activities of the Library.
Virginia artist Bradley Stevens, one of America's leading realist painters and a noted portraitist, captured on canvas the special charm of this beloved couple. Commissioned and sponsored by the FNLM, this beautiful portrait now hangs prominently at NLM.
For more, check out the NLM In Focus Article.
2016 FNLM-NLM-R!A Annual Conference: Best Practices of Biomedical Research: Improving Reproducibility and Transparency of Preclinical Research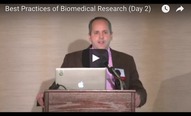 The Conference generated very good press:
Nature - Muddle Meanings Hamper Efforts to Fix Reproducibility Crisis
STAT - Califf's Big Idea: Build a Database for Research Done Before Clinical Trials
Report on Research Compliance - "'Reforming Science' Movement Begins to Take Hold; Call for Changes at All Levels
Video of the Conference is available at www.fnlm.org
Topics Covered
The challenge of reproducibility
Due diligence in acquiring science
Ethics and institutional responsibility
Open science and data sharing
Scientific rigor and open science
Best strategies for reproducible research
Best practices of reproducible research
Some Featured Speakers Included
Robert Califf, MD, Commissioner, U.S. Food and Drug Administration
John Ioannidis, MD, Professor of Medicine and Health Research and Policy, Stanford University
Christopher Austin, MD, Director, National Center for Advancing Translational Sciences
Atul Butte, MD, PhD, Director, Institute for Computational Health Sciences, University of California, San Francisco
Glen P. Campbell, Chairman, FNLM and Managing Director, BMJ, North America
Arturo Casadevall, MD, PhD, Bloomberg Distinguished Professor, Molecular Microbiology & Immunology, Johns Hopkins Bloomberg School of Public Health
Ulrich Dirnagl, MD, Professor, University of Medicine, Berlin
Ferric C. Fang, MD, Professor, University of Washington
Lee Ellis, MD, Professor in Surgical Oncology, University of Texas MD Anderson Cancer Center
Leonard P. Freedman, PhD, President, GBSI
Betsy L. Humphreys, Acting Director and Deputy Director, National Library of Medicine, NIH
Latest Issue of MedlinePlus Magazine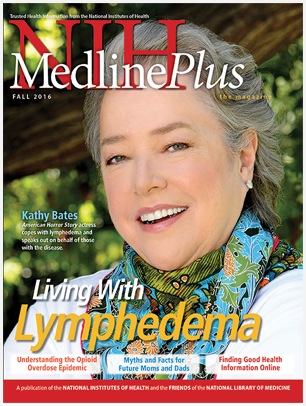 The Fall 2016 issue features Kathy Bates, star of American Horror Story copes with Lymphedema and speaks out on behalf of those with the disease.
To read an electronic version of the latest issue or subscribe to a free copy of the magazine, please visit our MedlinePlus Page.
Upcoming Events:
We look forward to an exciting year ahead that includes--
2017 Annual Conference
2017 Annual Awards Gala
2017 Lindberg & King Endowed Lecture Series
Stay tuned for more details on our website and Facebook page.
Please renew your support with the Friends of the National Library of Medicine today on-line here or by telephoning 202-679-9930.

Visit FNLM's website to learn how you can make a tax-deductible contribution through PayPal. Donations are secure and easy.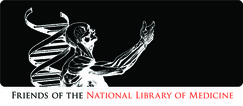 Or write a check, payable to: Friends of the National Library of Medicine and mail to: 4720 Montgomery Lane
Suite 500
Bethesda, MD 20814
I hope that we can count on your continued support to ensure that the National Library of Medicine can turn to the Friends for the support that enables its greatest reach.
We are very appreciative of your ongoing support!
With best wishes,
Glen P. Campbell
Chairman, Board of Directors,
Friends of the National Library of Medicine