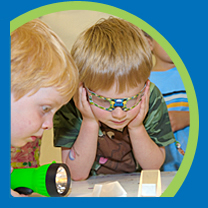 Chromatography Flowers
No need to go out and buy flowers for Mothers Day this year, just make your own! By using a scientific technique known as chromatography, you can create your very own brilliant bouquet! Let your creativity bloom with this FUN experiment!
Summer Camp Directors!
Book your summer camp program during the month of May & receive 15% off!

Programs of the Month
BOOK & COMPLETE
Go Girl for your Elementary students during the month of May and receive a discount of $0.50 off per student!

BOOK & COMPLETE
Baby Animal Games
for your preschoolers during the month of May and receive a discount of 15% off your program!




Join High Touch High Tech at McCormick Field on May 23rd for Education Day with the Asheville Tourists! Make "Moon Mud" and get hands-on with FUN science at the ballpark. This event is sure to be a home-run!




Become a Super-Hero for the day at Fanaticon!
Join High Touch High Tech in the Fanatikids Fun Zone and learn the science behind being a super hero. Make and take home
your very own
"Super Hero Slime!"
| | |
| --- | --- |
| | May 2011- A Salute To Moms Of All Species |

On Sunday May 8th, all sorts of mothers will be opening Mother's Day cards and presents. Well, not quite all sorts. Animal mothers deserve some recognition on this maternal holiday, too, so here are a few of the top animal moms that go all out for their kids, from putting "dinner" on the table every night to making daily sacrifices.

The first mom on our list is the mother Elephant. She earns her spot for giving birth to the biggest babies on Earth — we're talking an average of 200 pounds! Can you imagine a diaper that large? Female elephants also deserve a prize for enduring a 22-month pregnancy. The calves are initially born blind, forcing them to rely on their trunks for navigation and discovery, but fortunately, they live in a matriarchal society. Once the baby is born, the other "ladies" in the herd all lend a hand, including grandmothers, sisters, aunts and even cousins. These full-time baby-sitters are called "Allomothers", and they help in every aspect of rearing the young calves — so in this case, it really does take a village to raise an elephant!

Patience is a virtue, especially when it comes to being a cheetah mom. At any given time, females usually have four to six cubs to care for, but these kids aren't born with survival instincts. It's up to mom to teach them how to hunt prey and avoid other predators, and this training can take nearly two years for the cubs to master. Mom will move on to start a new family once the cubs learn to fend for themselves. The offspring she leaves behind will form a sibling or "sib" group. The females will leave the sib group after six months but the boys will stay together for life.

The highly intelligent orangutan is the ultimate do-it-yourself mom. She spends nearly all her life high up in the trees, where she builds a new nest every single night from branches and foliage, fashioning more than 30,000 homes in her lifetime! She also never puts her babies down, generally nursing offspring until they reach the age of 6 or 7 — that's the longest dependence of any animal on Earth.

When it comes to having babies, the mama octopus doesn't mess around — she lays over 50,000 eggs! It takes around 40 days for the eggs to develop, and the mom stays close to them the entire time, protecting them from predators while gently blowing currents of water over them to provide oxygen. But playing bodyguard to her babies prohibits her from hunting for herself so she will sacrifice one of her eight arms- eating one of them to survive until her babies arrive.

A mother penguin can recognize her own chick by the sound of its voice and even its shape & size. Mother penguins leave their babies in a group while they scour the ocean for food. Upon returning, the mom will waddle through a massive crowd of hungry little ones, refusing to feed any but her own. A baby penguin recognizes its parent's voice. When its mother calls, it comes running.

There's nothing quite like a mother's love, and moms from the animal kingdom are no exception. Mother's Day is a time to celebrate the power and love of moms everywhere, no matter what species they are. These offspring really need to make sure they mail their Mother's Day cards on time this year!


Learn More About
Motherhood in the Animal Kingdom:

- Animal Moms Have Their Ways - Discovery News

- What Animal Moms Teach Their Young

- Honoring The 10 Most Caring Animal Moms

- Animal Planet Mothers Day Special - Video
"Ultimate Animal Moms"


Exclusively For
Facebook Fans &
Twitter Followers
Become a fan of the
High Touch High Tech WNC
Facebook page or follow us on Twitter and receive 15% off your next program!