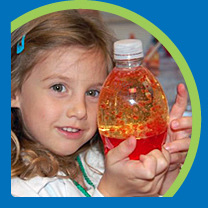 Smarty Plants -
Chlorophyll Extraction

Chlorophyll is a natural chemical that keeps plants green and alive! As plants go through photosynthesis, chlorophyll uses sunlight, water and carbon dioxide to create food energy for the plant. Check out this cool experiment which allows you to extract & remove the green pigment from Spinach!


ScienceMadeFunKIDS.net
Turn your computer lab into a Science Lab!

Click on the KIDS logo above to enjoy FUN, educational science trivia, jokes & experiments for your entire class!

*SEPTEMBER FEATURE:
SMARTY PLANTS

-Elementary classes receive $2.00 off per student.

-Preschool classes receive 15% off program fee.

Call today or submit your reservation using the link below!




*SCIENCE SAMPLER SPECIAL


Choose 3 experiments to create a custom 60-minute program.

Only $85.00 if completed by October 31st!

Visit us online for more details!


| | |
| --- | --- |
| | September 2011 - Mother Nature's Fall Fashion |
Every fall Mother Nature puts on a spectacular fashion show. Lemon yellow, flame red and rich brown leaves transform what was a uniformly green landscape into a patchwork of dazzling colors dancing across the United States and especially Western North Carolina. Some qualities of nature that amaze us as kids become less magical over time, but the splendor of autumn seems to inspire even more wonder with age. Is this brilliant display of beauty just Mother Nature's fall fashion show or is there science happening behind the scenes?

The whole process begins as trees interpret increasing darkness as a sign that winter is on its way. As fall rolls in, trees start making adjustments for the freezing temperatures and harsh conditions to come. As their food production slows down, the chlorophyll that gives leaves their green color begins to break down and disappear. As the chlorophyll disappears, the underlying carotinoids (colors) of yellow & orange become visible. Colors including red and purple, known as anthocyanins, are a result of sunlight and excess sugars that get trapped in the leaves. The timing, intensity and duration of fall color is greatly influenced by the year round temperature, light and water supply.

"Optimal conditions generally consist of cool, but not freezing, temperatures, mild-late season drought and an abundance of bright, sunny days" says SavATree Arborist Brad Gurr. "Late season warmth usually means more chlorophyll and that can delay the onset of fall. Too much drought or an early frost weakens intensity."

Mother Nature begins her fall line-up with bright yellows around the end of September and closes with the darkest, deepest reds into mid- November. Early on, Buckeye trees will pop with orange closely followed by Maple trees contributing vibrant yellows, oranges, and reds. Throughout September, the color change will continue to spread making the mountain tops appear as beautiful as a watercolor painting. The "wave" of color cascades from north to south, from mountain top to valley. The most intense fall colors occur in areas with similar trees that turn at the same time. For the most varied and longest lasting change, seek out areas with a dozen or more different types of foliage.

So take in the sweet aromas, listen to the sounds of swirling leaves, feel the unique texture of bark and the crunch of leaves beneath your feet. Step into the shoes of an arborist by observing the stunning, light effects produced throughout the day as you revel in the fall colors. Take a hike along the Blue Ridge Parkway, zip-line through the forest canopy, experience aerial views via hot air balloon, bike across the mountain terrain or relax on a winding train ride.

Check out these additional resources to fall in love with science this September!
- Nature Detectives: Leaf Identification Sheet
- Design Your Own Fall Leaf Book
- State by State Guide to Fall Colors
- Weather Channel: U.S. Fall Foliage Maps
- Learn About LeafSnap - The Original Leaf ID App
| | |
| --- | --- |
| All High Touch High Tech programs align with both NC and SC State Standards for Science and can be adapted for any grade! | |