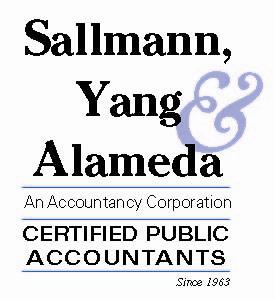 In this Issue
All About the New Tax Law

Individuals

Businesses

2018 Mileage Rates
---
Deadlines and Reminders!!!

Final 2017 quarterly estimates for individuals, trusts and estates
Due January 16th

Payroll and CA Sales tax returns
Due January 31st

W-2 Forms to employees and
Social Security Administration
Due January 31st

1099-MISC Forms (with box 7 amounts) to recipients and
Internal Revenue Service
Due January 31st

2017 Federal unemployment tax returns (and any payments)
Due January 31st

Partnership tax returns
Due March 15th

S Corporation tax returns
Due March 15th

Individual income tax returns
Due April 17th

C Corporation tax returns
Due April 17th

Foreign account reporting (FinCEN Report 114)
Due April 17th
---
Sharing is Good

If you've enjoyed this newsletter and think the information would be helpful to someone you know, please click here to forward this newsletter to a friend.
---
Social Media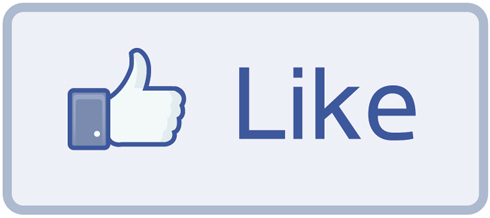 Don't forget to Like us!
---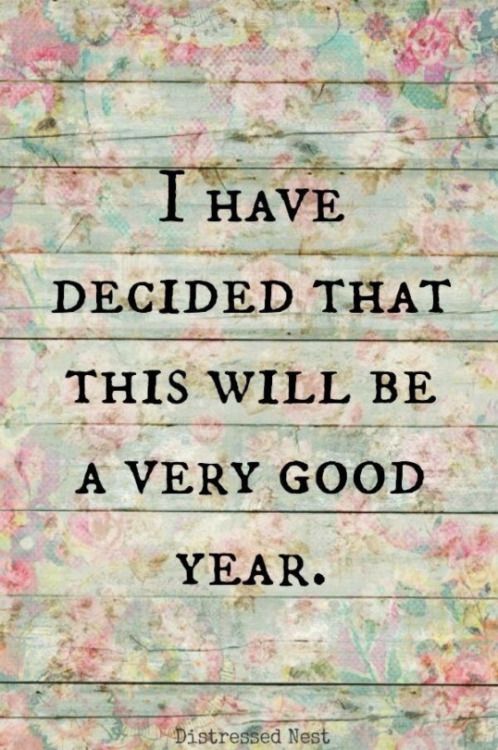 Sallmann, Yang & Alameda
7077 Koll Center Parkway, Suite 183, Pleasanton, CA 94566 (new address)
925-426-7
744
www.syacpa.com
Happy New Year!

Re-thinking Tax Strategies with the New Tax Law...
This is the first significant reform to the U.S. tax code since 1986 and changes have been made to both the individual and corporate tax rates.

Primarily, the new law changes will first be applied to 2018 taxes. While it may appear that some returns will be simplified, you won't be able to file your tax return on a postcard, as many areas remain complex. We anticipate that there will be clarification and technical corrections bills passed in some areas. We'll be sure to keep you up-to-date.

We have compiled the most relevant and common points for you, but as always, the tax bill is voluminous and complicated. Please contact us if you have questions about how these changes will apply under your specific circumstances.
---
Individuals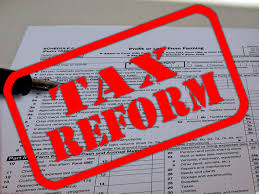 Unlike most of the corporate provisions, most of the individual provisions are set to expire at the end of 2025. It's important to understand these are only effective for 2018 through 2025, unless Congress extends or makes them permanent prior to the end of 2025.
1. New Income Tax Rates and Brackets:

There are still seven brackets for individuals based on filing status of 10%, 12%, 22%, 24%, 32%, 35% and 37%. The top rate applies to married individuals filing joint returns with taxable income over $600,000; $500,000 for single individuals and heads of households. The act also reduces the tax brackets for estates and trusts to four: 10%, 24%, 35% and 37%.
2. Standard Deduction

has essentially doubled (although the current additional standard deduction for the elderly and blind is unchanged).
$24,000 - Married individuals filing a joint return
$18,000 - Head-of-household filers
$12,000 - All other taxpayers
3. Personal exemption

is gone at least through 2025. Previously you could claim an exemption for you, your spouse and each of your dependents which lowered your taxable income. This may reduce or negate the tax relief that some families will receive from other parts of the new law.



4. Capital gains percentages remain the same,

however, the thresholds have been indexed for inflation beginning after 2017.



5. The child tax credit has been expanded.

It has been increased to $2,000 for each child under the age of 17. The entire credit can be claimed for single parents who make up to $200,000 and up to $400,000 for married couples. The credit will be phased out for taxpayers exceeding these income amounts.



6. There is a new tax credit of $500 for certain non-child dependents.

This will include elderly parents or adult children with disabilities.



7. State and local tax deductions are now limited to $10,000,

these were previously fully deductible. This includes state income taxes, sales tax and all property taxes including DMV fees.



8. The deduction of mortgage interest has been lowered to $750,000

from $1,000,000 of debt for anyone purchasing a residence after December 31, 2017 for their primary or secondary residence. Fortunately, this does not apply to existing acquisition debt loans even if they are refinanced (as long as the refinance does not increase the loan amount). However, the deduction for home equity loans has been suspended so it is no longer deductible.



9. The Act retained the Alternative Minimum Tax (AMT) provisions,

however it will now apply to fewer individuals as the exemption has been raised to $70,300 for singles and $109,400 for married couples. Combined with the limitations on the state and local tax deductions, this will reduce the number of individuals subject to this parallel tax system. The exemptions begin to phase out at $1 million for joint returns and $500,000 for all other individual taxpayers.



10. "Kiddie Tax"

has been modified. Beginning in 2018, it will apply to a child under the age of 19 at the end of the year or a full-time student under the age of 24 that is living with at least one parent and has unearned income in excess of $2,100. Also, the tax rate will now follow the trust and estate schedule rather than the parents tax rate.



11. 529 Savings Accounts

can be used in new ways. Historically, these funds could only be used for higher education. Starting in 2018, up to $10,000 a year may be used to cover the costs of sending a child to public, private or religious elementary or secondary schools.



12. Charitable contributions deduction

has increased for taxpayers that itemize. Certain contributions previously limited to 50% will be increased to 60%. Contributions greater than 60% of the taxpayer's "contribution base" can be carried forward and deducted for up to five years (subject to the contribution ceiling each year).



13. Estate taxes will apply to fewer people.

The exclusion has doubled and the indexed amount for 2018 will be $11.2 million ($22.4 million for a married couple).



14. New deduction for pass-through income

for taxpayers with qualified business income (QBI) from a pass-thru entity. See the business section below for additional details.
15. Student loans forgiven

are not taxable income if the individual dies or is permanently disabled after December 31, 2017 or prior to January 1, 2026.



16. IRA's can still be converted to Roth IRA's; however, it is permanent.

You will not be able to change your mind and convert it back to a traditional IRA at a later date. Currently this also applies to 2017 conversions. There is legislation to try and repeal this so it is only effective for 2018 conversions forward, however, it is not clear if they will be successful in repealing the portion that applies to 2017 conversions.



17. Gambling losses have been modified.

All expense deductions are now offset against winnings but still not deductible in excess of winnings.



18. The following deductions are also eliminated:
Alimony payments - this will apply to couples who sign or modify their divorce or separation paperwork after December 31, 2018. While this will not be deductible to the individual paying alimony, it will also not be taxable to the individual receiving the alimony.

Moving expenses are suspended (there may be some exceptions for members of the military on active duty)

Miscellaneous itemized deductions subject to the 2% floor are suspended which includes unreimbursed employee business expenses, tax preparation fees, investment advisor fees, union dues, etc.

Penalty for those required to maintain health coverage under the Affordable Care Act has been repealed

The $20 a month you were able to previously deduct because you rode your bike to work, but weren't enrolled in a commuter benefit program is gone

Deduction for casualty and theft losses has been eliminated, with the exception of federally declared disasters which may be added to the standard deduction
19. The following deductions remain unchanged:
Student loan interest, up to $2,500 per year

Teacher's deduction of $250 to offset what they spend on classroom materials

Medical expenses - which has actually been expanded for 2018 and 2019 by reducing the threshold to 7.5% of your adjusted gross income instead of 10% under the prior law

Homeowners who sell their house for a gain will still be able to exclude up to $500,000 for married filing joint filers and $250,000 for single filers from capital gains as long as it's your primary home and you have lived there for two of the past five years

Tuition waivers for graduate students remain tax-free

The electric car tax credit lives on. There is no change from the previous law, however, it is still only good on the first 200,000 electric cars sold by each automaker. GM, Nissan and Tesla are expected to reach that number during 2018.
It is important to remember that these are only the most common changes effected by the new federal law. Also, we are still waiting to see what California will and will not conform to with this new tax act.
Back to Top
---
Businesses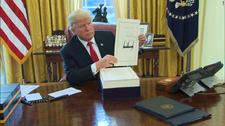 There are several changes to the business tax side as well. Below are some of the more relevant changes.



1. Corporate tax rate has been reduced.

The previous range of rates which topped out at 35% has been cut to a flat 21%, and AMT (alternative minimum tax) has been eliminated all together.



2. Pass-thru entities may get a break.

This tax break isn't quite as simple and applies to partnerships, S corporations and LLC's. Qualified businesses may be able to take advantage of a 20% deduction of their QBI (qualified business income). However, there is a complicated process to determine whether your business qualifies and numerous exceptions that eliminate the deduction. The deduction also begins to phase out at $157,500 for individual filers and $315,000 for couples filing joint.



3. Cash Method of accounting has been expanded.

Previously, the IRS had a gross receipts test which required farms, qualified personal service corporations and C corporations with gross receipts of $5 million or more to use the accrual method of accounting. The amount has been increased to $25 million for these entities with tax years beginning in 2018 if they do not exceed the $25 million for the three prior years.



4. Depreciation,

bonus depreciation is expanded to 100% for property acquired after September 27, 2017 and placed in service before December 31, 2022. Additionally, bonus depreciation now also applies to used property. The cap on depreciation for luxury vehicles before bonus is increased from $3,680 to $10,000. Bonus depreciation on luxury vehicles remains at $8,000.



5. Real property depreciable life shortened.

The new act erased some of the limitations of qualified improvement property expanding what may be depreciated over a 15 year period. However, there are several intended changes that did not actually get written into the new law, they will need to be addressed in a technical corrections bill.



6. Employer's deduction for meals and entertainment has been reduced.

Starting January 1, 2018 the deduction for entertainment expenses and employee transportation fringe benefits has been eliminated. All meals are limited to a 50% deduction whether they are at the employer's place of business or out of the office. Additionally, beginning in 2026, the employer deduction for on-premises meal expenses will be disallowed.



7. Interest,

a company can only deduct interest expense of up to 30% of its earnings before interest, taxes, depreciation and amortization; interest beyond this amount will no longer be deductible. This will tighten further in 2022. Exemptions exist for small businesses with average gross receipts of $25 million or less.



8. Net operating losses,

the act limits the deduction for NOLs to 80% of taxable income. The two year carry-back provision was repealed and losses can now be carried forward indefinitely.



9. New credit for employer-paid family and medical leave.

Eligible employers may be able to claim up to a 12.5% credit for wages paid to qualifying employees during 2018 and 2019.



10. Businesses won't be able to write off sexual harassment settlements.

This will include any settlements, payouts or attorney's fees related to sexual harassment if the payment is subject to non-disclosure agreements.



11. Technical termination of partnerships repealed.

Under the prior law, a partnership was terminated if there was a sale or change of 50% or more of the total interest in a partnership capital and profits. This is now gone. The act did not change the existing rule that a partnership is considered terminated if it ceases to carry on all of its business operations.



12. Like kind exchange treatment has been limited.

The new 1031 exchange rules only allow like kind exchanges for real property not held primarily for sale. However, if your transaction began prior to 2018, it may be completed under a transition rule if the property was disposed of or relinquished prior to 2018 or you acquired the replacement property by December 31, 2017. The old law allowed for exchanges of a wide range of property held for productive use or investment.



13. Qualified beneficiaries of an ESBT (Electing Small Business Trust),

individuals who are non-resident aliens can now be a beneficiary of an ESBT.



14. Charitable contribution deduction for ESBTs.

This has been redefined so the charitable contribution deduction is determined by the individual rather than the trust rules. Under the change, the deduction will be allowed subject to certain AGI percentage limitations and a five year carryforward of amounts in excess of the limitation allowed.



15. Expanded definition of "U.S. Shareholder".

The definition was expanded to include any U.S. person owning 10% or more of the total value of stock classes of a foreign corporation. Previously this only applied if you owned 10% of the voting power of all stock classes and could vote.



16. Domestic production activities deduction.

This deduction has been eliminated for non-corporate taxpayers after 2017 and will be eliminated for C corporations after 2018.



17. Executive pay for non-profits,

there will be a new 21% excise tax on non-profit employers for salaries they payout above $1 million.



18. Foreign source portion of dividends.

A U.S. domestic corporation that owns 10% of a foreign corporation received a 100% deduction for the foreign-sources portion of dividends.

It is important to remember that these are only the most common changes effected by the new federal law. Also, we are still waiting to see what California will and will not conform to with this new tax act.
Back to Top
---
New Mileage Rates for 2018
The IRS recently announced mileage rates for travel in 2018. The standard business mileage rate increased by 1 cent to 54.5 cents per mile. The medical and moving mileage rates also increased by 1 cent to 18 cents per mile. Charitable mileage remains unchanged at 14 cents per mile.
---
Sallmann, Yang & Alameda
Dedicated To Your Success Since 1963
925-426-7744 www.syacpa.com