Talk Therapy is Not Enough!
I often work with people who have engaged in years of talk therapy, and who have developed great insight into trauma and neglect they have experienced. But we can have all the insight in the world, and still feel paralyzed when it comes to experiencing joyful sex, asking for what we want sexually, and living our particular and ever-shifting sexual identities with confidence and peace.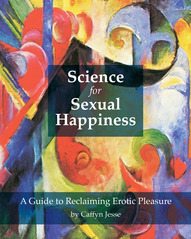 Embodied practices engage with our autonomic nervous system's unconscious processes, so we can undo the effects of trauma and neglect at the cellular level.
My new book,
Science for Sexual Happiness,
describes how our nervous systems get dysregulated by the trauma, neglect and hyperstimulation that comprise the ordinary experience of sex. Over 100 exercises are offered to help you recalibrate your nervous system, so that you can feel more joy in your body and relationships.
In this journey to sexual wholeness, it is so important to work within our personal learning zone. It is a biological principle (
hormesis
) that exposure to just-enough stress creates benefits, even though exposure to any more stress is harmful. For learning, we need just-enough stress t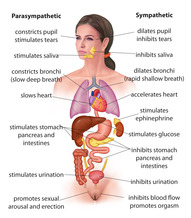 o create a manageable challenge, and that just-right stress will be very different for each person. With too much stress, the autonomic nervous system will mobilize as hyperarousal or shut down in a frozen hypoaroused state. Pushing ourselves too hard can be painful and retraumatizing. With too little stress, we will stay stuck in our habits and experience nervous system atrophy. For each of us, it is important to continually assess the limits of our personal 'learning zone,' where we may be uncomfortable, but not unsafe. We can aim to work carefully within these limits, while challenging ourselves to continually expand them.
Caffyn's 2017 Offerings
My introductory workshops in 2017 are
Science, Sex and Soul
and
Couples Alive!
If you feel a calling to become involved in this important work, I teach somatic sex education as a profession, mentoring practitioners through the
Certified Somatic Sex Educators and Certified Sexological Bodyworkers training
for the Somatic Sex Educators Association, plus my own
Intimacy Educator program
. I offer education for ongoing professional development - this year a
Trauma Training in Dawlish, England
and a SexBod Refresher/Retreat on Salt Spring Island.