How do we cultivate joy and well-being in the experience of erotic touch, with attention to safety and empowered consent?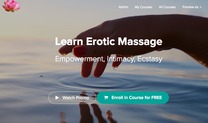 Caffyn Jesse is a leading somatic sex educator. She is on the team that teaches the
Somatic Sex Educator training in Canada.
Caffyn Jesse
August 14, 2018

Benefits of Erotic Massage

A typical pattern through which people learn to access their sexual arousal and orgasm is with minimum breath and muscles all clenched. They hurry to climax, and get it all over with as soon as possible. And that is a great way to find the maximum pleasure achievable in a culture where sexual feeling is shamed and shoved into very narrow parameters of acceptable expression. While celebrating and supporting any existing routes to pleasure, we can use erotic massage to inquire: What is it like to feel arousal within a deeply relaxed body?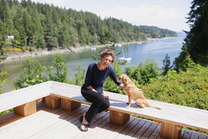 Massage actually has the power to help us feel our bodies in a new way. Massage itself supports wellness – when it is wanted, mindful and trauma-informed touch. Massage aids in pain relief, circulation, and muscular relaxation, and it supports immune function. Our inner neurochemical environment shifts in the course of a massage. More of our feelgood neurochemistry is mobilized. Dopamine, oxytocin, endorphins, serotonin and endocannabanoids increase, as massage supports the neurochemical environment of well-being. And our cells are bathed in less of the stress hormones - cortisol and adrenaline - that mobilize us for action, but trigger a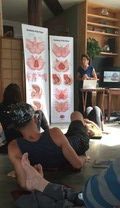 cascade of constraining and damaging effects. With massage we are biophysically reducing the anxiety, shame, fear of rejection, and sense of unsafety within which people typically experience their sexual arousal.

In somatic sex education, massage is always offered in a relational environment where the person receiving touch is the focus of attention. They guide and direct our touch according to their pleasure. In this relational environment, expectations around sex related to gender, race, age, ability and other intersecting vectors of privilege and oppression can be released. There is no need to perform. With extended erotic massage, people can have the embodied experience of arousal while feeling comfort, acceptance, ease and joy. The experience of even one erotic massage can offer a real "somatic opening" – a new body experience that supports expanded wellbeing. There can be a releasing of long-held muscular contractions, emotional contractions, and limiting beliefs about how the world is and must be.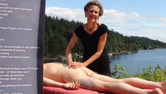 This is a training developed and taught by Caffyn Jesse - for people who want to offer erotic massage, to friends or professionally, with a clear knowledge of techniques, benefits, complexities and precautions. It is an introduction to the principles and practices of Somatic Sex Education. It is a journey of reweaving sex and soul. Because of a heavy teaching load, Caffyn will not be offering the program in 2019. In September 2018 Caffyn will be assisted
Dee Larsen, a wonderful somatic sex educator who is coming all the way from Ireland to help at this training! Dee was the first Irish certified somatic sex educator and she is the founder of Body Conscious Ireland.