I am proud to be part of the first anthology to introduce and explain somatic sex education,
Healers on the Edge.
This book includes articles by a wide range of practitioners, who describe working with clients to address trauma, support gender explorations, heal pelvic pain, overcome sexual "addictions" and "dysfunctions", and expand sexual pleasure. The inspiring voices of clients are also included, and their unique personal journeys in healing sexual trauma. The Kindle version is available for
free download September 8-12
. If you enjoy holding a real book, the print version is well-priced.
Trusting Pleasure

Reclaiming erotic pleasure from personal and cultural constraints means learning to trust our personal pleasure-seeking impulse. In small ways, over and over,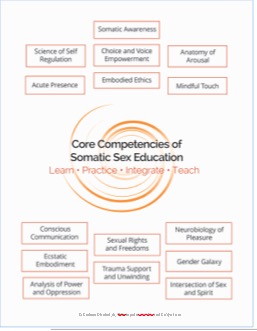 we can cultivate awareness of our own true yearnings. Each time we choose pleasure, we learn to follow the inner Yes. In deepening our experience of joy and wellbeing, we are also learning to trust the inner No - to avoid harm, including self-harm, and to deflect what and who will inhibit us.

To really welcome erotic pleasure into our lives, we need more than a set of instructions for how to have better sex. We need practice being more calm, excited, attentive and alive; we need to make changes in our unconscious patterns and habitual reactions. We need a world that can welcome all of who we are.

In the genital matrix of body, mind, spirit and emotions, we can learn to expand our capacity for joy, experiencing more and more deeply what it is to be fully alive.