CTKD Debuts New Video
Clothes To Kids of Denver is proud to debut our brand new video, which features the stories of two families who relied on Clothes To Kids during difficult times. Please click on the photo below to view the video on our website. Help us tell the CTKD story by forwarding the link to friends, family and colleagues. Enjoy!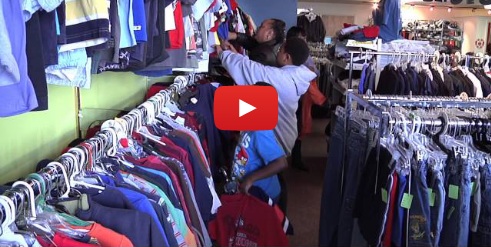 Special recognition goes to the parents, students, school and agency staff who volunteered to tell their story, along with Fireside Production and Jo Ann Wickens, who partnered to create the video. Thank you!
.....................................................
First Ever Wine & Swine A HUGE Success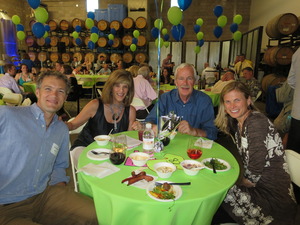 By Jo Ann Wickens, CTKD Board Development Chair
More than 260 guests enjoyed a fabulous evening at Denver's Infinite Monkey Theorem urban winery on Saturday, June 8, and helped make Wine and Swine, CTKD's first major evening fundraising event, a rousing success. Mother Nature cooperated with a beautiful night, allowing party-goers the chance to enjoy the winery's wonderful outdoor patio as they listened to the sounds of the High Top Jazz Quartet, mingled with friends, sipped wine and tasted fantastic food from some of Denver's top chefs.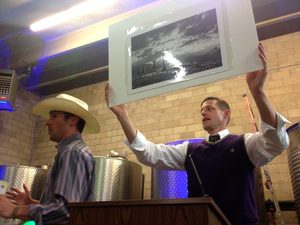 The evening raised more than $55,000 for Clothes To Kids of Denver, a phenomenal amount for a first-time event, exceeding the Wine and Swine committee's goals. Fantastic silent and live auctions gave event-goers a chance to have fun and pick up some great items, experiences and vacations- including a week at a villa in Tuscany, a trip to Napa and a party for 15 with a cooking demonstration at cafe|bar.


Clothes To Kids owes some of its biggest thank yous to presenting sponsors Tender Belly (representative Marty Frank pictured at left with CTKD Co-Founder Lesa Butler) and The Infinite Monkey Theorem. Tender Belly, makers of award-winning bacon as well as additional pork products served in some of the state's finest restaurants, provided the meat and also lined up chefs Jeff Osaka of twelverestaurant, Jesse Albertini of cafe|bar and Geoff Cox of fuel cafe who donated their services, staff, food and equipment. Guests stopped at each of the chef's tasting stations, which offered both a pork and a vegetarian dish. The Infinite Monkey Theorem donated its event space for free to CTKD.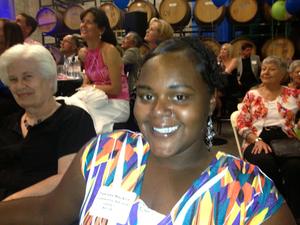 9News Sports Anchor Susie Wargin served as the evening's MC. Partygoers heard about CTKD from speakers Joyce Meyers, CTKD Board President and Co-Founder as well as Tamisha Macklin, CTKD Community Advisory Council Member (pictured at right). The evening also featured the world premier of the new CTKD video "Clothe A Child, Change A Life."

A short video and pictures from the event can be found on the Blacktie Captured Events Page for Wine and Swine. Have other photos you would like to share from Wine and Swine? Send them to us at ctkdenver@gmail.com and we will post them on our Facebook page.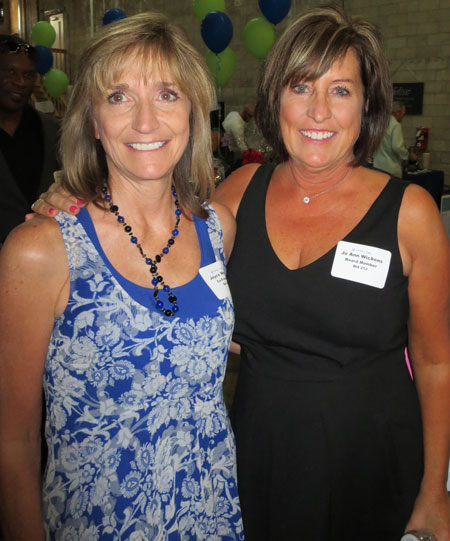 The event could not have happened without the dedicated and hard working volunteers on the Wine and Swine committee, who spent countless hours to make this event a great success: Jo Ann Wickens (Committee Chair, pictured at left with Joyce Meyers), Kelly Root (Auctions Coordinator), Lesa Butler, George Gastis, Carol Gill, Sue Hamblin, Deidre Hunter, Lesley Jennings, Randi Lewis, Joyce Meyers and Kim Walsh.

Helping to make the event possible were fantastic sponsors including: $2,500 Cabernet Sponsor Smashburger; $1,000 Chardonnay Sponsors FirstBank, Sally & Jim Kneser and Colorado Pork Producers; and $500 Blush Sponsors PricewaterhouseCoopers LLC and Halliburton. Additional thanks go to these donors: The Foto Video Booth for the photo booth, Teakoe for iced tea, Fresh Point for produce and First Bank for bottled water. Sprint Denver donated printing services and US Bank helped to underwrite the music.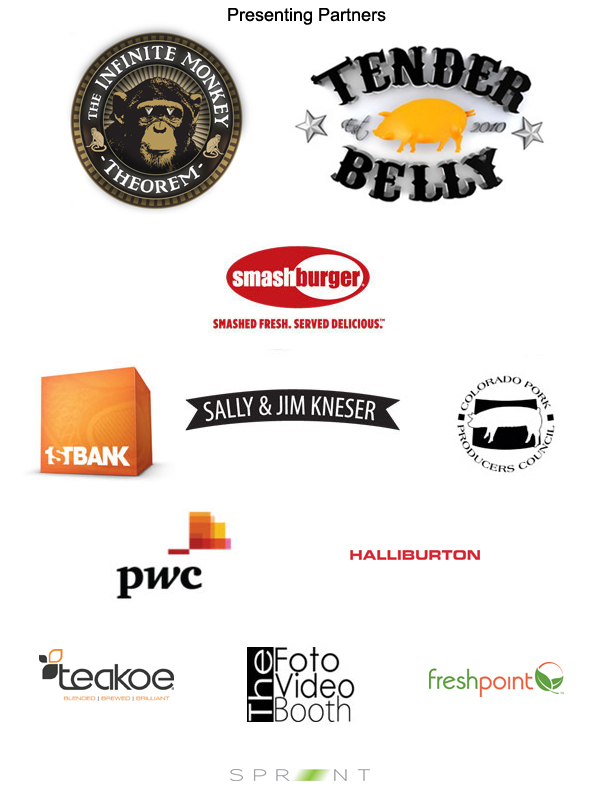 .....................................................
Graland Students Donate $1,700
Clothes To Kids of Denver would like to thank the Graland Country Day School for selecting CTKD as one of their Penny Harvest recipients for the second year in a row. This funding will be used to purchase underwear, socks, uniform clothing and shoes for back-to-school. Graland students have a great deal to be proud of this year since they raised the second highest amount of Penny Harvest funds in the entire state of Colorado. Congratulations on a successful year and thank you for your support!
......................................................
CTKD Partners with arc and DPS in School Bin Collection Program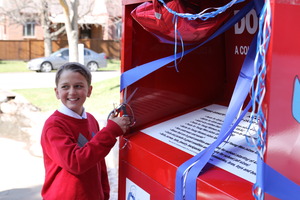 By Randi Lewis, CTKD President-Elect

CTKD is thrilled to report that the partnership of CTKD, Denver Public Schools and arc Thrift Stores continues to gather momentum, resulting in many benefits for children in the Denver community.

The genesis of this beneficial partnership is a remarkable Hamilton Middle School student, Marko Babiak (pictured above), who envisioned a program that would create an opportunity for DPS students to help other students in their community. Marko, while in the 5th grade at Steck Elementary, initiated a project to set up collection bins at various schools within DPS to collect school-appropriate, gently used clothing.

Marko's project provided an inventory of great clothing items for CTKD shoppers, and had the potential to help CTKD reach more families in need than ever before. However, the success of the project created the need for larger collection receptacles and a workable delivery system since the planning involved in the regular collection and delivery of donations were becoming a logistical nightmare for CTKD volunteers.

In stepped Metro Denver arc Thrift Stores, with a generous offer to provide large, weather-proof collection bins sporting the CTKD logo and delivery trucks to pick up the donations from the bins once per week. Wow, what a relief! These bins are currently installed at 3 DPS schools (Steck Elementary,Creativity Challenge Community (C3) and Lincoln Montessori), with more in the works. Following a delivery from arc Thrift Stores, CTKD volunteers sort the clothing, keeping items appropriate for the shop, and returning the remaining items to arc Thrift Stores.

This collaboration is a win/win for everyone involved: DPS and their students, arc Thrift Stores and their mission to enhance the lives of the developmentally disabled and the kids in need who shop at CTKD. AND, it's a big success story for CTKD's visionary Student Ambassador, Marko Babiak! Kudos to everyone involved!
......................................................
Want to really make a difference? CTKD needs you for the Undie 500!

The Undie 500 is a underwear collection drive that challenges participants to collect as much new, packaged underwear and socks as possible to support CTKD. Teams from service organizations, Boy/Girl Scouts, schools, sports teams, businesses and religious communities may participate by collecting underwear as a group, or challenge another team to a collection competition. However you participate, be creative and have fun!

CTKD provides 5 new pairs of underwear and 5 new pairs of socks to every student who visits our shop. In 2012, CTKD distributed 17,545 free pairs of underwear and 18,434 free pairs of socks to more than 3,700 students in need. In 2013, CTKD is on track to distribute over 22,000 pairs of each to more than 4,400 students. We need your help to make sure we can meet the growing demand! Please remember:
Underwear or socks collected must be NEW and in packages to count for your team. Used items are not accepted. The suggested collection goal is 500 pairs per team.

Underwear and socks should be children's size 6/small and larger. CTKD accepts adult sizes.

Collections should be scheduled to take place for a two-week period anytime between now and October 15th. Final numbers will be announced in late October.
Want to learn more? Sign up for the Undie 500 by emailing Katie Jones at ctkdenver@gmail.com.
.......................................................
CTKD sends a heartfelt thank you to the following donors:
Emily Echtenkamp, who spent the past 6 months designing and implementing a school outreach program, planning for the Undie 500 and working with clients and volunteer groups in the store as part of her internship at the Graduate School of Social Work at the University of Denver. We will miss you!

Susan Pederson for donating over $200 to Clothes To Kids after participating in Southmoor Park East Annual Neighborhood Garage Sales. Thanks also to Marie, Robin, Karen and everyone else who donated items to sell!

Shelly Lownds from Evergreen High School who did a socks & underwear drive outside the Wal-Mart in Evergreen, where she collected 30 packages of underwear, 36 packages of socks and 25 pairs of brand new shoes plus several bags of clothing.

The employees of Universal Lending Corporation who donated 426 pairs of shoes (many new!) and to Peter Repka who delivered them to the shop.

Lauren Moughon, Sarah Krivel and the employees of DaVita who donated 40 pairs of new shoes as well as new socks and backpacks.

Kim Larson and the employees of Liberty Global for their continuing in-kind support.

Michelle Garnsey for donating new underwear along with lots of great clothes and books.

Willa Sobel, for collecting 162 pairs of socks as part of her Bat Mitzvah celebration. Wow!

Laura Writebol and Girl Scout Troop #848 for their ongoing collection of clothing.

Linda Rundles for picking up donations from the St. Philips early Learning Center following their annual consignment sale. Thanks also to St. Philips for such great stuff!

Mary Longnecker and Maria Wischmeyer, who have both picked up, washed and delivered hundreds of lost and found items throughout 2012 and the start of 2013. Their hard work has resulted in lots of warm coats going to a good second home!

Nicole Saab, 8th Grade Literacy Teacher at the Denver Green School, and her students for holding a clothing drive to benefit CTKD.

Eileen Horgan, for making special deliveries of clean swim suits, athletic shoes, school supplies and other items from the Greenwood Athletic Club and area schools.

Sharon Rounds and Grace Community Church for the wonderful monthly donations of clothing.

Carol Gill and Student Ambassador Marko Babiak for spreading the word about installing permanent clothing collection bins at DPS schools. A big thank you also to Scott Mitchell from arc Thrift Stores, who has generously arranged for clothing from the bins to be picked up and directly delivered to CTKD once per week.

Jo Ann Wickens, for connecting CTKD with deliveries of new clothing from Miller International.

The Rocky Mountain and Blue Sky Chapters of NCL, who are each sending wonderful mother/daughter volunteer pairs throughout the summer.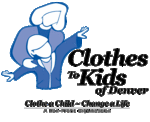 our mission
The mission of Clothes To Kids of Denver, Inc. is to provide new and quality used clothing to low-income, school-aged children in Denver County, free of charge.
our vision
It is our belief that we can bridge the gap that separates children in need from a warm coat, shoes that fit, and appropriate clothing. Our hope is to build self-esteem and give them a sense of pride.
volunteer hours
Students needing community service hours? We are still accepting applications for students wanting weekday hours in the summer. Email us at ctkdenver@gmail.com for more information.
CTKD stats
Average Vol Hrs/Month = 500
Wardrobes Dist 2013 = 1,345
Wardrobes Dist to Date = 12,638
Mailing Address:
P.O. Box 260621
Lakewood, CO 80226-0621

Store Address:
2890 S. Colorado Blvd, Unit M-3 Denver, CO 80222

Board of Directors
Joyce Meyers – President
Randi Lewis - President Elect
Erin Dudley Crandall – Secretary
Lesa Butler
Meredith Halstead
Lesley Jennings
Sean Walsh
Jo Ann Wickens
Want to make a meaningful difference? Do you have a few hours a week to give?

CTKD currently has openings on the Board of Directors. For more information please contact Joyce Meyers at ctkdenver@gmail.com.
We want to hear from you!
ctkdenver@gmail.com
Phone: 720-379-4630
Fax: 720-379-4434
Website
Friend us on Facebook!
...........................................................
2013 clothing donors
Miriam Abreu
Julie Adams
John Albright
Holly Anderson
Tianna Apodaca
The Appel Family
The Atayde Family
Allyn Bandell
Claire Bates
Lindsey Bathke
Yvonne Benford
Holli Benkelman
Jane Berger
Maritt Bird
Nancy Birge
Melinda Blatt
Wendy Block
Lou Bluestein
Lois Bonie
Susan Bowman
Gay Boyd
Michelle Braun
Martin Brady
Linda Brooks
Alicia Brown
Kathy Brown
The Brunson Family
Anne Burton
Nicole Callahan
Polly Cantor
The Colehower Family
Jim Connors
Tina Cushman
Nancy DeNiro
Teresa Downs
Renee Duncan
Wayne Eckerling
Shellie Ellis
Stephanie Evans
Jie Feng
Jennifer Fish
Joni Fish
Karen and Abby Fisher
Crystal Freeman
Kendra Fuller
Michelle Garnsey
The Goldblatt Family
Debbie Goodman
Deborah Gosling
Liz Graham
Jen Grooters
Sandy Harden
Lois Hays
Amy Hicks
Sarah Hittner
Karen Hu Ho
Rose Hoopes
Eileen Horgan
John House
Katy Howell
Jill Huettner
The Huzyk Family
Frank Jadwin
Lesley and Rich Jennings
Joyce Jones
Katie Jones
Angie Kahn
Dana Kang
Aicha Kassisse
Bobby Kennedy
Mary Kenney
Joan and Art Kidnay
Mary Kolbach
Sarah Krivel
Matt LaRouche
Chelsea Long
Mary Longnecker
Kathy Loveberry
Katie Magner
Betsy Magyar
Rhonda Margulies
Erin Markham
Liz Markowitz
Desiree Martinez
Robert Matchett
Marilyn May
Ken McCarty
Barbara McDonald
Sonja McMurray
Pearl Meulemans
Stephanie Miranda
Derrol Moorhead
Marissa Moorhead
MaryAnn Morris
Dave & Jackie Mueller
Joanna Olson
Diane Olsen-Lopez
Kristin Olson
Kim & Paul Olstad
Geralyn Ortiz
Mary Overington
Becky Palsmeier
Kathleen Parker
Susan Pederson
Caroline Peltes and Family
Les Quinn
Maureen Ramdath
Patty Ramey
Amy Reilly
Jennifer Richardson
The Rifkin Family
Eileen Robinson
Rachel Robinson
Carol Roddy
Sharon Rounds
Jana Roush
Katie Roush
Ellen Ruble
The Sakys Family
Juana Sanchez
Mike Sargent
Cheryl Schaden
Joanne & Alan Schroeder
Robyn Sewell
Toni Oakes Sexton
Lora Shangreaux
Cindy Shnaider
Mona Shriver
Irene Sisneros
Chris Smithers
Jane Smithers
Betsy Stern
Leslie Stevens
Jim Stirbis
Kathy Sullivan
Buzz Taplin
Liz Temple
Ann Thompson
Kimberly Timmons
Christina Tinsley
Parker and Maria Tinsley
The Tuitele Family
Linda Wells
Carol West
Jo Ann and Erin Wickens
Barbara Wilkins
Paul Williams
Diane Wine
Maria, Daisy and Olivia Wischmeyer
Lou Ann Witter
Laura Writebol
corporate partners
Back on the Rack
CH2M Hill
DaVita
Garb, Inc.
The Garment District
Greenwood Athletic Club
isabeeTweens
Kaiser Permanente
Liberty Global
Miller International
Our Plumbing and Sewer
Red Carpet Boutique
REI Denver Flagship
Wage Works
nonprofit partners
Church of the Risen Christ
Girl Scout Troop #848
Good360
Grace Community Church
Grace UMC Youth
Homeless Gear
National Charity League
Soles4Souls
Underwearness



contributing

schools
Ben Franklin Elementary
Bradley International School
Buffalo Trail Elementary
Creativity Challenge Community
Cory Elementary
Denver Academy NHS
Denver Green School
Denver Waldorf School
Ellis Elementary
Florence Crittenton Services
Greenwood Elementary
Lincoln Montessori
Rocky Heights Middle School
RMSEL
Slavens School
St. Anne's Episcopal School
St. Mary's Academy
Stanley British Primary
Steck Elementary
University Park Elementary
supply/clothing
needs
Supply Needs
• Large shopping bags from retail stores (paper or plastic - bags that have handles and can fit an entire CTKD wardrobe are the best)
• Phone system with 3 handsets
• Cute iron-on patches (to cover small holes in children's pants)
• Hand sanitizer refill
• Gift cards to Walmart, Target or Payless Shoes

Greatest Clothing Needs
• Athletic shorts (basketball, soccer, running etc.) for Boys and Young Men
• BOYS pants (sizes 6-20) and GIRLS pants (sizes 5-18+)
• SCHOOL UNIFORMS! Tops (navy, white and pink polos and turtle necks) and bottoms (navy, khaki, black or plaid shorts, pants and skirts) for Boys and Girls.
• BOYS short sleeve tops (t-shirts, soccer jerseys, polos, etc.)
• GIRLS summer tops
• NEW, packaged underwear (kids size 6 to adult)
• NEW, packaged socks (kids size small to adult)
• Shoes (especially kids sizes 11-5 – tennis shoes are very popular)
• Waist size 27-36 pants and shorts for Young Men

A complete list of items that CTKD need the most as well as our Donation Guidelines is available on the
Donate Page of the CTKD website
under the heading Donate Clothing and Shoes. Thank you for your support!