Second Annual Undie 500 in Full Swing!

It's Undie 500 season here at CTKD! So far, seven Undie 500 drives have brought in more than 4,600 pairs of new underwear and socks, with many more teams still collecting.

What is the Undie 500?
The Undie 500 is a underwear collection drive that challenges participants to collect as much new, packaged underwear and socks as possible to support CTKD. The Undie 500 was started in 2012 by William Wallis, who collected nearly 1,200 new pairs of underwear and socks as part of his Eagle Project for Boy Scouts. The project was so successful, that CTKD decided to make it an annual event.

Why Underwear?
CTKD provides 5 new pairs of underwear and 5 new pairs of socks to every student who visits our shop. In 2012, CTKD distributed 17,545 free pairs of underwear and 18,434 free pairs of socks to more than 3,700 students in need. In 2013, CTKD is on track to distribute more than 20,000 pairs of each to more than 4,000 students. We need your help to make sure we can meet the growing demand!

Who can participate?
Teams from service organizations, Girl/Boy Scouts, schools, sports teams, businesses and religious communities may participate by collecting underwear as a group, or challenge another team to a collection competition. Here are some of the ways people have participated in the Undie 500 so far: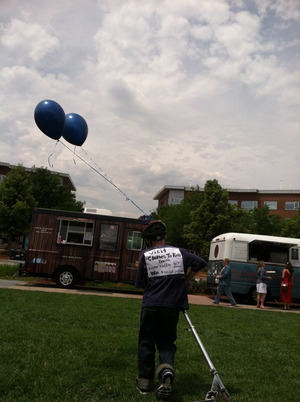 The first Undie 500 drive was held at the Sweet William Market in Stapleton. Generous market-goers donated $462 as well as 64 pairs of new socks and 45 pairs of new underwear. Student Ambassador Marko Babiak and his family worked with market organizer Kim Kouba to make the collection a huge success.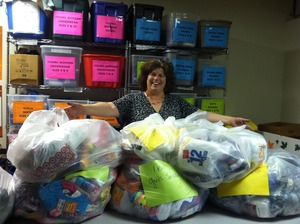 The Office of Children's Affairs organized an Undie 500 with the employees from the City and County of Denver, with each floor of the Webb Building competing. The winners were the 12th Floor (540 pairs) followed by the 11th Floor (318 pairs). The drive raised a total of 1,389 pairs of underwear and socks.

Long time CTKD supporters, the Tamarac Optimist Club collected 263 underwear and 77 pairs of socks during their weekly meetings. Three new volunteers from the Optimists joined the regular volunteer staff following the drive, making it an even bigger success.

The employees of ReadyTalk collected 127 pairs of underwear and 129 pairs of socks in their Undie 500. Seven members of their team finished off the drive by volunteering at CTKD as personal shoppers during a busy Friday morning.

The Tech Center branch and the Hampden and Yosemite branch of FirstBank teamed up to collect nearly 250 pairs of socks and underwear. Thanks to Alex Greenman and Aigoul Vaissova for making the drives such a success.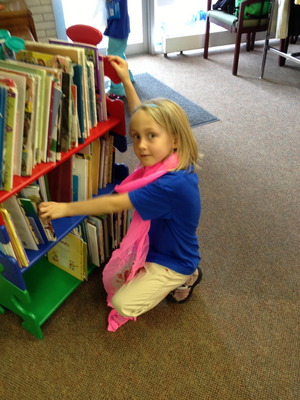 Ms. Houser's first grade class at the Creativity Challenge Community (C3) School was inspired to participate in the Undie 500 following a volunteer day at the Clothes To Kids shop. After holding a spare change drive, students shared some of the money they collected by purchasing 67 pairs of underwear for CTKD. A special thanks goes to Nola Norden and her mom Leila for dropping off the collection in time for back to school!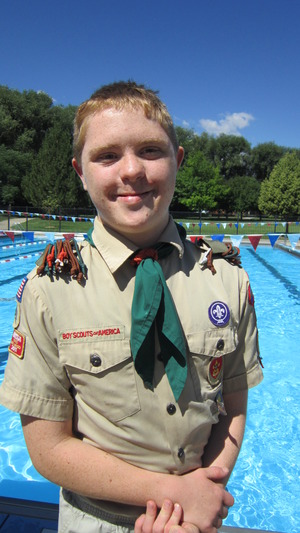 Gabe Nixon (pictured at left) hosted the Undie 500 as his Eagle Scout Project. Gabe organized a competition between the older and younger members of his swim league and collected donations in his church and neighborhood. After the drive, Gabe hosted a terrific pancake breakfast to celebrate the winning team in his swim league. This collection brought in 779 pairs of new underwear for CTKD.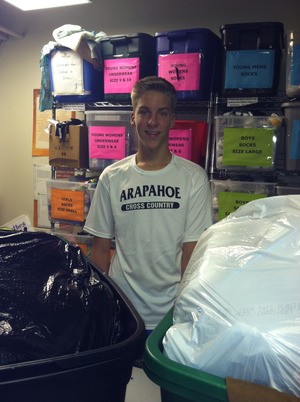 Another Eagle Scout candidate, Alex Lattin (pictured at right), collected 1,119 pairs of socks and 309 pairs of underwear for his Eagle Project. Alex's collection is the the largest Undie 500 to date, but their is still time to compete!
Want to participate? Click Here for more information or sign up for the Undie 500 by emailing Katie Jones at ctkdenver@gmail.com.
.....................................................
Liberty Media Awards $20,000 Grant
Clothes To Kids of Denver is thrilled to announce that it has received a $20,000 grant from the LibertyGives Foundation - the largest grant in CTKD history! The LibertyGives Foundation is a Colorado non-profit organization formed by Liberty Media to encourage and promote charitable giving and to support causes benefiting underprivileged and at-risk youth in Colorado. This generous funding will ensure that CTKD can meet the substantial need for new underwear and socks for at-risk students in Denver and allow CTKD to free up scarce funds to purchase wardrobe items that are not donated in enough quantity to meet current community needs. Thank you to Liberty Media for supporting Denver students in need!
.....................................................
Next Day Valet Sponsors Collection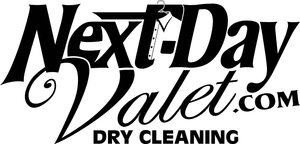 A Parker based dry cleaning business, Next Day Valet, generously conducted a back-to-school clothing drive throughout the summer. They picked up donations directly from their customers, cleaned them and delivered them to Clothes To Kids in time for the August rush. Thank you to Marsha and Alan from Next Day Valet and Lesley Jennings of the CTKD board of directors for making this wonderful collection possible. If you live in Parker, Southeast Aurora, Southeast Centennial, Heritage Hills or Heritage Estates, visit the Next Day Valet website or call 303-948-4449 to sign up as a new customer.
.....................................................

Special Shopping Event at Madewell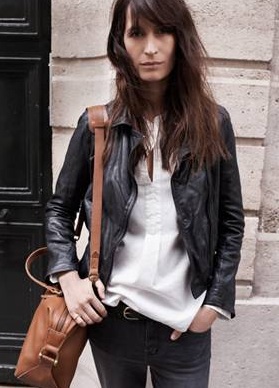 Join CTKD at the Madewell store in Park Meadows for an evening of shopping, cocktails and sweet treats! Guests will enjoy a special discount of 20% off a purchases of $125 or more and a portion of proceeds will be donated to CTKD.
October 24th 6pm-9pm
Madewell Park Meadows
8401 Park Meadows Center Drive #1123
Lone Tree, CO 80124
www.madewell.com
We look forward to seeing you there!
......................................................
Help Keep CTKD Stocked for Shoppers
There is nothing quite like a brand new outfit to start the school year off on the right foot. Think back to when you were a kid and how that new outfit improved your confidence in school. Wouldn't it be nice if all students could start the school year off with a wardrobe of new clothing? CTKD strives to offer the best selection possible to the students we serve. During this busy back to school time, about 100 kids a week are leaving our shop with a bag brimming with much needed clothing. There are many ways that you can help! Pick up an extra pack of socks, underwear, or even and entire outfit to donate to CTKD. Here is a list of our greatest needs to get you started:
Greatest Clothing Needs
• Athletic shorts (basketball, soccer, running etc.) for Boys and Young Men
• BOYS pants (sizes 6-20) and GIRLS pants (sizes 5-18+)
• SCHOOL UNIFORMS! Tops (navy, white and pink polos and turtle necks) and
bottoms (navy, khaki, black or plaid shorts, pants and skirts) for Boys and Girls.
• BOYS short sleeve tops (t-shirts, soccer jerseys, polos, etc.)
• GIRLS summer tops
• NEW, packaged underwear (kids size 6 to adult)
• NEW, packaged socks (kids size small to adult)
• Shoes (especially kids sizes 11-5 – tennis shoes are very popular)
• Waist size 27-36 pants and shorts for Young Men
Supply Needs
• Large shopping bags from retail stores (paper or plastic - bags that have handles
and can fit an entire CTKD wardrobe are the best)
• Cute iron-on patches (to cover small holes in children's pants)
• Hand sanitizer refill
• Gift cards to Walmart, Target or Payless Shoes
A complete list of items as well as our Donation Guidelines is available on the Donate Page of the CTKD website under the heading Donate Clothing and Shoes. Thank you for your support!
......................................................
CTKD Briefs - Quick Ways To Help
Citywide Banks has chosen CTKD for their Charity Hand-Up Contest. Based on the results of a 14-day Facebook vote beginning October 1st, the local community will determine how $7,500 is split among seven Colorado charities nominated by Citywide Banks employees. The charity that gets the most votes will receive $5,000! Click Here to Vote for CTKD
Mark your calendars! Colorado Gives Day is Tuesday, December 10th. Contributions made any time during the 24-hour period of 12/10 will be increased by the FirstBank incentive fund and support our efforts to make sure every student in Denver has school clothing that makes them feel great about going to school.
Calling all businesses! Are you looking for a great team building exercise? Or a great excuse to spend the morning away from your desk? Clothes To Kids of Denver is looking for corporate volunteer groups of 4-20 people to volunteer at the CTKD shop. Shifts are flexible and typically run mornings from 8:30-12:30, Tuesday-Fridays. Thank you to Xcel Energy, Western Union, ReadyTalk, Athleta Park Meadows, Kaiser and Fireside Productions for their generous support of this project. Please contact Katie Jones at ctkdenver@gmail.com for more information or to schedule a group.
Clothes To Kids has been working with a fantastic web-based innovation for online shoppers! SocialTransactions is a great application that supports CTKD every time a supporter - like you - buys something online. It works on almost any online store you can think of! SocialTransactions takes 10 seconds to install, works quietly in the background of your browser, and will make a small donation to CTKD every time you make a purchase on the web at no additional cost to you.
.......................................................
CTKD sends a heartfelt thank you to the following donors:
Carol Gutesha and her daughter Nicole (pictured at right), for making a special trip to Justice to purchase more than 100 brand new tops for girls. They were a huge hit! Thanks also to the managers at Justice #648 (at University and Orchard) for offering such a generous discount!

Lois Wiersma, for donating her lovely handmade pillows, blankets and purses for our extras section. Lois's items are always a hit!

Courtnee Ulrich, Lesley Shean and Brian Wendling from Liberty Media for their strong advocacy of Clothes To Kids. CTKD is also very excited to welcome Mr. Wendling to our Board of Directors!

Sue Graalman, for purchasing a much-needed laminator and other supplies for the shop.

Shannon Barker of Elements Massage in Centennial for holding a sock and underwear drive for CTKD. Thank you also to Board member Lesley Jennings for delivering the items collected.

The wonderful staff at Athleta at Park Meadows for bringing in a group of 5 volunteers AND donating 4 crates of brand new boots from Athleta for our shoppers. Special thanks goes to Maise Baubie and Meg Harmon for making it happen!

Yun Oudaha (ReadyTalk), Jeff Jankowsky (Western Union) and Rebecca Erickson (Xcel Energy) for organizing very successful service days for the staff at their companies.

Paul Reed for regularly delivering trailers packed full of great items donated by Homeless Gear in Ft. Collins. Thanks also to Eileen and her whole team for all their hard work to get everything organized and delivered.

Thank you to the youth volunteers who volunteered on a regular basis at the CTKD shop over the summer break: Aureon, Jaelyn, Micah, Jordan, Katelin, Emily, Jazmin, Abby, Jenna, Sydney, Rachael, Michael, Evan, Keiko, Lacey, Abby, Madi, Becky, Jenny, Jess, McLaine, Caroline, Sarah, Jade, Lilli, Samantha, Molly, Kate, Julia, Mary and Nicole.

Maria Wischmeyer, Karen Harrington and Carol West for taking home weekly loads of laundry. Thanks also to Nancy Wright for her many hours of mending.

Eileen Horgan, for making special deliveries of clean swim suits, athletic shoes, school supplies and other items from the Greenwood Athletic Club and area schools.

Sharon Rounds and Grace Community Church for the wonderful monthly donations of clothing.

The Commissioners of the 7 Districts of the Boys Scouts of America Denver Area Council and Tasha DeKock for allowing us time to speak about CTKD and the Undie 500 at their Roundtable meetings.

Jo Ann Wickens, for connecting CTKD with donations of new clothing from businesses and corporations across Colorado.

Holly Graham from the Rocky Mountain Chapter of NCL for organizing a school supply packing party in time for the August rush. A big thank you also goes to the members of the Rocky Mountain and Blue Sky chapters of NCL for helping in the shop all summer!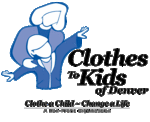 our mission
The mission of Clothes To Kids of Denver, Inc. is to provide new and quality used clothing to low-income, school-aged children in Denver County, free of charge.
our vision
It is our belief that we can bridge the gap that separates children in need from a warm coat, shoes that fit, and appropriate clothing. Our hope is to build self-esteem and give them a sense of pride.
volunteer hours
Students needing community service hours? We are still accepting applications for students wanting weekday hours in the summer. Email us at ctkdenver@gmail.com for more information.
CTKD stats
Average Vol Hrs/Month = 500
Wardrobes Dist 2013 = 2,816
Wardrobes Dist to Date = 14,109
Mailing Address:
P.O. Box 260621
Lakewood, CO 80226-0621

Store Address:
2890 S. Colorado Blvd, Unit M-3 Denver, CO 80222

Board of Directors

Joyce Meyers – President
Randi Lewis - President Elect
OPEN – Vice President
Jami Coulter – Treasurer
Kelly Root– Secretary
Lesa Butler

Jennifer Fish
Carol Gill
Meredith Halstead
Lesley Jennings
Derrol Moorhead
Tony Pierangeli
Sean Walsh
Brian Wendling
Jo Ann Wickens

Want to make a meaningful difference? Do you have a few hours a week to give?

CTKD currently has openings on the Board of Directors as well as the Marketing and Event Planning committees. For more information please contact Joyce Meyers at ctkdenver@gmail.com.



We want to hear from you!


ctkdenver@gmail.com
Phone: 720-379-4630
Fax: 720-379-4434
Website
Friend us on Facebook!

...........................................................
2013 clothing donors
Miriam Abreu
Julie Adams
John Albright
Holly Anderson
Julie Anderson
Tianna Apodaca
The Appel Family
Naomi Armstrong
Mallory Asti
The Atayde Family
Allyn Bandell
Claire Bates
Lindsey Bathke
Mallory Bau
Yvonne Benford
Holli Benkelman
Jane Berger
Maritt Bird
Nancy Birge
Melinda Blatt
Wendy Block
Lou Bluestein
Lois Bonie
Susan Bowman
Gay Boyd
Michelle Braun
Martin Brady
Suzanne Bremer
Linda Brooks
Alicia Brown
Kathy Brown
The Brunson Family
Paige Burkeholder
Anne Burton
Nicole Callahan
Polly Cantor
Caroline & Marla Carman
Dawn & Lily Clark
Katie Cochran
The Colehower Family
Tanicka Coleman
Jim Connors
The Cortez Family
Tina Cushman
Carol DeMane
Nancy DeNiro
Tom Dewey
Teresa Downs
Renee Duncan
Kari Dunn
Wayne Eckerling
Shellie Ellis
Linda Ewing
Stephanie Evans
Jie Feng
Natalie & Aaliyah Finnie
Jennifer Fish
Joni Fish
Karen & Abby Fisher
The Force Family
Mary Francis
Crystal Freeman
Mechelle Fried & Family
Kendra Fuller
Michelle Garnsey
The Goldblatt Family
Debbie Goodman
Deborah Gosling
Sue & Gary Graalman
Christina Graham
Liz Graham
Jen Grooters
Lora Haines
Amy Halvorsen
The Hamilton Family
Sandy Harden
Courtney Harris
Lois Hays
Angie Hendricks
The Herrmann Family
Deb Hester
Amy Hicks
Jenny Hilyard
Sarah Hittner
Karen Hu Ho
Sally Hodges
Cathy Hoops
Rose Hoopes
Eileen Horgan
John House
Katy Howell
Rob Hueston
Jill Huettner
The Huzyk Family
Christina Imamura
MariAnne Imhoff
Frank Jadwin
Karen Jefferson
Lesley and Rich Jennings
Joyce Jones
Katie Jones
Angie Kahn
Dana Kang
Aicha Kassisse
Bobby Kennedy
Mary Kenney
Joan and Art Kidnay
Nina Killorin
Mary Kolbach
Sarah Krivel
Matt LaRouche
Sharon Larson
Chelsea Long
Mary Longnecker
Kathy Loveberry
Pam Lozow
Victoria Lazar
Sandra Macke
Katie Magner
Betsy Magyar
Rhonda Margulies
Erin Markham
Liz Markowitz
Desiree Martinez
Teri Martinez-Swenson
Robert Matchett
Marilyn May
Ken McCarty
Barbara McDonald
Melissa McDovell
Sandra McDowell
Sonja McMurray
Katie Mendel
Pearl Meulemans
Stephanie Miranda
Nichole Montoya
Derrol Moorhead
Marissa Moorhead
MaryAnn Morris
Lisa Mortimer
Dave Jackie Mueller
The Norden Family
Michelle Olree
Joanna Olson
Diane Olsen-Lopez
Kristin Olson
Kim Olstad
Geralyn Ortiz
Mary Overington
Becky Palsmeier
Kathleen Parker
Sarah Paul
Fonda Paxton
Susan Pederson
Caroline Peltes and Family
Gregory Porter
Ashleigh Phillips
Les Quinn
Pallas Quist
Maureen Ramdath
Patty Ramey
RuthAnne Raymond
Kathleen Reichwein
Amy Reilly
Craig Rice
Jennifer Richardson
The Rifkin Family
Courtney & Sean Ring
Arielle Rippley
Andrea Robinson
Eileen Robinson
Jennifer Robinson
Rachel Robinson
Carol Roddy
Robin Rose
Sharon Rounds
Jana Roush
Katie Roush
Ellen Ruble
The Sakys Family
Juana Sanchez
Mike Sargent
Nonnie Saul
Cheryl Schaden
Joanne & Alan Schroeder
Robyn Sewell
Toni Oakes Sexton
Lora Shangreaux
Cindy Shnaider
Mona Shriver
Ruth Shroyen
Irene Sisneros
Chris Smithers
Jane Smithers
Melinda Spurgron
Sandra Stanko
Betsy Stern
Leslie Stevens
Jim Stirbis
Kathy Sullivan
Buzz Taplin
Liz Temple
Andrea Tenenbaum
Ann Thompson
Kimberly Timmons
The Tinsley Family
Parker and Maria Tinsley
The Tuitele Family
Mary Vostrejs
Sue Wankel
Wendy Weil
Linda Wells
Lynn Wells
Carol West
Christina Whelan
Jo Ann & Erin Wickens
Barbara Wilkins
Paul Williams
Diane Wine
Maria, Daisy & Olivia Wischmeyer
Susan Wist
Lou Ann Witter
Laura Writebol
Katie Youngpeter
The Zucker Family

corporate partners
Athleta@Park Meadows
Back on the Rack
CH2M Hill
DaVita
Elements Massage
Fireside Production
FirstBank
Garb, Inc.
The Garment District
Greenwood Athletic Club
isabeeTweens
Kaiser Permanente
Liberty Global
Liberty Media
Miller International
Our Plumbing and Sewer
ReadyTalk
Red Carpet Boutique
REI Denver Flagship
Universal Lending Corp.
Wage Works
Western Union
Xcel Energy

nonprofit partners
Ability Specialists
Church of the Risen Christ
Girl Scout Troop #848
Good360
Grace Community Church
Grace UMC Youth
HAWKS
High Pointe Center
Homeless Gear
National Charity League
Office of Children's Affairs
Soles4Souls
Tamarac Optimist Club
Underwearness



contributing

schools
Ben Franklin Elementary
Bradley International School
Bruce Randolph
Buffalo Trail Elementary
Creativity Challenge Community
Cory Elementary
Denver Academy NHS
Denver Green School
Denver Waldorf School
Ellis Elementary
Florence Crittenton Services
Graland Country Day
Greenwood Elementary
Legacy High School
Lincoln Montessori
Rocky Heights Middle School
RMSEL
Slavens School
St. Anne's Episcopal School
St. Mary's Academy
Stanley British Primary
Steck Elementary
University Park Elementary