Save the Date! Colorado Gives Day is on 12/4/12
CTKD needs your help to meet its $30,000 goal!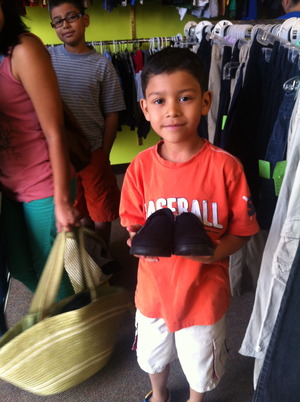 Support Clothes to Kids of Denver (CTKD) on Colorado Gives Day, Tuesday, Dec. 4, 2012. Join other Coloradans who will come together to raise millions of dollars for nonprofits like CTKD that are serving your community. Last year, a remarkable $12.8 million was distributed to Colorado nonprofits. CTKD's goal this year is to raise $30,000 and we cannot do it without your help!

Presented by Community First Foundation and FirstBank, Colorado Gives Day asks you to give to your favorite charities through GivingFirst.org, which processes donations safely with no fees or hidden charges. Not only does 100% of your donation come to CTKD, but when you give online any time on December 4th, the value of your donation will be increased by the FirstBank Incentive Fund. Simply put, the more you donate the more we will receive from this special "bonus" fund.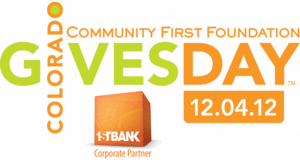 For the first time ever you can visit the Clothes To Kids page on the Giving First Website RIGHT NOW and schedule your donation for December 4th. CTKD will benefit from the incentive fund and you won't have to worry about remembering to donate on December 4th.

If you decide to wait until December 4th to give, we encourage you to put a reminder on your calendar. This is CTKD's biggest fundraising day of the year and how much we raise on December 4th goes a long way towards determining how many kids we can serve next year. Click here to add a reminder to your calendar. On December 4th, you can donate online by visiting the CTKD Profile on the Giving First Website. Contributions made any time during the 24-hour period of December 4th will support our efforts to make sure every child in Denver has a warm coat and clothing that makes them feel great about going to school.
......................................................
Whole Foods Fundraiser for CTKD: TOMORROW 11/16
Come enjoy a wonderful evening featuring a Whole Foods all-store tasting of their best holiday foods and beverages including wine, beer and spirits on Friday, November 16 from 5-8 p.m at the Tamarac Whole Foods store (7400 E. Hampden Ave). The cost is only $10 (payable at the door) and ALL proceeds go to CTKD. We encourage you to invite all your friends and family for this fun event. Even if you can't make it, we appreciate you passing the invitation along to others who could. CTKD will also be accepting clothing donations during the event and we encourage you and your guests to bring new socks and underwear as these items are in extremely high demand. We hope to see you there.
CTKD Distributes 10,000th Wardrobe
Just a few short years ago, CTKD opened its doors to serve the kids of Denver. We are proud to announce that on October 1, 2012, CTKD provided its 10,000 wardrobe. We couldn't have done it without your help. Whether you have donated money, clothing, your time, or all of the above, THANK YOU!
......................................................
William Wallis Completes Eagle Project for CTKD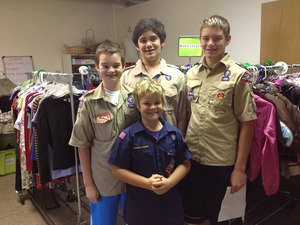 Over the past few months, Clothes To Kids has had the honor of receiving nearly 1,200 new pairs of underwear and socks from William Wallis, who collected the items as part of his Eagle Project

. William worked to organize the collection starting in the summer with the six teams in his swim league and continued the drive at his middle school this fall. Thank you to William and everyone who supported his project. Your hard work makes a difference to kids in need in Denver!
Eagle Scout candidate William Wallis (pictured at right) visited CTKD to drop off the underwear and socks he collected over the past few months with fellow scouts. The young men also stayed to do a thorough cleaning of the shop and sort the donations they brought in.
......................................................
Bargain Hunting for the Holidays? Keep CTKD in mind!
It seems as though the kickoff to the holiday shopping season has come to be Black Friday. The most dedicated bargain hunters even camp out over night to get special deals and get a start (or finish) on their holiday shopping. Why not include CTKD in your Black Friday and other holiday shopping plans? One of our greatest needs is new underwear and socks. CTKD does not distribute used undergarments, so we must purchase whatever we do not get donated.
We also need lots of items other than underwear and socks. If you are out on Black Friday (or just out doing your holiday shopping!) we encourage you to think of us by purchasing any of the items in the list below and donating them for a child to enjoy.
Current Greatest Clothing Needs
• WARM COATS and ZIP HOODIES for YOUNG MEN
• Athletic shorts (basketball, soccer, running etc.) for Boys and Young Men
• BOYS pants (especially sizes 6, 7, 8 and 10 - we are running out!)
• BOYS tops (t-shirts, soccer jerseys, polos, etc.)
• GIRLS tops (especially short sleeve)
• NEW, packaged underwear (kids size 6 to adult)
• NEW, packaged socks (kids size small to adult)
• Shoes (especially kids sizes 11-5 – tennis shoes are very popular)
• Waist size 27-32 pants and shorts for Young Men

Current Supply Needs
• Large shopping bags from retail stores that can fit an entire CTKD wardrobe. A wardrobe for our youngest shoppers can fit in a paper grocery bag, while our high school youth will often fill huge plastic bags (i.e. from Bath, Bath and Beyond or Walmart).
• Phone system with 3 handsets
• White and black shoe laces for athletic shoes
• Toilet paper
• Handsoap refills
• Unscented lotion with pump top
• Clear packing tape
• Cute iron-on patches and iron-on denim patches
• Gift cards to Walmart, Target or Payless Shoes

A complete list of items that CTKD need the most as well as our Donation Guidelines is available on the Donate Page of the CTKD website under the heading Donate Clothing and Shoes. Thank you for your support!

Special Volunteer Opportunities
Please reply to this newsletter if you can help!
Volunteers Mary Mischke and Taylor Powers have started a project focused on collecting Lost & Found items from schools, washing these items and delivering them to CTKD. They have already collected and cleaned hundreds of coats, shoes and other high-need items and need more participants to help the program grow.

Coats for Colorado is allowing CTKD to select coats on Tuesday, November 27th at 9 am. We need extra volunteer coverage at the CTKD shop as well as additional volunteers to come help select coats. Please respond by 11/20 if you are interested.

We currently have some nice items in need of minor repairs and a growing pile of warm winter coats needing a replacement zipper or zipper pull.

CTKD needs your help with its annual fundraiser! The planning committee is looking for additional participants as well as volunteers to help seek out donations for the silent auction.
.......................................................
CTKD sends a heartfelt thank you to the following
Marko Babiak and his father John for coordinating a large donation of over 1,000 DPS library books. Shoppers at CTKD may now select an unlimited number of books thanks to this very generous contribution!
Sue and Gary for painting and installing molding in the shop bathroom and re-finishing doors at the shop. Gary also made a new hanger rack for the front, which has made the bagging area much more organized. It has never looked better!
Monique, Caryn, Jazmin and all of the other wonderful youth volunteers who have served in the store on a regular basis this past summer. Thanks for using your school vacation to help CTKD!
Marie, Barb, Rosie and Karli for their ongoing pants shopping and Bettie and Lesa for always keeping the shop stocked with socks and underwear.
Lael and her mom Lesley, for their GIANT donation of girls clothing and for planning collections of socks, underwear and clothing in the coming months. Awesome!
Sherry and the team of 20 volunteers from XCEL Energy who spent a Saturday in the shop serving shoppers to commemorate the anniversary of September 11th. In addition to sending a fantastic group of volunteers, XCEL Energy also awarded CTKD a generous grant for supplies. Thank you so much for your support!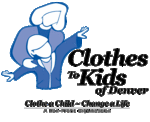 our mission
The mission of Clothes To Kids of Denver, Inc. is to provide new and quality used clothing to low-income, school-aged children in Denver County, free of charge.
our vision
It is our belief that we can bridge the gap that separates children in need from a warm coat, shoes that fit, and appropriate clothing. Our hope is to build self-esteem and give them a sense of pride.
volunteer hours
Students needing Community Service hours? Call or email us at: 720-379-4630 or ctkdenver@gmail.com. Plenty of opportunities are available.
CTKD stats
Volunteer Hrs July-Oct = 2,038
Total Volunteer Hrs = 17,522

Wardrobes Dist. July-Oct = 1,553
Total Wardrobes Dist. = 10,477
Mailing Address:
P.O. Box 260621
Lakewood, CO 80226-0621

Store Address:
2890 S. Colorado Blvd, Unit M-3 Denver, CO 80222

Board of Directors
Erin Dudley Crandall – Secretary
Lesa Butler
Sean Walsh
Jo Ann Wickens
Want to make a meaningful difference? Do you have a few hours a week to give? CTKD currently has openings on the Board of Directors. For more information please contact Joyce Meyers at ctkdenver@gmail.com.
We want to hear from you!
ctkdenver@gmail.com
Phone: 720-379-4630
Fax: 720-379-4434
Website
Friend us on Facebook!
...........................................................
clothing donors
Michael and Tristram Jeans
Maria, Daisy and Olivia Wischmeyer
contributing partners
Denver CASA
Elements Massage
Evergreen Public Library
First Plymouth Congregational Church
Florence Crittenton Services
The Friedman Club
Garb, Inc.
Girl Scout Troop #848
Grace Community Church
Homeless Gear
isabeeTweens
National Charity League
REI Denver Flagship
Set Free Church of Denver
Smiths Architects
Underwearness
XCEL Energy