---
News from Solar Energy International

Join us in Celebrating our 20th!
A reminder to join SEI for a fun, family-friendly, old-fashioned BBQ potluck on Saturday, Aug. 13 at Third Street Center in Carbondale, CO. The BBQ takes place from 1-4 p.m. MDT, and will feature organic food, live music, solar cooking demos, and SEI's solar friends from the past and present.

Make an entire weekend out of it and join us for a rafting excursion on Friday, Aug. 12, and a tour of SEI's Paonia PV Lab Facility and lunch at Delicious Orchards on Sunday, Aug. 14. If you are interested, please RSVP to sei@solarenergy.org and we will provide more details.

Come celebrate with us in sunny Colorado! Interested in coming to the party, meeting industry icons and getting more world-class training? Then come early for

Solar Electric Lab Week (Grid-Direct) from August 8-12 or stay an extra week for PV206 (see below).
---
Learn Solar Business and Technical Sales in New SEI Workshop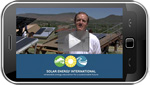 SEI's new 5-day in-person workshop, PV206: Solar Business and Technical Sales, is an excellent companion training opportunity to be taken with any of SEI's PV technical training. This workshop is a perfect fit for those currently working in the solar industry or hoping to work in solar sales. The workshop has a strong focus on business / financial principals and non-technical topics directly aligned with the NABCEP PV Technical Sales task analysis.
Other upcoming SEI workshops with some spaces available include:
SEI's PV Workshops fill up fast, so register early!

---
New $49 Continuing Education Courses!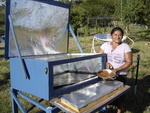 Many professions require periodic continuing education and training to stay certified or licensed. SEI's CE Series of courses serve Solar and Renewable Energy Professionals, Electricians, Roofers, Inspectors, Plumbers, Architects, K12 Educators and many more. Many of these courses are qualified for Continuing Education credits from NABCEP and other professional certification and state licensing authorities.

These short duration online courses are available for you to enroll in and start right away!
---
Accredited Wind and Solar Hot Water Training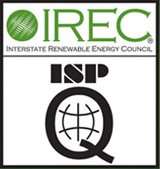 SEI's WP101: Wind Design and Installation and ST101: Solar Hot Water Design and Installation are now officially ISPQ accredited!

To ensure continuity, consistency, and quality in the delivery of training, the Interstate Renewable Energy Council (IREC) implements the Institute for Sustainable Power Quality (ISPQ) framework of standards and metrics to provide a means to compare content, quality, and resources across a broad range of renewable energy training programs. This international framework ensures legitimacy of what's being taught and by whom. This process leads to defined workplace knowledge and skills, and ensures the legitimacy of what is being taught and by whom. An IREC ISPQ credential sends a signal to students, potential employers and other industry stakeholders that a rigorous standard has been met.
Interested in taking these trainings? Then sign up for our Solar Hot Water training in San Diego, CA—October 10-12 and our Wind training in Guemes Island, WA—October 17-22!
---
Kids Fighting for Climate Justice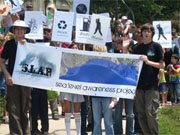 Kids vs Global Warming recently held youth marches, called The iMatter March, in 160 cities in 45 countries, and filed lawsuits against the US government to compel it to step up and protect the atmosphere for the younger generation. The lawsuits were filed in all 50 states with a demand to establish Climate Recovery Plans that reduce CO

2

emissions by 6% per year in an effort to re-establish balance in the atmosphere by the end of this century.
Kids vs. Global Warming, along with Youth for Climate Justice, say they are acting out of desperation to avoid the worst of the corresponding ecological damage that will lead to famine, sea level rise, and destabilized governments. "To us, the climate crisis is bigger than an environmental problem. It's a human rights issue that impacts every person in our generation and every generation to come. We seek climate justice for those who will be disproportionately affected by the most catastrophic effects of climate change: the world's youngest, poorest, and unborn citizens."

Click here to sign their petition to President Obama to protect the atmosphere.
---
Wade Andrews of Namasté Solar Receives
Walt Ratterman Award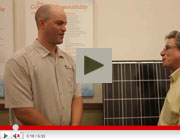 On June 13th, 2011, The North American Board of Certified Energy Practitioners (NABCEP) presented the first annual Walt Ratterman Award for Creative Community Energy to SEI alum Wade Andrews, co-owner and Solar PV Installation Project Leader of Namasté Solar. Wade won the award for his work in 2010 leading the domestic PV project on the Cal-Wood Education Center in Colorado.

The Walt Ratterman Award for Creative Community Energy is presented each year to the NABCEP certificant who does the most creative public service oriented renewable energy project. Installations can be domestic or offshore and they must be performed at no charge for a not-for-profit or charitable organization. The annual award was created by NABCEP to recognize and honor Walt, one of NABCEP's first certificants, and an SEI Instructor and alum. Walt installed solar projects and participated in humanitarian relief efforts in many diverse developing countries. In 2010, he was killed while working in Haiti when the devastating earthquake struck.

Read the entire article at RenewableEnergyWorld.com and if you are intersted in helping carry on Walt's work, donate to SEI's Walt Ratterman Scholarship Fund.



---
SEI Instructor Joins Research Team in ANWR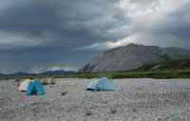 Susy Ellison, a Colorado High School teacher and SEI instructor, is currently in the Arctic National Wildlife Refuge with a PolarTrec Research team studying how forests are reacting to climate change. The research team is studying tree rings to note environmental conditions of the past and to try to determine which conditions have the greatest impacts on tree growth.

Susy will be keeping a blog with a journal, photos, teaching resources, and real-time events from the field. To keep up with the expedition, entitled "Forest Response to Arctic Environmental Change" check out the PolarTrec website.
---
Featured Alum - David Hill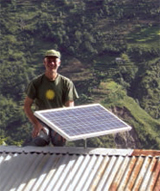 David took SEI courses in 2010, and then went off to Nepal where he volunteered with the Himalayan Light Foundation. David and his teenage son helped install solar PV systems at remote health clinics and rural homes in five different communities, bringing access to solar electricity to thousands of people. You can read about David's experience in his recent article in Solar Today magazine.