In the words of Mr. Hoderny...
"The world will not be changed by 7s or 6s."
Saturday, March 17, 2018 marks what would have been Mr. Robert Hoderny's 71st birthday. Mark the occasion with a gift to the Hoderny Scholarship Fund and/or join the alumni community in preparing and packing more than 1,500 sandwiches that deliver to Martha's Table and help feed the hungry throughout DC (see details below).
---
2018 Athletic Hall of Fame Enshrinement Ceremony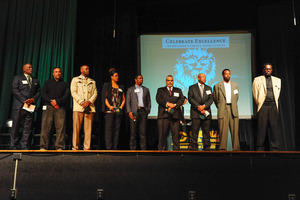 Archbishop Carroll High School will welcome 11 individual members and the 1977-78 WMAC championship football team to its Athletic Hall of Fame at its tenth enshrinement ceremony and luncheon on Saturday, April 21, 2018 at 11:00 AM in Carroll's Gordon McMahon Theatre.

The class includes the first two women - LaMeka M. Keys-Short '97 and Billi (Godsey) Chambers '99 - to be inducted into the school's Athletic Hall of Fame; former Georgetown University and professional basketball player Ruben Boumtje Boumtje '97; and past Carroll football and baseball coach, and faculty member, Tim Breslin '77.

Tickets for the enshrinement ceremony and Hall of Fame luncheon are $50 per person. Purchase tickets

online

today, as this event typically sells out.

This tenth enshrinement ceremony will bring the current roster of Athletic Hall of Fame members to 101 individuals and 12 teams (

click here for listing

).

The Athletic Hall of Fame pays tribute to superior athletes, coaches, teams, administrators and friends who have made major contributions to the 67-year legacy of Carroll athletics, and those who have continued to demonstrate the positive values learned through athletic competition.
Congratulations to the incoming members:

Alphonza Bellamy '80
Ruben B. Boumtje Boumtje '97
Timothy B. Breslin '77
Billi J. Chambers '99
Richard J. Dyer '78
Christopher U. Ezell '97
Aaron D. Harris '97
LaMeka M. Keys-Short '97
Dante E. Myles '99
Robert L. Rikard '78
Timothy N. Washington '98
1977-78 WMAC Championship Football Team

---
Carroll's First STEM Expo: SUCCESS!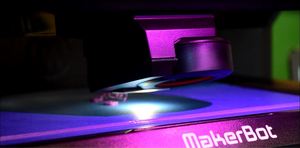 On Saturday, March 10, 2018, Engineering Program Director and Department Chair, Ms. Michelle Ming, hosted students, prospective students and families, and members of the community to Carroll for a STEM Expo. Demonstrators engaged attendees through food science experiments, calculator-controlled robots, 3D printer demonstrations, hoverboards, and much more!

[Click here to read the full article.]
---
Inaugural Green and Gold Golf Tournament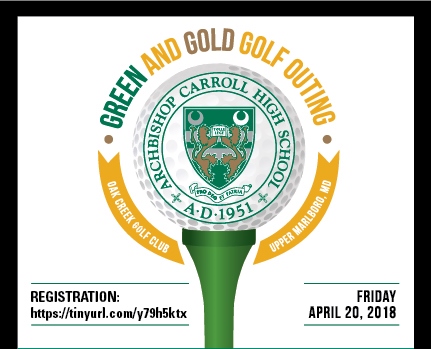 It is time to register for Carroll's inaugural Green and Gold Open golf tournament! Remember, the field is limited to 120 golfers at the exclusive Oak Creek Golf Club in Upper Marlboro, MD. Plan now to enjoy a round of golf on Friday, April 20, with classmates and teammates. Click here to register solo, or as a foursome with your buddies.
---
UPCOMING EVENTS! MARK YOUR CALENDAR!
Saturday, March 17, 2018:
​Annual Hoderny Service Day.
In partnership with Martha's Table, join us in making sandwiches on Saturday, March 17, 2018 from 9AM-1PM in the Carroll Cafe'. We are asking each person to bring loaves of wheat bread, peanut butter, jelly and/or deli meats and cheeses. Last year we made over 1,700 sandwiches, let's aim for more this year!
Friday, April 20, 2018:
Carroll's Inaugural Green & Gold Golf Outing.
Enjoy the day at Oak Creek Golf Club in Upper Marlboro, MD. All proceeds benefit Carroll's football program. For more information, please contact Coach Rob Harris '91 at
rharris@achsdc.org
.
Saturday, April 21, 2018:
Athletic Hall of Fame Enshrinement.
11AM, Gordon McMahon '70 Theatre. Visit
here
to purchase your tickets.
Saturday, April 28, 2018:
District of Columbia Youth Latin Dance Festival.
Join Carroll's Latin Dance team for a series of workshops with professional instructors. Classes in Salsa, Bachata, Pachanga and much more will be available for high school students. There will be a High School Showcase at 7PM. Click
here
to register. Contact
Judith Condezo
for more information.
Monday, June 4, 2018:
SAVE THE DATE
The 26th Annual Spring Benefit and Hall of Honor Induction
will be held at the Kennedy Center's Roof Terrace Restaurant. Make plans now to celebrate with alumni, faculty, family and friends. Tickets and sponsorship opportunities will be available next month. For more information, contact Stacy Rubens at 202-529-0900 ext. 171 or
srubens@achsdc.org
.


---
Newsworthy Notes:

Champion for Diversity. Victor Kidd '07 is the first African American doctoral candidate in Carolina's sport and entertainment management program. Read more here.

Kenneth Walker '69 and Charlie Ball '69 first met at Archbishop Carroll High School 53 years ago. But soon, they will be sharing more than just four years of great high school memories. Watch their story here.

CARROLL SPIRIT STORE
Sweatshirts, t-shirts, jackets, caps and more are just a click away! Click here to visit the Spirit Store.


ALUMNI CLASS NOTES
The ACHS Alumni Association wants to hear from you, and share your news with fellow Lions! Have you recently been promoted? Won an award? Started a business? If so, please click here to submit an ACHS class note.

The next Alumni Association Meeting will be held Tuesday, April 10, 2018 at 6PM! We will meet in Alumni Hall.


ADMISSIONS INFO
We're currently accepting applications for the 2018-2019 academic year. Prospective families are encouraged to apply online.

AMAZON SMILE
You can support Archbishop Carroll by shopping on AmazonSmile! Simply go to AmazonSmile and on your first visit select Archbishop Carroll to receive donations from eligible purchases before you begin shopping.


WORKPLACE GIVING

Help achieve your employer's United Way or Combined Federal Campaign (CFC) goals while also making a difference in the lives of young men and women at Carroll!

Designate your workplace giving campaigns this year:
United Way # 8402
CFC # 40075