This month, we're honored to welcome speaker Gary Severson, retired Executive Director of Northwest Colorado Council of Government (1998 - 2010). On March 16th, he'll share his knowledge and experience about forest and community collaboration.
As Executive Director, Gary led a voluntary association of 28 county and municipal governments to collaboratively address a broad array of social, economic, and environmental issues common to the 10,000 square mile region. While in that position, he was a recipient of the USDA Rural Communities Leadership award for collaborative cross-boundary issues management with the White River National Forest. Gary was a founding member of the Colorado Bark Beetle Cooperative (CBBC) and served as the CBBC's chair from 2006 to 2010. He also served as the coordinator of the Colorado Governor's Forest Health Advisory Council (2010–2012). He began his career as the public involvement coordinator for the USDA Forest Service, Rocky Mountain Region (1974-1983) and was a co-author of the first Forest Service Public Involvement Handbook. Gary recently served on the USDA Secretary's Collaborative Forest Landscape Restoration Advisory Committee and is an original member of the USDA Forest Service National Collaboration Cadre (2007 to present). He has worked with more than twenty national forests across the nation helping build collaborative relationships with communities and a diversity of stakeholders. Gary makes his home in Evergreen, Colorado.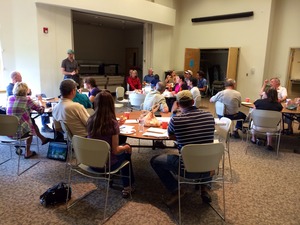 Join us next Wednesday at noon. Lunch will be served.
REMINDER! Future Meetings:

Wed, April 20, Noon, County Commons, Mt. Royal Rm
Wed, May 18, Noon, County Commons, Mt. Royal Rm
Tues, June 14, Noon, County Commons, Mt. Royal Rm