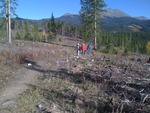 Forest Health Task Force Happenings
Monthly Stakeholder Series Meetings, continuing
12-1:30, Thursday, December 12
Forest Health Stakeholder's Meeting
Summit County Library, North Branch, Silverthorne
Blue River Room
651 Center Circle
Silverthorne, CO

Based on very positive feedback from volunteers and stakeholders at our Nov. 14th meeting we will be expanding the forest monitoring program to include new Summit County locations. Volunteers will have the opportunity to monitor areas closer to their homes ("backyard monitoring"). More detailed regeneration data from the Straight Creek Watershed will still be collected to compare climate, growth, and other variables. We will also be researching historical forest conditions prior to influx of miners. We will be working with the USFS and other stakeholders to finalize a protocol that is credible, relevant, and monitor friendly.

At our December 12th meeting we will be reviewing a detailed monitoring plan draft. We need feedback from past and new volunteers to make the 2014 plan better. Whether your interest is forest regeneration, weed control, wildfire mitigation, history, or simply getting out in the woods, please come join us.

Refreshments will be served. The public is encouraged to attend.
MSU Gets Grant to Research Potential of Turning Beetle-Killed Trees into Biomass Fuel

(November 26, 2013)




A four-state team involving Montana State University has been awarded nearly $10 million to investigate turning beetle-killed trees into biofuel. The award come from the US Dept. of Agriculture, and involves colleges in Idaho, Wyoming and Colorado in an effort to deal with the 42 million acres of forest impacted by the beetles. The U.S. Department of Agriculture announced the award saying it would allow an academic, industry and government consortium led by Colorado State University to study... READ MORE

Firewise Communities/USA renewal process now live online

Are you a state Firewise Liaison? Are you the main contact for a Firewise Communities/USA site? NFPA is pleased to announce an enhanced feature on its website just for you. Now when you log in, you'll be able to review detailed information about your recognized Firewise community, make edits and updates, and renew your status for the coming year. Get started today!

READ MORE
Wildfire seasons result in proposed legislation

(The Gazette, Nov 14, 2013)

Lawmakers will consider eight wildfire-related bills during the 2014 legislative session, following on the heels of a horrendous wildfire season that included the Black Forest fire. The interim Wildfire Matters Review Committee drafted measures that would strengthen regulations for prescribed burns, create a $2,500 tax credit for private property wildfire mitigation efforts, and launch a statewide wildfire resource center

..

.READ MORE

Forestry Deal Is Key to Protecting the Planet (Huffington Post, Nov 19, 2013)

Over the first week of the UN climate change negotiations in Poland we have seen the alarming results of studies showing increased decline of tropical forests. It is clear from newly available data from satellite monitoring stations that there are now growing areas being deforested as a result of illegal logging, agriculture and mining. This is a very concerning development that underlines the paramount urgency for governments to agree a new mechanism to reduce deforestation and forest degradation. Or as the negotiators here at the Warsaw negotiations call it Redd.

READ MORE Read the Wildfire Insurance and Forest Health T.F. Report to Governor Read the Colorado Forestry Best Management Practices
Jack Johnson Battles Beetles With a New Tune (TakePart, Nov 22, 2013)

Singer Jack Johnson is typically known for his soothing, mellow vibe, but his latest musical endeavor is inspired by death and fungus. In "The Guitar of Reality," Johnson strums a guitar carved from the rotting wood of Colorado's forests—which are being eaten into oblivion by mountain pine and bark beetles. The five-minute piece, which is more akin to a short film or a PSA than a music video, was produced in conjunction with Al Gore's Climate Reality Project. "It is clear that globally, climate change affects just about everything in our lives," says Maggie L. Fox, president of Climate Reality Project. "What better way to speak to that reality than through the universal language of music? We are thrilled Jack helped us turn a climate casualty into an instrument for change." READ MORE
Lake Dillon Fire and Rescue

There is now a new access road between Angler Mountain Ranch and the roads in Hamilton Creek. The new road between the two should help immensely in emergency access.

Angler Mountain Ranch now also has a new 330,000-gallon tank at the top of the hill which has been added to the Town of Silverthorne's water supply. The tank is filled from a pump station mid-way up the hill.

Lake Dillon Fire is getting a new Rosenbauer fire engine, to be arriving in mid-January and in service by February. The engine should be operated out of Station 8 in Dillon, while the engine that currently is there will be moved to Station 11 in Keystone, and the engine in Keystone will be designated as a reserve.

Congratulations to Lake DIllon Fire and Rescue on improving its station to better meet Summit County's resident needs!