When I mailed our annual letter in late 2015, we were mourning the passing of Crystal, our beloved herd matriarch. As often happens in the wake of a significant loss, CTR has been blessed with some wonderful new beginnings in 2016.
In April, we added two new horses to our herd! Foxy and Buttons were donated to us by Georgette Selecky, a friend to CTR who at one time ran an equine assisted learning program of her own. Foxy is an 18 year-old mare with equine assisted learning experience and Buttons is a 17 year-old, big-hearted, mini pony. Foxy has quickly become a favorite in therapeutic riding lessons while Buttons has become the face of our "Pony Express" program. Equipped with special boots (to prevent her from slipping on tile floors) and a "bun bag" (to keep her a mess-free guest), Buttons brings smiles to senior living facilities, schools, daycare centers, and libraries.
In addition to our full stable, CTR is now settled in its "home" in Jarrettsville. This beautiful facility gives us more flexibility in expanding our programs and services to better meet the needs of our community!
Finally, at the end of this year of new beginnings we are looking to become a Horse Discovery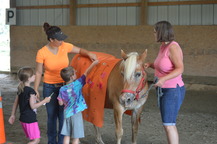 Center in partnership with the Maryland Horse Industry Board which allows up to better educate the public on the benefits of connecting people and horses in a safe, nonjudgmental and special needs-friendly ways. We also plan to expand our services to veterans, seniors, at-risk youth and special populations.
I invite you to join us in our work. Your tax-deductible, support is invested in our herd, our programs and services, and in making our community a better place to live, especially for vulnerable children, adults and seniors. When you support us, you make new beginnings possible: a journey to more strength thorough therapeutic riding; greater knowledge through Horse Powered Learning programs; enhanced communication and leadership skills through Teambuilding Workshops; or renewed peace in specialty weekend programs. Every gift makes a difference and we would be honored if you chose to help others through our work.
Thank you for your assistance in changing lives, and I wish you the very best for your own this holiday season!
Boots on!
Cathy