---
In this issue of La Plume:
---
SAB: School Advisory Board
Date: Monday, Jan 28 5:00 - 6:40pm
Location: SRFACS Library
Description: Open Meeting of the school steering organization
Agenda
---
C'est le Carnaval 2019 de SRFACS
Our Annual School Fundraiser Event
Ellington Hall in Santa Rosa
Saturday February 23rd, 2019
6:00 pm – 11:00 pm
Buy Tickets Here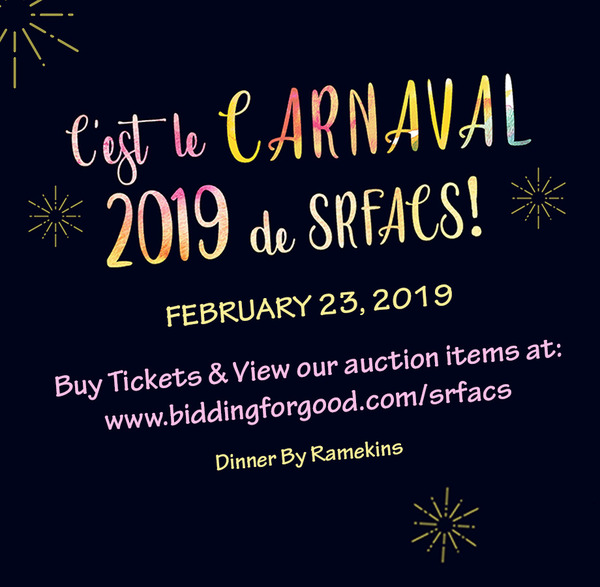 Come support the Santa Rosa French American Charter School at our major (and major fun!) fundraising event of the year! Dinner, Dancing, Live and Silent Auction!
Dinner by Ramekins / No host bar/ Desserts/ Live, Dessert and Online auction.
Dancing, dancing and dancing!

If you would like to make a table of 10 people but everyone is buying their own tickets. Please email Megan Hernandez at mhernandez@srfacs.org with all of the names of the guests.

21 and over only- leave the kids and let's party!

MENU
Appetizers
Grilled Flatbreads with Hummus, Tzatiki and Olive Tapenade (Vegetarian/Vegan if you avoid the Tzatiki)

Crudite with Green Goddess Dressing (Vegetarian/Gluten Free)

Dinner Buffet
Mixed Greens Salad with Shaved Garden Vegetables, Candied Pecans, Dry Jack, Champagne Vinaigrette, Fresh Herbs (Dry Jack on the Side) (Vegetarian, Vegan without cheese, Gluten Free)

Roasted Vegetables with Sage Pistou (Vegan/Vegetarian/Gluten Free)

Beef Bourguignon (Gluten Free) OR Crispy Panisse Cake with Romesco & Lemon-Olive Gremolata (Vegan/Vegetarian/Gluten Free)

Creamy Polenta (Vegetarian/Gluten Free)
Event Attire
You get to decide how extravagant to be! Think Mardi Gras, Masquerade Balls (bal masque), something flashy or something cozy!

---
Dine and Donate -
Tuesday, Jan 29th 4:00-9:00 pm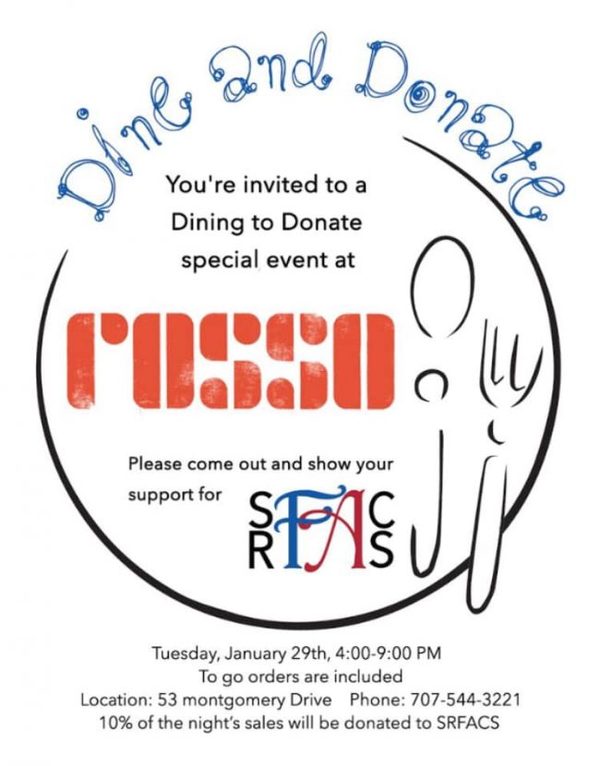 ---

SRFACS C.A.R.E.S. (Compassionate, Active, Responsible, Engaged Students)


SRFACS CARES will be organizing a clothing (and coat) drive in February❣️ Our beneficiary organization is
The Living Room
, the only day center in Sonoma County specifically serving homeless and at-risk women and their children. The Living Room provides these mothers with a safe, comfortable environment during the day when shelters are closed; and offers a myriad of social support services to help them move toward independence and self-sufficiency. Currently, the organization serves over 1,200 individual participants annually.
Please stay tuned for drop off location and times which will be posted in La Plume.
---