Dear Friends,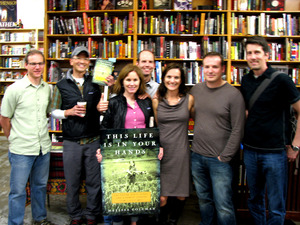 As I'm wrapping up the hardcover book tour for
This Life Is in Your Hands
, I'd like to thank the bookstores, libraries, literary festivals, reviewers, interviewers, and especially, readers, friends, my publisher, and my family for an amazing year.
Before the first book event back in March, I paced the block in the early-spring cold of Portland, Maine, terrified about speaking in public and putting a personal story out into the world. Since that time, I've been lucky to do 40-some events and, unbelievably, have enjoyed them all. Thank you, everyone, for the support and encouragement along the way. (See
photos
from the road.)
A few memorable happenings:
Being asked how the events in the book affected my dating life. (Huh?)
Receiving reviews in many wonderful publications.
Getting locked out of my accommodations in the middle of the night in Portland, Oregon.
Catching up with old friends in some of my favorite places and connecting with the remarkable people who buy, sell, write, and love books.
Getting the "Would you rather…" question in a radio interview. "Would you rather age from the neck down and not the neck up, or from the neck up and not the neck down?"
Bringing six-year-old twins, Emily and Heidi, on book tour and the frequent "would you rather" moments involved in that decision.
Such as: successfully sneaking one twin to the bathroom while doing a live radio interview via cell phone—until the toilet flushed. "Well, that's a first," the talk-show host gasped. For me, as well!
Last but not least,
This Life Is in Your Hands
is the Maine Women Write book club pick for October. Check out the
MWW
Facebook page and the other wonderful books to be featured in coming months. I've enjoyed visiting some of the groups, and am looking forward to discussions at two more of my favorite bookstores. Join if you can.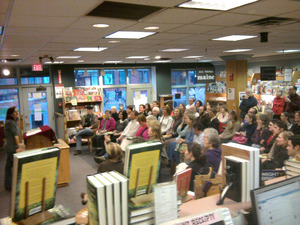 Please keep in touch via the
Melissa Coleman-Author
Facebook page or drop me an email anytime. If you haven't already, you can
order the book
on my website. I'll be in touch when the paperback comes out in spring. Until then!
Much love,
Melissa