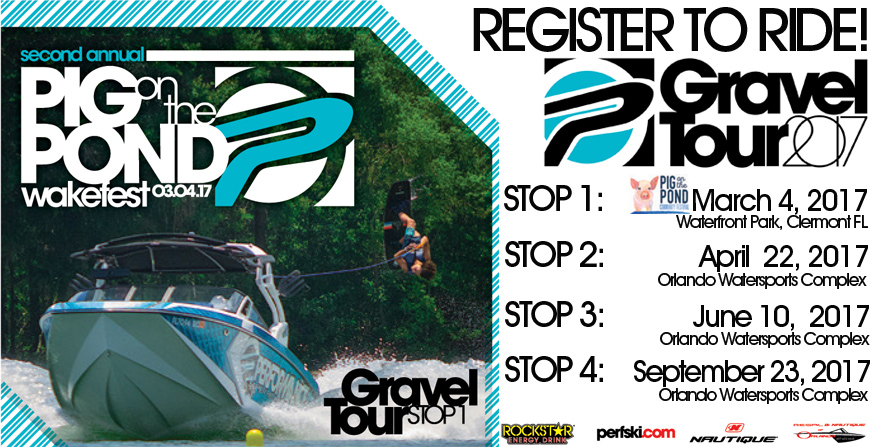 TIME TO RIDE!!
Performance Ski and Surf of Orlando is proud to announce that we are back for 2017 with the
Gravel Tour! We are excited to add our Pig On The Pond Event as our first stop for the 2017
Season. We will also have 3 events at OWC later in the year. The 2017 Gravel Tour is brought
to you by Nautique Boats, Rockstar Energy, Regal Nautiques of Orlando and the Orlando
Watersports Complex!

STOP 1:.....March 4 2017 - Waterfront Park - Clermont Florida @ Pig On The Pond
STOP 2:.....April 22, 2017 - Orlando Watersports Complex
STOP 3:.....June 10, 2017 - Orlando Watersports Complex
STOP 4:.....September 23, 2017 Finals & Overall Awards Ceremony
Orlando Watersports Complex

Please go to www.graveltour.com for more information on the event. You can find all the entry
forms here. NOTE: You will need to fill out separate Liablity Forms for the first stop and the
final three stops as they will be at different locations.
Follow the links below:

Gravel Tour Entry Form
Gravel Tour Liability Form Stop 1 @ Pig On The Pond Adult (18 & over), Kids (Under 18)
Gravel Tour Liablity Form Stop 2,3,4, @ OWC: Adult (18 and over), Kids (Under 18)
Note: All minor forms must be signed by a legal guardian. No exceptions

You must be a WWA member to ride in The Gravel Tour!

---
---
Performance Ski and Surf
1355 Sand Lake Road
Suite 1
Orlando, Florida 32809
US


Read the VerticalResponse marketing policy.