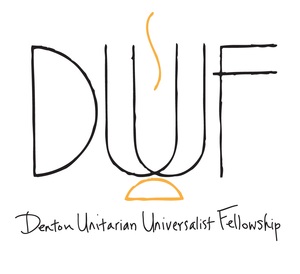 Denton Unitarian Universalist Fellowship - Working together to inspire spiritual growth, encourage ethical actions, seek truth, and improve the community and the world by our actions.
---
This Sunday, April 15, 2018 at 9:30 and 11:30 am

In our 9:30am & 11:30am worship services - The Promise and the Practice

This Sunday, Rev. Pam creates space for story and ritual in response to an invitation by members of Black Lives of Unitarian Universalism (BLUU). Can our anti-racism work be rooted in something besides guilt and anger? What realistic, concrete tasks can move us toward the beloved community?

We will give and receive a special offering to support Black Lives of Unitarian Universalism (BLUU). Formed in the wake of several conversations among Black UUs at the July 2015 Movement for Black Lives Convening in Cleveland, OH - the BLUU Organizing Collective is committed to to: Expanding the power & capacity of Black UUs within our faith; Providing support, information & resources for Black Unitarian Universalists; and Justice-making and liberation through our faith. Please give generously to support this work.

In our 9:30am and 11:30am Explorers classes:

Nursery (infant to Pre-K): Infants and young children are invited to our nursery for a time of play, discovery, nurture, and connection. If you are visiting for the first time, feel free to arrive early to meet our nursery staff and to spend time in the room (classroom number 4) with your child.

Grades PreK-1st: Students will continue exploring Emergence. We will sing a song, create a chalice, play a game, and discuss righting wrongs.

Grades 2-5: Students will continue exploring Emergence. We will sing a song, watch a video, discuss privilege and power, play a game, and mend a broken craft.

Between the services at 10:40 am:

Inquirers Series: Q&A with Minister- Room 2- What are your burning questions? What are the frequently asked questions? Newcomers and long-time members (and everyone in between) are especially invited to join Rev. Pam as we explore what it means to be UU.

The theme for April is EMERGENCE! Looking for wisdom to emerge? Go to Fellowship Hall during coffee hour and look for the emerging wisdom board.

Looking for wonder to emerge? Check out this three-minute movie called "Have You Ever Really Seen the Moon?": https://www.youtube.com/watch?v=ZV89qH9IGrA
---
From Our Leadership
Dear Congregational Leaders,
I invite you to participate in the Promise and Practice of our Faith Campaign.
If you have not already held a Promise and Practice Sunday and made a pledge or gift to support Black Lives of Unitarian Universalism (BLUU), we hope you will do so before General Assembly in June 2018. Your contributions will be matched dollar-for-dollar if you make a gift or pledge of at least $10 per member. Please do not miss this wonderful opportunity.
This campaign calls us to align our financial resources with our theological values of justice and equity by honoring our Board of Trustees' commitment of $5.3 million to Black Lives of Unitarian Universalism. This congregational phase of the campaign is your opportunity to invest in Black lives, Black leadership, and the uplifting of Black voices within our faith.
Since the 2017 General Assembly in New Orleans, more than 170 UU congregations, fellowships, and organizations have participated in the Promise and Practice campaign:
They have held services and utilized the

incredible worship resources

for the campaign, which were written by UU Religious Professionals of Color.

They have reflected on

the history of Black Empowerment

within our faith, and have held special fundraisers and collections in support of Black Lives of UU.
We ask you now to join in this movement. Now, more than ever, we are being called to a deeper practice of the promise of our faith. In this country, we see systemic racism and discrimination being emboldened in rhetoric and in policy. In this moment, we are called to do more to move forward the vision of a radically inclusive, justice centered faithful practice of the beloved community within and beyond our faith. This means investing more fully financially, spiritually, faithfully, and collectively in support of Black Lives.
Now is the time to lead and become the change we want to see in our communities across the world.
Thank you for all you do for our faith,
Susan Frederick-Gray
UUA President
---
Announcements
NEW LEAD TEACHER: We welcome Kyndal DeBruin to the position of Lead Teacher for Pre-K through First Grade! Kyndal has been our most active volunteer for all of our youth faith development classes and we anticipate her seamless transition to Lead Teacher. Kyndal is originally from Grand Prairie, and moved to Denton to pursue her education. She is currently wrapping up her M.A. in Sociology at Texas Woman's University and will begin her PhD in Sociology this fall. She and her husband Miles are both DUUF volunteers in the children's programs and have been part of our DUUF community for the last couple of years. Kyndal has volunteered at Parent's Night Out, Middle School Youth Group, and is also certified to teach the High School OWL program. She has also been part of the Lifespan Faith Development Council. She and her husband Miles love to spend time with their two dogs as well as cooking and working out together. Please take a moment to congratulate her on this new position!

DUUF T-SHIRT SALES: Thanks to everyone who purchased a DUUF t-shirt to support the Coming of Age high school trip to Boston. They sold 73 t-shirts! There are still a few shirts available for sale at https://goo.gl/wXr6mA. If you have not picked up your t-shirt yet, stop by DUUF on Tuesday, Wednesday, or Friday between 9am and 2pm or contact us at events@dentonuuf.org to make other arrangements.

DUUF will hold our 5th Annual Repentant Hoarders Church Garage Sale on May 11th & 12th, 2018 starting at 8:00 am each day. Set up will begin Monday, May 7th at 9:00 am through Thursday, May 10th. To make a great sale, we need all sorts of help, so please come by that week to lend a hand with the preparations. We want to encourage you to start collecting items you feel would make for a great sale as soon as you can. Items that sell well include: clean clothing (clothing on hangers is encouraged and appreciated), furniture (in good repair), tools (in good repair), kitchen items, dishes, children's toys (clean, in good repair), curtains, towels, decorations, paintings and anything you think you would buy if you saw it at a garage sale. Items we are not able to sell include outdated and non-working electronics, mattresses, personal items (underwear), worn out shoes, to name a few. We hope to have a storage container at the Fellowship soon. Look for updates on the DUUF newsletter and Facebook Page. Let's make this the best garage sale ever!

OPPORTUNITY FOR CONNECTION: Sunday Morning Teaching Assistants - Would you like to support the education and growth of children at DUUF? Now is a great time to explore how you can be more involved in supporting Lead Teachers on Sunday mornings. Contact Rev. Pam for more information (minister@dentonuuf.org).

BOOK DONATION: New or gently used children's books needed. These books will be donated to Giving Hope for families to use in the office waiting room. Giving Hope, https://hopeincdenton.com, is a non-profit organization that helps families at risk for homelessness. Look for the donation box in the coffee hour area.
---
Events
Sunday, 4/15 10:40 to 11:20 am - Inquirers Series: Q&A with Minister - Room 2 at DUUF - What are your burning questions? What are the frequently asked questions? Newcomers and long-time members (and everyone in between) are especially invited to join Rev. Pam as we explore what it means to be UU.

Sunday, 4/15 4:30 to 6:00pm - Meditation and Dharma Study Group - We continue our study of the Sixteen Guidelines to Happiness. Wear comfortable clothes, and feel free to use either our cushions or our chairs. We'll begin with 25 minutes of meditation followed by approximately 45 minutes to an hour of teaching and discussion. If you have questions, contact our teacher, Palden Lhamo, at palden.lhamo.om@gmail.com.

Sunday, 4/15 6:00pm to 8:00pm - OUTreach Denton LGBTQ+ Youth Group - Teenage youth who identify as LGBTQ+ and/or straight ally are invited to participate each week. Questions? Contact OUTreachDenton@gmail.com

Monday, 4/16 6:30pm - Board of Trustees meeting. All are invited to attend and observe this monthly meeting. Please note the earlier start time this month.
Wednesday, 4/18 6:00pm to 7:30pm Coming of Age High School Youth Group. For information contact organizers at hs@dentonuuf.org.
Wednesday, 4/18, 6-7:30pm - Middle School Youth Group. Our program this year is Peace & Justice: Fire it Up! We have discussions, play games and activities, get to know one another, and grow in our personal spiritual journeys. Snacks will be provided. Rachel Goodman leads the group. For more information email rachel@dentonuuf.org. All middle school youth (members and non members) are welcome.
April 20-22 weekend - DUUF 2018 Spring Camping Trip - Lake Ray Roberts at the Isle du Bois State Park in the Deer Ridge Campground. Join DUUF members as we camp at Lake Ray Roberts. Book your own campsite; feel free to contact Thomas Gonzalez for tips. Day trippers are welcome; come by for an evening or stay for a day. If you need to borrow equipment, please contact Thomas Gonzalez or post on the Facebook event. If previous trips are any indicator, there will be plenty of kids, food and coffee. There is electricity and water at every campsite. Bathrooms/showers are about 150 yards from where we are staying. Please contact Thomas Gonzalez @ 817-307-0371 or tubergonz@yahoo.com for information or go to the DUUF Facebook page and look for the "event".
Friday, 5/4 5:30pm to 9:30 pm - Parents Night Out. Registration deadline is Sunday, 4/29. Parents and guardians, bring your child(ren) to DUUF where they will enjoy a great time (pizza, movie, fun with friends) while you get the night off. This event is staffed by experienced, nurturing childcare providers. Sign up today! All attendees MUST be registered in advance at duufpno.eventbrite.com. Deadline to register is Sunday, April 29. $25 for the first child ($10 for each additional child) including all food, beverages, and activities. This event is open to the public. Please share with families in our wider community. Scholarships are available. Questions? Email events@dentonuuf.org.
Thursday, May 3 Interfaith Prayer Service (6:00pm-Community Meal and 7:00pm) at The Church of Jesus Christ of Latter-day Saints, 3000 Old North Road, Denton. Rev. Pam is looking for singers for a children's choir directed by the music director at First United Methodist Church. Contact her for more information (minister@dentonuuf.org).
May 11 & 12 - 5th Annual Repentant Hoarders Church Garage Sale. Save the date for great deals!
June 11-15, 9am to 12pm - Our Whole Lives (OWL) Summer Camp. OWL is a comprehensive, age-appropriate sexuality education curriculum for students of all ages. This summer, we offer OWL Summer Camp for grades K-1 and 4-5, teaching children to make healthy, safe, and informed choices about their bodies and their well-being. OWL Camp will also include crafts, outside games, and traditional summer camp activities. K-1 topics include: Birth, Babies, Bodies, and Families. 4-5 topics include: Puberty, Body Image, Gender, Sexuality and Values. Parents and guardians must attend one of these mandatory orientations: Tues. 4/24 at 7pm or Mon. 6/4 at 7pm.Register at duufowlcamp.eventbrite.com. Non-member registration is $100 for the week. DUUF members should contact Jennifer (Office Administrator) to request the promo code for a the member discount of $50. Questions? Contact dentonuuf@gmail.com for more information.
---
UPCOMING SERVICES
* Our theme for April is EMERGENCE.
• April 22 - "Emerging Sustainability"
• April 29 - TBA
• May 6 - TBA (with congregational meeting in between the services)
• May 13 - Coming of Age Service (our high school class will present their credo statements and lead worship with Rev. Pam)
---
DUUF Facebook page: https://www.facebook.com/dentonuufellowship/
DUUF Website:
http://dentonuuf.org/
---
---
Denton Unitarian Universalist Fellowship
1111 Cordell St
Denton, Texas 76201
US


Read the VerticalResponse marketing policy.