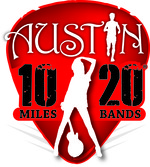 Austin 10/20 Newsletter #3 – January 22, 2013
Happy New Year! We hope the start of 2013 has been wonderful for everyone and you are all following through with your new year's resolutions. We're only 81 days away from race day and things have been busy in the office.
Texas Running Company – Exclusive Retail Partner
We're excited to announce Texas Running Company as the Exclusive Retail Partner of the Austin 10/20. If you haven't signed up yet for the Austin 10/20 and/or are looking to buy a new pair of shoes, print out this coupon (see below) and bring it in to any of the three participating Texas Running Company stores. You'll receive a coupon code for $10.20 off race registration and $10.20 off a regular priced pair of shoes. We'll also be partnering with them for some fun Pedicab Karaoke runs at their downtown Austin location. For more information on the discount
click here
.
Rockin' Out to Candlebox!
The popular Seattle, Washington band, Candlebox will be headlining the post race rock concert. Candlebox is known for their hit songs, "Far Behind," "You" and "Cover Me." New for 2013, there will be an opening band that will begin playing at 9:45 AM. Stay tuned to find out who will be opening for Candlebox. You can learn more about Candlebox and our 20 course bands by
clicking here
.
Participant Bling
For those of you who don't follow us on Facebook, we've finalized the 2013 participant medal. You can view pictures the medal by
clicking here
. We'll also have it on display at the Livestrong Austin Marathon Expo (Feb 15-16) and at the Cowtown Marathon Expo (Feb 22-23). Stop by either of our booths to say "hi" and see the medal before race day. P.S. Follow us on
Facebook
!
Course Update
We've changed the course slightly but the start and finish will be located in the same places as last year. To see an updated course map go to "Race Information" on our website or
click here
. Our friends at Endeavor and REEF have finished putting in a brand new, beautiful park which is where our post-race festivities will take place.
Official Hotels - Book Early!
We've partnered with some great hotels that are conveniently located near the start/finish and offer an exclusive Austin 10/20 discounted rate. If you're coming from out of town we encourage you to check out our Official Hotels page on our website and reserve your rooms early. Room blocks are filling up fast and will sell out. To view participating hotels
click here
.
Special San Antonio Soler's Sports Packet Pick-Up
New this year we will be offering a packet pick-up the weekend prior to the race for runners living in and around San Antonio. The packet-pick up will be at Soler's Sports Jackson Keller location (2589 Jackson Keller Rd. San Antonio, TX 78230). Packet pick-up dates and times are as follows:
Friday, April 5: 11 AM – 7PM
Saturday, April 6: 12 PM – 5 PM
Sunday, April 7: 12 PM – 5 PM
The Austin 10/20 race weekend expo will take place at the Norris Conference Center (2525 W Anderson Ln. Austin, TX 78757) on April 12 and 13. Hours are as follows:
Friday, April 12: 11 AM – 7 PM
Saturday, April 13: 9 AM – 5PM
All participants must pick up their packet and bib number at the San Antonio packet pick-up or the Official Austin 10/20 Expo. Participant instructions will be emailed in late March with expo and race day information.
Limited Entries
The Austin 10/20 is on track to sell out this year and is limited to 10,000 starters. Tell your friends to sign up soon and we'll see all of you there! Look for more 10/20 races in great destination cities to open registration in 2013! To register online
click here
.
Happy Running,
Race Director Peter and Event Manager Shannon
www.Austin1020.com