With the holidays just around the corner, we wanted to send out a quick update on the 5th Anniversary Austin 10/20 before everyone get's too busy. If you haven't registered yet, the code 1020DNL is good for 10% off and expires on 12/23. Have a Merry Christmas and a wonderful New Year everyone!

---
Rockin' Headliner Announced!
We're excited to announce that Grammy nominated rock band
Fastball
will be headlining the 2016 Austin 10/20 Finish Line Concert. The Austin based trio has received an MTV Music Award nomination and has made regular rotations on the late night talk show circuit (Conan, Letterman and Leno to name a few). They also have received five Austin Chronicle awards: 1998′s Album of the Year, Best Video, Best Single/EP, Band of the Year, and 1995′s Best Pop Band. Fastball will take the Main Stage at 10:30 AM on race day. The concert is free and open to the public. To learn more about Fastball visit the
Our Bands
page on our website.
Listen to their hit song "The Way" here.
NEW! Gift Certificate Registrations Now Available
Every person has someone in their life that is hard to shop for. Skip the stress of the holidays and get the runner or walker in your life a gift registration for the 5
th
Anniversary Austin 10/20. Simply go to the
Gift Registration
button on our website and click on "Give a Gift: Race Registration." Once you purchase the registration, we'll email you a custom gift certificate with a complimentary registration code that you can then print and give to your friend or family member. No stress and no need to visit the mall!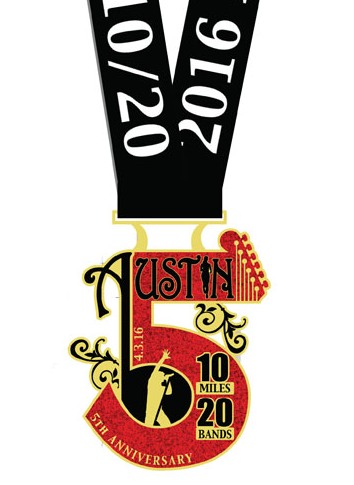 5th Anniversary Finisher Medal
We love bling, music and running so we combined all of three to make our 5
th
Anniversary Finisher Medal! This year's participant medal will be over 4 inches tall and will feature the red sparkle glitter that everyone loves. Your medal will be waiting for you when you cross the finish line on April 3, 2016!

Five Year Legacy Runners
Legacy Runners (those who have participated every year so far): if you haven't already, please send us an email after you've registered for the 2016 Austin 10
/20 so we can confirm and add you to our legacy list. You must register and confirm with us by 2/29/16 to receive recognition in our Collector's Edition Race Program and a special gift.
Help a Family in Need
Help make the holidays a little bright for someone in need and consider donating to our 2016 Featured Local Charity – Capital Area Food Bank of Texas. CAFB provides food for over 46,000 people every WEEK. A $1 donation can provide $6 worth of nutrition food, the equivalent of 3 meals. To donate to Capital Area Food Bank of Texas
click here
.
10 Weeks to 10 Miles
The Austin 10/20 offers free training plans for beginner, intermediate and advanced runners. The 10 week plan starts on January 25 and is great for first time runners or those who may need a little extra push to reach their PR. Preview it ahead of time
here.
Find us on Yelp!
If you've run our race before, please consider leaving us a review on
YELP!