Hi {FIRST_NAME}
Our 20th year here on North Main Street in Boonsboro has been a proud year for Nora, Bruce and the staff at Turn the Page. We continue to enjoy serving customers near and far. Every single one of you recognizes the value in small businesses, and that support means so much to us. In return, we work year round to connect our customers with authors in a way that's personal--through autographed book sales, multi-author book signings and Girls' Night Out events, where you never know which writer you might run into. We want Turn the Page to continue to be a destination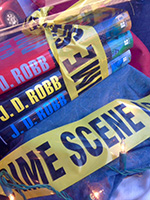 for readers and authors alike. So here's to the next 20 years of making sure bookstores still matter!
Even with our extensive Book Club selections, local history collection,
children's favorites and the eclectic reading tastes of our staff, we can't seem to escape our go-to genre—romance. So that's what we'll celebrate once again at our February 6 Book Signing, as Eve and Roarke mark their 42nd full-length installment in J.D. Robb's In Death series with Brotherhood in Death and we continue to invite world renowned romance novelists to Boonsboro, home of the most romantic Inn BoonsBoro and the charming Gifts Inn BoonsBoro.

Speaking of the gift shop, if you're in town early for the Book Signing, don't miss the Chocolate and Champagne Reception at Gifts Inn BoonsBoro on Thursday, February 4 from 6-8pm. The TTP staff loves sampling Zoe's chocolates and browsing our neighbor's amazing jewelry and art collection.

So this month, pick up a new book or two and let your love of romance inspire you!
Book Schedule:

Brotherhood in Death
(new hardcover)
by Nora Roberts
Order your autographed copy
available now
Brotherhood in Death - Dennis Mira just had two unpleasant surprises. First he learned that his cousin Edward was secretly meeting with a real estate agent about their late grandfather's magnificent West Village brownstone. Then, when he went to the house to confront Edward about it, he got a blunt object to the back of the head. The last thing he saw was Edward in a chair, bruised and bloody. Lieutenant Eve Dallas intends to shine some light on the dark motives behind the disappearance of this powerful man, the family discord over a multi-million dollar piece of real estate . . . and a new case that no one saw coming.

Devoted in Death
(mass market reprint)
by J.D. Robb
Order your autographed copy
available 1.26.2016
Devoted in Death - When Lieutenant Eve Dallas examines a body in a downtown Manhattan alleyway, carved into the victim's skin is the shape of a heart and initials E and D. Ella-Loo and her boyfriend, Darryl, hit the road but when their car breaks down in Arkansas, things get messy and they wind up killing someone. The experience stokes a wild desire to kill again. Now they've landed in the jurisdiction of Lt. Dallas. With her husband, Roarke, at her side, she has every intention of giving them what they truly deserve...

Morrigan's Cross
(trade reissue)
by Nora Roberts
Order your autographed copy
available now
Morrigan's Cross - Circle Trilogy Book #1 - The sorcerer stood on a high cliff overlooking the raging sea, belting out his grief into the storm. Hoyt Mac Cionaoith rails against the evil that has torn his twin brother from their family's embrace. Her name is Lilith. Existing for over a thousand years, this woman known as vampire will stop at nothing until she rules this world and those beyond it. Hoyt's powers come from the goddess Morrigan, and it is through her that he will get his chance at vengeance. At Morrigan's charge, he must gather five others to form a ring of power strong enough to overcome.

Chasing Hope
(mass market reissue)
by Nora Roberts
Order your autographed copy
available now
Chasing Hope - 2 in 1 - The first two books in the Stanislaski series.

Taming Natasha 1990 - The first time single father Spence Kimball sets eyes on Natasha Stanislaski, he's floored by her exotic beauty. But her fiery temperament that keeps most men safely at bay. Sensing a hidden wound, Spence and his little girl join forces to do whatever it takes to tame Natasha's fears and show her how to love.

Luring a Lady 1991 - Nothing in Sydney Hayward's background of wealth and privilege prepared her to take the helm of her family's corporation and Mikhail Stanislaski is a real complication. Mikhail comes from a world utterly different from her own. But the way she feels when he puts his strong, hands on her is wreaking havoc with her resolve!




Key of Valor
(trade reissue)
by Nora Roberts
Order your autographed copy
available now
Key of Valor - Trilogy Book #3 - Growing up, Zoe McCourt did not have an easy life. How she ended up on a quest for a key to unlock the soul of a warrior demigoddess is another story. Invited to an imposing estate overlooking the town, a mysterious couple offered them the chance of a lifetime: a million dollars each if they could free the trapped souls of three mythological sisters an artist, a bard, and a warrior. Now, it has become Zoe's quest and she must confront dark forces amassed against her to make all of their dreams come true.

Immortal in Death
(exclusive HC reprint)
by J.D. Robb
Order your autographed copy
available now

Immortal in Death - The third book from the series now available in hardcover exclusively from TTP. Lieutenant Eve Dallas' impending wedding to Roarke is interrupted when a model is murdered and Eve's friend Mavis stands accused. A top model who would stop at nothing to get what she wanted even another woman's man. And now she was dead, the victim of a brutal murder. Eve puts her professional life on the line to take the case when suspicion fell on her best friend, the other woman in the fatal love triangle.




Starlight
(mass market reissue)
by Nora Roberts
Order your autographed copy
available now

Starlight - 2 in 1

Hidden Star 1997 - She couldn't remember who she was. But it was clear Bailey James was big in trouble. She desperately needed private eye Cade Parris to help her find out just what kind. Surely she wasn't a criminal but then what on earth was she doing with a bag full of cash and a stunning blue diamond as big as a baby's fist?

Captive Star 1997 - Someone had set them up. Now, handcuffed together, bounty hunter Jack Dakota and bail jumper M. J. O'Leary were running from a pair of hired killers. M.J. wasn't talking - not even when Jack found a gigantic blue diamond in her purse. Everything told Jack she couldn't be trusted everything, that is, but his heart.




Stars of Fortune
(new trade)
by Nora Roberts
Order your autographed copy
available now

Stars of Fortune - The Guardians Trilogy #1
To celebrate the rise of their new queen, three goddesses of the moon created three stars, one of fire, one of ice, one of water. Sasha Riggs' visions lead her to the Greek island of Corfu, where five others have been lured to seek the fire star. In the magician, Bran Killian, she sees a man of immense power and compassion. Over their every attempt at trust, unity, and love, a dark threat looms. And it seeks to corrupt everything that stands in its way of possessing the stars.




Down the Rabbit Hole
(new mass market)
by J.B. Robb
Order your autographed copy
available now

Down the Rabbit Hole - Anthology with J. D. Robb, Mary Blayney, Elaine Fox, Mary Kay McComas & R.C. Ryan. Five all-new stories told through the looking glass-including a new Eve Dallas novella! Enter a wonderland of mesmerizing tales. It's a place where things are never quite as they seem. Inspired by Lewis Carroll's whimsical masterpiece, these stories will have you absolutely off your head. Don't be afraid to follow them.


---
Book Signing Events

Coming up on Saturday, February 6 from 12pm-2pm, we're hosting another Book Signing. Featured authors will be:
Nora Roberts/ J.D. Robb

Shiloh Walker

Kimberly Kincaid

Sheila Connolly

Cathy Maxwell

Virginia Kantra

Eloisa James

local history authors Roger Engle and Alexander B. Rossino
See our Event Page for a listing of the newer offerings of the authors and our Rules and Etiquette Page for more detailed information on our signing procedures.
If you can't make it to the store on the Book Signing day, take advantage of our Virtual Book Signing. Pre-order what you'd like signed from the Book Signing event page, and we'll ship them on Monday after the event. Looking for a book you can't find on our website? Just give us a call; we can have it waiting for you if you give us enough time.
Mark your calendars now for another Book Signing event:
April 16 – This event will launch the release of Nora's new hardcover The Obsession. In addition to Nora/J.D. Robb, these authors will also be signing with us on April 16: Melody Anne, Jules Bennett, Sharon Sala, Christine Trent, Erika Kelly and local author Alan Gibson.
---
Book Club
The Turn the Page Book Clubs continue to meet monthly for lively conversation:



The Second Wednesday group has selected:

Third Thursday group will read:

Our Book Clubs, led by Janeen and Kelly, are open to the public and meet each month at Turn the Page at 1 pm. No need to reserve a space.
Keep up with what we're reading through our website or by requesting to be placed on our Book Club email list at info@ttpbooks.com.
---
Girls' Night Out
We're excited to host another fun-filled Girls' Night Out on Thursday, May 19 from 6-9 pm.
This is a fun evening of champagne, refreshments,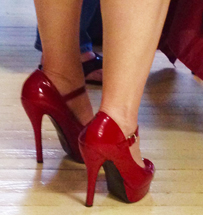 GNO treats, door prizes, and lots of mingling with authors, artists and girls galore. Then wander around town and stop in the many participating businesses. Visit all of the businesses and enter to win a free night's stay at Inn BoonsBoro. The winner from our November GNO was Neva Depaz of Frederick. Congratulations Nena!

Make plans now to be part of this fun evening out!


---
Merchandise

I Dream of Roarke Sleep-Shirts -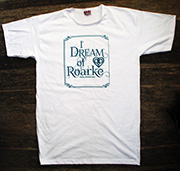 Thanks to the holidays we had a serious run on our I Dream of Roarke Sleep-Shirts, but we're freshly stocked up if you didn't end up with one under your Christmas tree. They say book lovers never go to bed alone, so why not add Roarke to yours?


Stars of Fortune Jewelry Collection - Our jewelry designer Joyce Taber did a fabulous job creating pieces for Stars of Fortune. We can't wait to see how the rest of the Guardians Trilogy evolves—the books and the jewelry!

Not all of products are on the website, so when you're in the store, be sure to check out all of our offerings. We always have something new!

---
What We Read
---
All of us at Turn the Page thank you for shopping at independent booksellers and for recognizing the importance of supporting local businesses.

Your patronage makes a difference and supports a community.

Be sure to check out

our Facebook page when you have the chance. This is where we post our events first.

As always, happy reading!

Janeen, Beth, Jeannie, Ana, Kelly, Renee and Bruce