Forward this event announcement to family members, friends and colleagues
. . . . . . . . . . . . . . . . . . . . . .
Hinkle, Fingles & Prior is pleased to be working with Professor Domenico Cavaiuolo of East StroudsBurg University on the following workshop series. Please join us for either or both of these special presentations.

Transition from School to Adult Life:
Building Supports for Independence
for Teens with Disabilities
The main goal of special education is simple: to prepare students with disabilities for further education, employment and independent living. In this 90-minute workshop, attendees will learn how to engage in transition planning, and secure services and supports needed for success. Topics will include:
Elements of transition planning

Considerations around graduation

Community-based learning

Behavioral supports for adults

Guardianship

Voting rights

Accessing options in higher education

Download a PDF flyer for these events.

TWO DATES AND LOCATIONS:
VILLANOVA UNIVERSITY
May 8, 2011 • 7:00 - 8:30 PM
Villanova Univ. Conf. Center, Room 120
601 County Line Road, Radnor, PA 19087
EAST STROUDSBURG UNIVERSITY
May 16, 2011 • 7:00 - 8:30 PM
Lower Dansbury Multipurpose Room,
200 Prospect St., East Stroudsburg, PA 18301
About the Speakers:
Domenico Cavaiuolo, Ph.D., is a Professor at East Stroudsburg University with more than 30 years of experience in the field of rehabilitation and special education. He has expertise in the areas of supported employment, integrated employment, natural supports in the work place, behavioral supports in the work place, and transition.
Ira M. Fingles, Esq., is a partner with Hinkle, Fingles and Prior, P.C., with offices in Bala Cynwyd and Plymouth Meeting, PA, and in New Jersey in Paramus, Florham Park, Lawrenceville and Cherry Hill. He has nearly 20 years of experience in the field of special education law and provides a lifespan approach to disability law.

These events are free of charge, but registration is required and seating is limited. For registration, please call Jacqueline Smith at (215) 860-2100 or e-mail jacqueline@hinkle1.com
.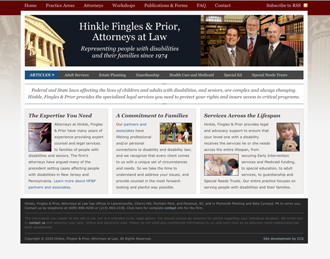 Click here to visit our website.
OUTREACH SERVICES
On-Site Guardianship and Estate Planning
Families caring for a loved one with a disability often put vital life planning on the 'back burner' - sometimes until it is too late. Through a new program, Hinkle, Fingles & Prior makes it easier for families to attend to critical issues by bringing professional services directly to them. On-Site Planning Events are designed to benefit both families and local provider agencies. Click here to learn more about this innovative program. To arrange an on-site planning day for families affiliated with your program, please call (609) 896-4200 or (215) 860-2100.
Workshops & Seminars Offered at No Charge
Is your organization or parent's group in need of more information about legal issues that affect children or adults with disabilities? Each year, Hinkle, Fingles & Prior provides hundreds of workshops, seminars, and lectures at no charge to parent groups and non-profit organizations. Click here to learn more.