Graduation and Students with Disabilities: What Parents Need to Know
By: Hinkle, Fingles & Prior, Attorneys at Law
Increasingly, school districts are trying to graduate students with disabilities as early as possible. It is more important than ever for parents to know their legal rights regarding when their child with disabilities should graduate. This article will equip you with the basic information regarding your legal rights.

Q: When does eligibility for special education services come to an end?

A: A student with a disability receiving special education and related services is entitled to do so until the end of the school year in which he or she turns 21. For most teens and young adults with disabilities, special education is the primary source of funding for services until age 21.

The type and level of services the student will receive, and the question of whether the student should graduate before turning 21 depends on the student's individualized needs.

Q: What can parents do to ensure their child with a disability does not graduate before they should?

A: Parents who think their child will not be able to meet standard legal graduation requirements (e.g., earning sufficient academic credits, fulfilling attendance requirements, and passing certain standardized tests) until after the child turns 18 (or ever at all), need to begin preparing well in advance to ensure their child will remain in school until age 21. Parents should ensure their child's IEP contains goals and objectives for all of the student's needs. For example, goals and objectives should include behavioral needs, as well as transition skills such as gaining proficiency and independence in activities of daily living, self-care and personal hygiene, social skills, mobility, and vocational skills or college preparatory skills. By ensuring that the IEP is broad, and contains measurable goals and objectives in these areas, students cannot be forced to accept a diploma because there will still be unmet goals and objectives in the IEP.

When applicable, parents should also document (through letters to the district) that the child is not "generalizing" skills learned in school to other settings, such as home and the community. For instance, a student with a disability may be earning high grades in math at school, but may not be able to make simple purchases, ensure he or she receives the correct change or use a bank. These are all reasons parents can argue that the district failed to prepare the student for life and, therefore, the student's educational entitlement must continue.

Q: Are there additional considerations parents should be aware of when discussion graduation?

A: Yes. Many individuals require ongoing supports after graduation and will, therefore, need services from the Division of Developmental Disabilities ("DDD") Because DDD only provides services to individuals age 21 and older, it is vital the graduation discussion include information about the supports and services your child will require after graduation. Therefore, if following graduation your child will require a day or work program provided by the Division of Developmental Disabilities, then graduation prior to age 21 will leave your child with a gap in services which could last several years.

Q: When should parents begin the discussion about graduation?

A: It is never too early to discuss graduation with the child study team. Moreover, if as a parent you get the sense the school district is planning to graduate your child prior to his or her 21st birthday, it is imperative to ask the district what its intention is no later than the September before the anticipated graduation date.

Q: What should a parent do if the school district recommends graduation, but the parent disagrees?

A: Under the law, graduation is considered a change in placement. If a parent disagrees with the district's attempt to graduate the student for any reason, the parent must immediately file for mediation or a due process hearing. If the parent files right away, they trigger the "stay put" provision under federal law, ensuring that the student's current program remains in place through the course of the dispute (See our website for information on Stay Put).

Q: What are the rules regarding diplomas and graduation ceremonies?

A: The law permits a student with a disability who is not prepared to graduate at age 18 to participate in senior class activities (e.g. senior prom, senior class trips) and even graduation ceremonies without accepting an actual diploma. The student with a disability will receive his or her diploma after satisfying all the goals and objectives and graduation requirements outlined in the child's IEP, or by June 30th in the school year in which he or she turns 21, whichever comes first.

If a student is attending an out-of-district school, parents can choose to have the diploma issued from either the home school district or the out-of-district placement. If the out-of-district placement refuses to issue the diploma, the sending school district must issue it.

When a student with a disability accepts the actual state-endorsed high school diploma, all special education and related services come to an end and the district is no longer responsible for providing anything to that student.
What the Achieving a Better Life Experience (ABLE) Act Really Means for Families of an Individual with a Disability
By: Hinkle, Fingles & Prior, Attorneys at Law
What is an ABLE account?

ABLE accounts are similar to 529 accounts for college savings and will have the same tax advantages as 529 savings accounts; except ABLE accounts are designed to create "tax-free" savings accounts for individuals with disabilities. ABLE accounts will be funded with "after-tax" money, but the earnings in the account will not be subject to Federal income tax (although the earnings may be subject to state income tax). Also, there will be no tax when the money is taken out and used for qualified disability expenses including education, housing, transportation, health aides, employment support, and other similar expenses.

Who will be eligible for an ABLE account?

In order to be eligible to be the beneficiary of an ABLE account an individual must be blind or disabled as defined by the Social Security Administration, and the disability must have occurred before the age of 26.

Will the funds in an ABLE account jeopardize the benefits my family member with a disability receives?

Although an important feature of ABLE accounts is that they are designed to preserve means-tested government benefits such as Supplemental Security Income ("SSI") and Medicaid, the answer is not so simple. Therefore, families must be aware of the guidelines and limitations. If an individual has over $100,000 in an ABLE account, they will be eligible for Medicaid. However, the individual will no longer be eligible to receive SSI.

Is there a limit to the funds that can be placed in an ABLE Account?

Yes, the maximum funds that can be held in an ABLE account is $300,000. Additionally, the maximum annual contribution to an ABLE account is $14,000. Therefore given the life expectancy of most individuals with disabilities, families should not rely upon ABLE accounts as their sole strategy for securing their child's financial future.

Are there any limitations on how funds in an ABLE account can be spent?

Yes, funds can only be used on disability related expenses. Additionally, funds spent on housing will be counted as income for purposes of SSI and may jeopardize SSI eligibility.

What happens to the funds in an ABLE account when the beneficiary of the account dies?

At the death of the beneficiary, the funds in the ABLE account will first be used to reimburse the government for services it provided.

When can I setup an ABLE account?

There are a number of steps that need to be taken before ABLE accounts will be available. The Federal government took the first step in December 2014 by passing the Achieving a Better Life Experience Act. The Federal government is in the process of promulgating regulations then each state must pass a law and promulgate regulations of its own. It may take a year or more before ABLE accounts are actually available.

Do I still need a special needs trust?

Yes. Although ABLE accounts will be a nice savings vehicle, because of the limitations discussed above, ABLE accounts cannot be a stand-alone solution for individuals with disabilities. Therefore, a special needs trust remains an important part of a comprehensive plan to secure the financial future of your child with a disability. To learn more about the benefits and purposes of special needs trusts, please see our other articles on this topic at http://hinkle1.com/category/special_needs_trusts/.
Tips for Completing The New Jersey Comprehensive Assessment Tool (NJCAT)
By: Hinkle, Fingles & Prior, Attorneys at Law
The New Jersey Comprehensive Assessment Tool is the newest assessment the Division of Developmental Disabilities ("DDD") is using to determine eligibility and funding levels. Completing this questionnaire is one of the most important steps you will take in preparing for your child to receive the appropriate level of supports and services from DDD.

Recently, DDD announced that anyone who completed an assessment prior to November 2014 will need to complete the NJCAT.

In preparation to complete the questionnaire, please imagine your child in a world that does not exist – a world where your child receives no natural supports. To help visualize this, imagine your child lives in his or her own apartment where you visit once a week. During your visit you ensure your child showers, brushes his or her teeth, and puts on clean clothes. You also make sure the laundry is done, meals are prepared and the apartment is clean. You leave and return one week later – What do you find?
Has your child showered?

Brushed his or her teeth?

Is he or she wearing clean clothes?

What does the apartment look like? Is it clean?

What has your child eaten?
The answers to these questions, will help you asses your child's self-care, independent living and self-direction skills. If your child cannot perform these tasks without your intervention, prompting, directions and assistance; then your child needs lots of assistance with these tasks. Be sure your responses on the questionnaire makes this clear.
Also, keep the following in mind when responding to the questions:
Think of your child on their worst day

Do not take into account the growth your child may have experienced over the last few years. The difference between your child and a typically developing child of the same age provides the best illustration of functioning ability.

Compare your child to a typically developing child of the same age

This form is often completed when your child is 21 years old. A typically developing 21 year-old may be living completely on their own, or living in a dorm at college.
Hinkle, Fingle & Prior Legal Victories
The firm recently represented the parents of an 11 year-old boy with autism in the family's request to move the student from an out-of-district placement to an in-district setting with supplemental aids, services, and supports. After ongoing negotiations the student was finally transferred to an in-district setting and the district agreed to provide a number of related services. However, once the student began attending the in-district program, the district reneged on its agreement to provide all the related services. Attorneys from the firm filed an application for emergent relief and after a hearing the court Ordered the district to provide the full level of related services and supports. At the time this newsletter is going to press, attorneys from the firm have filed an application in the United States District Court for the reimbursement of the family's attorney's fees. It is anticipated the parents will prevail on its reimbursement claim.

The firm recently represented an adult child in a contested guardianship matter pertaining to an aging parent with dementia. The individual with dementia was subject to undue influence and duress and was at risk of falling prey to personal and economic exploitation. Attorneys at the firm obtained a temporary injunction against the individual who was perpetrating the acts of exploitation. The matter is currently pending before the court in Pennsylvania where further proceedings are scheduled.

The firm recently represented the parents of a 22 year-old adult with intellectual and developmental disabilities who is non-ambulatory, totally dependent on others for all ADLs, has a seizure disorder, and is g-tube fed at a hearing against the Division of Medical Assistance and Health Services (DMAHS) which is the state agency responsible for administering Medicaid in New Jersey. At issue was whether the individual with disabilities should continue to receive 16 hours of private duty nursing per day under the Managed Long Term Services and Supports Waiver (MLTSS). The agency, through a private sub-contracted HMO, attempted to slash the 16 hours of nursing services per day down to 8 hours per day. After a contested trial, the Court ruled Medicaid through the private insurance company must provide the full 16 hours of nursing services per day

.
Forward this enewsletter to family members, friends and colleagues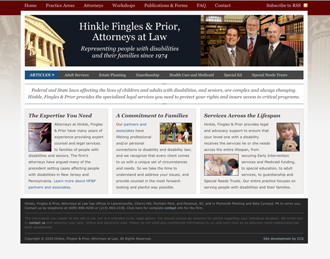 Click here to visit our website.
Hinkle, Fingles & Prior is on Facebook
, where we post news, events and happenings as they relate to law and disability.
Like us and follow us!
JESPY House Honors Herbert D. Hinkle, Esq with Champion Award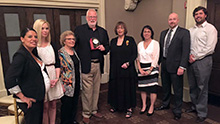 This summer, JESPY House honored Herbert Hinkle, Esq. by bestowing its Champion Award in recognition of Herb's commitment to disability services in New Jersey. Hinkle, Fingles & Prior was, and continues to be, instrumental in securing services and supports for many of the clients served by JESPY. It was particularly gratifying to see so many of our clients on hand to help celebrate.
Herbert D. Hinkle, Esq. to Receive Autism New Jersey's Lifetime Achievement Award

Hinkle, Fingles & Prior founding partner, Herbert D. Hinkle, will be honored with a lifetime achievement award at the Autism New Jersey 50th Anniversary Gala on November 5, 2015. The gala, which will be held at the Liberty Science Center in Jersey City New Jersey, is a signature event of ANJ's on-going 50th Anniversary Campaign. Hinkle, Fingles & Prior is proud to be the very first donor to ANJ's 50th Anniversary Campaign with a leadership gift of $50,000 to ANJ.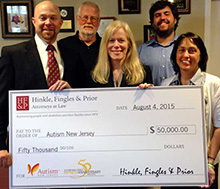 For more information about the Gala as well as ANJ's 50th Anniversary Campaign, please visit ANJ's website at http://www.autismnj.org/50gala
Supporting Organizations in Our Communities
Attorneys, staff and families are proud to support events including Special Olympics' "One More Tri," the CHOP "Buddy Walk," Autism Speaks' Walk, Autism New Jersey's Golf Outing, the Deveroux Family Resilience Conference, and Eden Autism Services' 5K run.

Below are just a few pictures taken at these events.