In this issue:
Bowling Party
Tax Strategies for Families with Special Needs Kids
Upcoming Events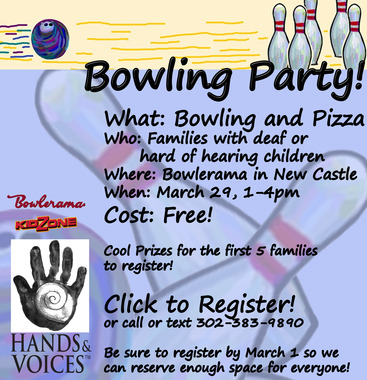 ---
---
What is Hands & Voices all about?
We are a nationwide non-profit organization dedicated to supporting families and their children who are deaf or hard of hearing, as well as the professionals who serve them. We are a parent-driven, parent/professional collaborative group that is unbiased towards communication modes and methods. Our diverse membership includes those who are deaf or hard of hearing and their families who communicate orally, with signs, cue, and/or combined methods. We exist to help our children reach their highest potential.
---

We would love to print your stories, pictures, resources, and upcoming events! To submit an article for our newsletter, you can reply to this email with it or email it to Angie at PrestonandAngie@yahoo.com. Looking forward to your contributions!
UPCOMING EVENTS
Please note, we are working on dates for coffee meet-ups across the state. If you have a favorite place and time, please reply to this email to get it on the schedule!


February
Chapter meeting February 24, 6PM at TLK in Peoples Plaza in Glasgow


March
Bowling and Pizza! March 29, 1-4pm at the Bowlerama in New Castle. This is a free event, but you must register by March 1 so that we can reserve enough lanes!
Chapter meeting March 31, 6PM at TLK in Peoples Plaza in Glasgow