Sunday, September 29 we had our beach party at Cape Henlopen. We had a beautiful late-summer-in-Delaware 74 degree day with perfect sunshine and a light breeze off the bay. It was a great success with pizza, games, prizes, and deaf and hard of hearing children from all over the state getting to know each other. We met some new people and caught up with some regulars. The pavilion parking lot stayed more than half full all day as happy families came and left.
Under the pavilion some of our more mischievous members pushed picnic tables into a huge "H" shape to serve as a badminton court. The player turnover rate was quite high on both sides with kids of all sizes chasing birdies until they got tired and wandered off for more snacks. I don't think anyone ever did keep score, but they all had a great time. The game was finally called on account of too much wind when the breeze picked up late in the afternoon.
The sand castle contest evolved into a big group effort at a line of walled cities when the kids figured out they could build much bigger all working together, and the judges ruled them all first place. After lunch the kids split into pairs for a color scavenger hunt where each team raced to find items matching each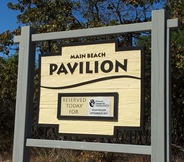 color in a stack of paint sample chips. We did allow writing down objects (or drawing pictures for the younger ones) if the found object was too big or too alive to carry. The winning team chose a puzzle and a rubber snake for their prizes, then took turns chasing grown-ups and each other around the pavilion with the snake. I promise next time there will be more than 1 rubber snake in the big prize bag!
In addition to our planned activities, nature was cooperating, and many families enjoyed watching the birds from the hawk tower. There were plenty of buzzards and gulls, but also some hawks and a golden eagle. Down on the beach a small shark washed in alive while the kids were playing in the sand. After all the kids had a chance to gather around and test their bravery by giving it a quick pet, one of the dads and one of the older kids held it in the shallow water until it revived a bit and swam off. They reported it to be surprisingly strong in the water, and we hope it made it out past the breakers. Incredibly in this age of cell phones, no one seems to have taken a picture of that. If you got one, please send it in, and we will stick it on our Facebook page!
I am a little sad to be sitting back here at my desk again after such a fun weekend. Thanks to everyone who helped make it a great day, and hope to see you all again next time.