In this issue:
Robot Bugs
Jacob's Ride Pizza Dinner
Fresh Reading From Our Library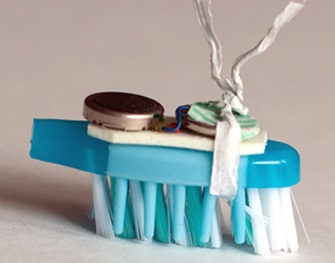 At our July craft parties, we will be making robot bugs from wooden spoons, toothbrushes, and tiny motors. The first one will be tomorrow, Wednesday, July 1, 6:30-7:30pm at Appoquinimink Community Library. More dates will be scheduled soon. Hope to see you there!
Register at our website here!

---
Jacob's Ride
Delaware Families for Hands & Voices is sponsoring a pizza party for deaf and hard of hearing teens, children, and their families to meet and talk with Jacob Landis of
Jacob's Ride
. It will be at the Children's Beach House in Lewes (1800 Bay Avenue, Lewes, DE 19958) on Saturday, July 18, 4-6pm. Families can email, call, or text me to RSVP at prestonandangie@yahoo.com or 302-383-9890.
From
JacobsRide.org
: Jacob's Ride was established in 2013 to raise funds and public awareness about the benefits of cochlear implants for the deaf. Jacob Landis, a cochlear implant recipient, has dedicated himself to helping others receive the gift of hearing.
---
Delaware Families for Hands & Voices has a terrific free lending library for members. We would love for you to take advantage and expand your summer reading list from our shelves!
Our Library Catalog is at our site here
. Here are a few suggestions:
El Deafo by Cece Bell
A 2015 Newbery Honor Book.
In this funny, poignant graphic novel memoir, author/illustrator Cece Bell chronicles her hearing loss at a young age.
Moment of Truth,
Robert R. Davila: the story of a deaf leader, ninth president of Gallaudet University
Summer's Story
A collection of videos about life experience with a cochlear implant (DVD)
---
What is Hands & Voices all about?
We are a nationwide non-profit organization dedicated to supporting families and their children who are deaf or hard of hearing, as well as the professionals who serve them. We are a parent-driven, parent/professional collaborative group that is unbiased towards communication modes and methods. Our diverse membership includes those who are deaf or hard of hearing and their families who communicate orally, with signs, cue, and/or combined methods. We exist to help our children reach their highest potential.
---

We would love to print your stories, pictures, resources, and upcoming events! To submit an article for our newsletter, you can reply to this email with it or email it to Angie at PrestonandAngie@yahoo.com. Looking forward to your contributions!
UPCOMING EVENTS
Monthly Chapter Meeting is tonight, June 30 at 6pm. If you can't make it to TLK Peoples Plaza in person, you can also call in on the conference line at 1-415-655-0001 meeting access number 193 451 406 or catch us on Google Hangouts
Wednesday, July 1, 6:30pm, Hands & Voices Craft Party at Appoquinimink Community Library
Wednesday, July 8, 6:30-8pm in Middletown, PIC Workshop Standards Based IEPs
Saturday, July 18, 4-6pm, Pizza and conversation with Jacob of Jacob's Ride at Children's Beach House in Lewes
Chapter meeting July 28, 6PM at TLK in Peoples Plaza in Glasgow.