Best Building of 2013
Who should be added to Aircuity's Wall of Fame?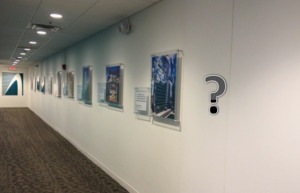 Aircuity headquarters has a space open on the Wall of Fame and we are looking to fill it with the "Best Building of 2013". Below is a list of nominees and we are seeking your vote on which Aircuity project should win and join the ranks of other "famous" Aircuity installations! Please review the list and tweet your vote to @Aircuity with #bestbuilding, or you can also post your vote on our facebook page.



Don't see your building on the list, but think it should be displayed on the Wall of Fame? Nominate yourself by tweeting @Aircuity or send us an email.



Nominees:
-University of Massachusetts Medical Center, Aaron Lazare Research Building



-Appalachian State University, Rankin Science Hall



-University of Kentucky, Center for Applied Energy Research



-Van Andel Research Institute
---
Aircuity Events
2014 Tradeline Research Facilities Conference
May 5 - 6 2014
San Diego, CA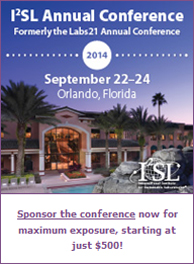 I2SL Webinar: Roadmap to Successful R&D Campus Development
January 29th 11am - 12pm EST
Register Today!

---
California's Prop 39 Funding & CCC/IOU Energy Efficiency Partnership
A great fit for Aircuity projects
Prop 39 funding is now available to community colleges and K-12 schools to conduct energy efficiency projects and is a great way for area institutions to take advantage of available funds and reduce energy use with little or no cost. In addition, the California Community Colleges and Investor Owned Utilities Energy Efficiency Partnership is a second program currently offered for schools.
Whether utilizing one or both funding sources it is a great time for community colleges to complete an airside efficiency project in their lab. Aircuity solutions are easy to install as a retrofit, so with minimal interruption, colleges can reduce operating costs and save 40 - 60% of their energy use in labs- all with little to no cost to the institution through these funding mechanisms!
Does your state offer a similar program? If so, contact your local Aircuity representative for help in designing an impactful energy efficiency project to take advantage of this opportunity.
In the SPOTLIGHT
High Performance Buildings Magazine:


Test Case for Un
iversities
Researchers at the University of Kentucky's Center for Applied Energy Research (CAER) Renewable Energy Laboratory investigate energy technologies to improve the environment. But, they aren't the only ones who use the building to learn. The building, on the leading edge of laboratory design, serves as the test case for the envelope, lighting and HVAC energy efficiency strategies that may be implemented in future university buildings.

Aircuity solutions is one of the of energy efficient HVAC strategies included in the building. Follow the link below to find out more about the building and Aircuity's role in helping to reduce energy use.
---
Aircuity Advisor™
Just Released: New IEQ Analytics
Aircuity is excited to announce the release of new IEQ analytics designed to provide more information at your fingertips! These analytics are user configurable to display:
Absolute measurements – which help demonstrate exposure levels

Differential measurements – which assist in source identification

Both
Users also have the ability to display any combination of peak or average values for both the currently selected, or previous time period. This is important in understanding if IEQ conditions are improving, degrading, or remaining the same.
Measured parameters are determined by the sensors chosen and include:
Absolute

Differential

Peak

Average

Peak

Average

CO

✔

✔

✔

✔

CO2

✔

✔

✔

✔

TVOC (MOS)

✔

✔

✔

✔

TVOC (PID)

✔

✔

✔

✔

TVOC (as Ammonia)

✔

✔

✔

✔

Particles (0.3 to 0.5M)

✔

✔

✔

✔

Particles (0.5 to 2.5M)

✔

✔

✔

✔

Particles (0.3 to 2.5M)

✔

✔

✔

✔

Temperature

✔

✔

Relative Humidity

✔

✔
Different views provide different ways of inspecting the IEQ performance within your building. The top-level view displays the peak and average results for all monitored spaces associated with that AHU or floor in a bar graph format. This allows users to quickly identify areas of concern.



Classifying spaces by their intended use allows Advisor users to access a powerful filtering tool to quickly group areas with similar characteristics for comparative purposes.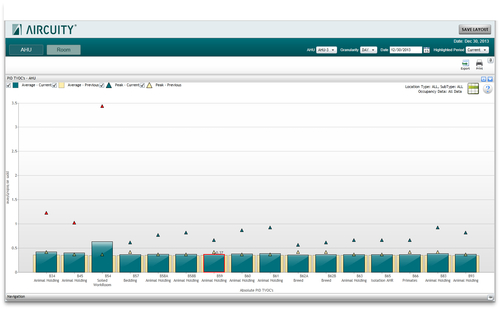 Zooming in to the room-level view (as in the image below) displays analyzed data over time for that particular area.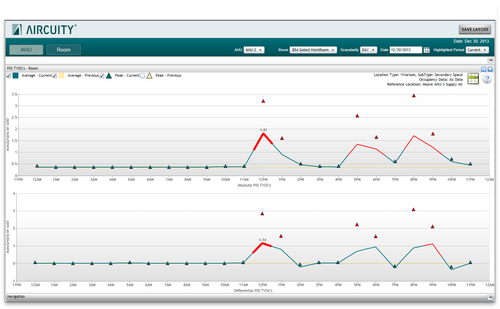 Color coding highlights areas or time periods where the parameter is outside the desired thresholds, while user configurable filters allow spaces to be grouped by type for comparative purposes.

These powerful analytics allow users to customize the information displayed based on what they are interested in at that moment, and quickly change views to provide different perspectives to help understand IEQ issues or events.