Employee Feature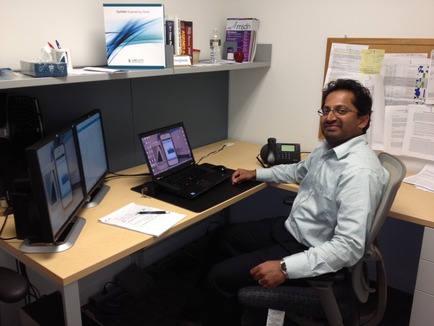 Reji Varghese
Senior Software Engineer

Reji lives and breathes data at Aircuity. His goal is to develop methods to quickly and intelligently transform energy data into meaningful information to help customers understand what is going on in their space so they can reach their energy goals.
Education: Computer Science and Engineering, Manipal University, India
Years in the Field: 20
Years with Aircuity: 9
Members of the Engineering Team: 9
Your Role at Aircuity: As a software engineer I would say it's all about customers' DATA. We collect it, process it into meaningful information and present it as a user interface using reports, graphs, charts, exports, etc., allowing the user to further filter and mine the data intelligently. In the end the customer is able to point out quickly where their energy is being wasted in their building.
I am heavily involved in designing our SqlServer Databases, which hosts customer meta data as well as intelligently calculated and processed data. In addition, I am involved in the management of our data servers and databases to ensure Advisor Services is always up and running and operating smoothly for our customers.
Favorite Thing about Aircuity and Your Job: I enjoy the teamwork mentality at Aircuity and the talented individuals that I work with. Aircuity's goal is to produce innovative energy efficiency solutions and the nine of us in the engineering group work closely together to ensure we deliver on that. We work together constantly to design new software, code, test and do quality control.
Any last words? Yes! We in the engineering group are always busy working on new applications and enhancements. I am very excited about some that I am working on for Advisor as we expand our offering and the methods of accessing the data.
Tradeline College & University Facilities Conference
Join Aircuity at Tradeline's College & University Facilities Conference in Boston this October. Get up to speed on innovative new initiatives for facilities and academic science and engineering programs. While you are there make sure you attend Gordon Sharp's session entitled, Multiple Technology Combinations for Net Zero Energy Status and Reduced Lab Operating Costs.

When: October 28-29, 2013
Where: The Westin Copley Place, Boston, MA
Register Today
Project Highlight
California Community College Network

Energy Efficiency projects have become a wide spread initiative among higher education institutions. The California Community College Network and Aircuity teamed together to implement the OptiNet system across different California Community College campuses to lower CO2 emissions and energy costs. California utility companies are backing this effort with incentive payments for proven energy conservation projects. Together, this joint effort has brought $547,000 in energy incentives to LA Valley College, Delta College and Santa Monica College.
California Community College Network Success Brief
In the
SPOTLIGHT
Aircuity Helps Drive Continued Energy Savings at the University of New Hampshire
Aircuity's solutions have helped to make the Kingsbury Labs at the University of New Hampshire the most efficient labs on campus. Aircuity's centralized demand control ventilation system, OptiNet®, was originally installed in Kingsbury Labs in 2010. The multiplexed centralized sensing system continuously monitors critical indoor parameters, lowering the ventilation when the air is clean and increasing fresh air when an issue has been detected. This continuous monitoring allowed for a dramatic reduction in the baseline of ventilation and led to a payback period of just 18 months! Since recouping the cost of the system, the ongoing savings have been fueling the ability to implement additional energy projects on campus.
Aircuity Advisor™
Check Out What's New!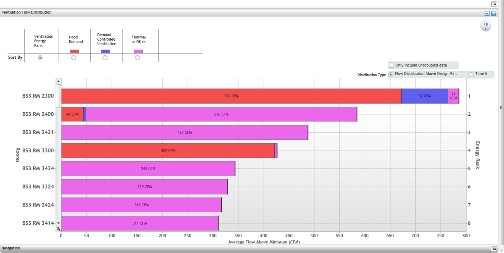 The software engineers at Aircuity are continually working around the clock to make Advisor even better for users. Check out the recently released ventilation flow analytic below!
Ventilation Flow Distribution:
The ventilation flow distribution answers the question "what is preventing me from operating at my intended minimum supply flow?". Key ventilation drivers are evaluated and ranked based on their contribution to the room ventilation rate:
Fume hood flow in excess of minimum

Thermal override for cooling or heating

DCV override for IEQ control
Users may sort their information to rank each space greatest to least relative to others based on energy usage, hood demand, thermal demand, DCV demand or those spaces at their design minimum. Meanwhile optional controls allow users to evaluate each space under a variety of conditions.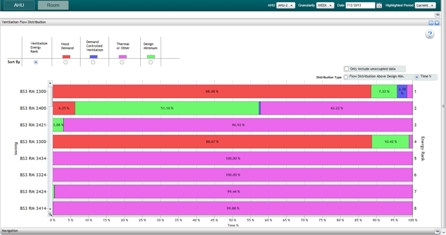 (The above image shows ventilation drivers by the percentage of time each ventilation component is driving each space)
For more information about Aircuity Advisor Services please click here.
Chicago Moves to Require Building Owners to Disclose Energy Use
EPA Kicks Off Fourth Annual Energy Star Nat'l Building Competition