In the SPOTLIGHT

Airside Programs
"It's just smart business"
The benefits of an airside program reach far beyond the energy savings themselves. In fact they end up delivering value to many of our client's core business objectives making airside efficiency often the single most impactful program they implement! We now have many best practice examples to share, simply by listening to our customers tout their successes.

Program Benefits & Results:
1- Significant Energy Savings
2- Addressed Deferred Maintenance
3- Reduced Operations Maintenance costs
4- Information Layer for Initial & Continuous Commissioning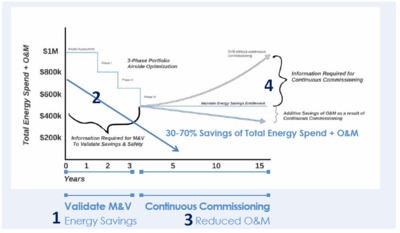 Solution Offerings
An airside program can be implemented in two ways: Capital Budget Programs OR through an Energy Services Agreement. A Capital Budget Program is a nice fit for institutions with good number of internal resources and the available funds in their capital project budget to fund an airside program. These clients typically have revolving funds already established. The drawback of this approach is typically a longer implementation which results in a lower NPV. An Energy Services Agreement (ESA) is a great alternative for those institutions that desire greater immediate energy savings, but prefer to implement the program from their utilities & Op Ex budgets. The ESA option requires no capital outlay, reduces risk, speeds up implementation and delivers a higher NPV (with an infinite rate of return)!

Some of the most well-known university and healthcare facilities have already implemented an airside efficiency program and relayed, "it's just smart business, where else can we get greater than 50% return on our money today?"

To discuss the type of program that can deliver benefits to your campus,
email us
and we can put you in touch with your local Aircuity contact.
---
Tradeline: Facility Strategies for Animal Research and Biocontainment
October 5 - 7
Boston, MA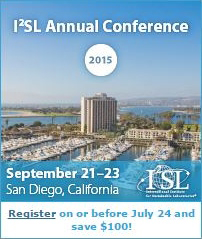 Case Study:
Airside Efficiency in Large Lab Building

Project to Save $2.5M/year;
Qualified for Con Ed Rebate Covering 1/2 Cost

A large research and treatment hospital recently embarked on an airside efficiency project in one of their existing research lab buildings. Implementing the project is expected to help the institution achieve their core objectives by saving millions of dollars in energy costs, reducing deferred maintenance and creating a healthier work environment. Already a great ROI, the project qualified for a large rebate from the local utility making the stellar project an even better investment for the customer.

This most recent airside efficiency project is part of a larger airside program taking place on the hospital and research institution's campus. The current project is taking place in a large, 10 year old research facility that houses lab, vivarium, and office spaces and includes Aircuity and a total BMS upgrade. The customer is using the energy savings from Aircuity and rebates to pay for a BMS upgrade that is needed for critical building operations.

When work is completed the project is expected to save over 11.6 million kWh, reduce demand by 2,007 kW, and save $2.5 million annually! Further, the project future-proofs the lab building by installing a completely new BMS and fixing critical deferred maintenance issues. An information layer that allows the customer to maintain and improve upon their energy savings and operations for years to come.

An already wonderful ROI was further enhanced when the customer and project team received a commitment letter of over $4 million from local utility Con Ed to pay for over 50% of the project, leading to an NPV of $12 million and an IRR of 85 percent. By leveraging rebate dollars, the customer was able to upgrade core building infrastructure with a total payback of less than 2 years.
Airside programs notoriously achieve high IRRs and results and easily replicable across a campus. For information on what an airside program might look like for you send us an

email

and we'd be happy to discuss. You can also check out information on your utility's incentives by reviewing the

DSIRE database

.
---
New Customer Welcome
We'd like to extend a warm welcome to those organizations that have recently become BRAND NEW Aircuity customers!
Kaiser Permanente

National Research Council of Canada

NYU Medical Center

University of Minnesota - Twin Cities

Google- Chicago Office

Quinsigamond Community College

Bristol Community College

Howard County School District

Florence County

ETS

Alexion Pharmaceuticals

Truman State University

City of Kansas

Weizmann Institute

Guilford Technical Community College

Tulsa Community College

Point Loma Nazarene University