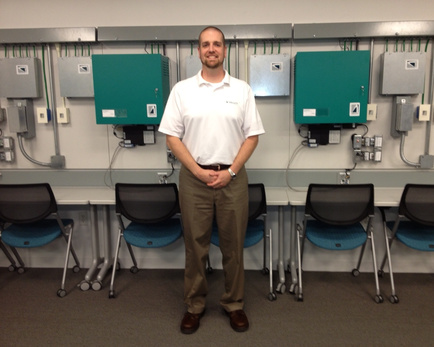 Nathan Palmer
Field Service Manager

Nathan knows Aircuity solutions like the back of his hand... and he and the Field Services Group make sure all channel partner technicians do as well. We sat down with Aircuity's Field Service Manager to learn more about how he and his team keep an army of technicians prepared to exchange sensors and perform routine maintenance for the rapidly growing installed base of Aircuity systems around the world.
Education: Associates, Electronics Engineering Technology
Years in the Field: 15
Years with Aircuity: 13
Members of the Your Field Services Group: 2
Your Role at Aircuity: My group and I provide hands-on field support to our network of channel partners and some owners. Our primary goal is to ensure service technicians are trained properly to both service and start-up installations. By making sure the network of technicians are knowledgeable about Aircuity, our group helps to ensure projects perform as designed and customers are receiving their maximum energy savings.
How Do You Accomplish This? We deliver a 4 1/2 day intensive service and start-up training class for all channel partner technicians. Once they have successfully completed the class, someone in our group travels out to the customer job site to help the technicians jointly start-up a job for the first time. It is gratifying to see new technician start up their first job, knowing that they have just started savings the customer significant energy which will continue for years with their ongoing support.
Favorite Thing about Aircuity and Your Job: I am passionate about what I do and I like that Field Services is able to see customer projects first hand when doing a joint start-up with a channel partner technician. I love that I get to be involved with a wide variety of buildings and customers that are all benefiting from Aircuity solutions.
---
Aircuity Events
Tradeline College & University
Science Facilities Conference
Join Aircuity at Tradeline's College & University Science Facilities Conference in Boston this month. Learn about innovative new initiatives for facilities and academic science and engineering programs. While you are there make sure you attend Gordon Sharp's session, Multiple Technology Combinations for Net Zero Energy Status and Reduced Lab Operating Costs.
When: October 28-29, 2013
Where: The Westin Copley Place, Boston, MA

MAPPA/MiAPPA Conference
Aircuity will be exhibiting at the MAPPA/MiAPPA Conference. This conference brings together Midwestern colleagues from public and private universities, community colleges, K- 12 schools, hospitals and museums for an opportunity to learn, network, share and discover. As part of your visit, stop by the Aircuity booth to learn how Aircuity's smart solutions can save your institution energy while proving a better IEQ.
When: October 27-31, 2013
Where: The Amway Grand, Grand Rapids, MI

Tradeline Animal Research
Facilities Conference
Attend Tradeline's Animal Research Facilities Conference in Washington, DC and learn the details on how leading peer institutions have made a quantum leap forward in cost reduction, operational efficiency, research flexibility, health and safety, and compliance with new technology applications, process improvements, and facility modernizations and upgrades. Be sure not to miss Gordon Sharp's session, Reduce Energy Use, Carbon Footprint and Operating Cost While Maintaining Compliance.
When: November 18-19, 2013
Where: JW Marriott, Washington, DC
In the SPOTLIGHT
UMass Medical Selects Aircuity for Lazare Medical Research Building Energy Project
Aircuity has been awarded an energy retrofit contract to provide its laboratory ventilation optimization solution for the Lazare Medical Research Facility on the University of Massachusetts Medical School campus in Worcester, MA. The project is expected to significantly lower the energy usage throughout the facility while maintaining a comfortable and productive workspace by continually monitoring the building's indoor environmental quality. It will involve the installation of Aircuity in the lab areas on all floors of the facility, and is expected to be completed in approximately six months.
---
Aircuity Advisor™
Are your spaces chronically over or under ventilated?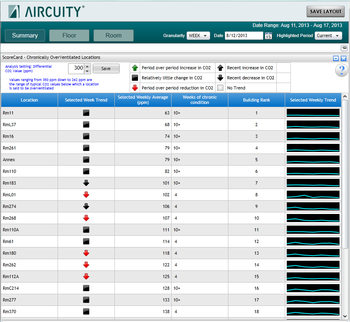 Advisor ScoreCards analyze the CO2 levels in multiple spaces to determine if the spaces are over or under ventilated based on ASHRAE guidelines. Using differential CO2 measurements, these dashblocks allow users to quickly understand the relative degree of over and under ventilation in the monitored spaces and whether it is trending up or down.

The Chronically Over Ventilated Spaces Scorecard ranks the spaces where the CO2 levels are below the user adjustable threshold. As a general rule, well ventilated spaces typically range between 300 ppm to 262 ppm, translating to 30 to 40 CFM/person. Locations with lower CO2 levels are indicative of spaces that are over ventilated and therefore opportunities for additional energy savings!

The Chronically Under Ventilated Spaces Scorecard lists those spaces where the CO2 levels are above the user adjustable threshold. Elevated CO2 levels above the 1000 ppm indicate under ventilated spaces which may be attributed to insufficient ventilation or higher than expected occupancy. These spaces may benefit from a review of ventilation performance and balancing activities.

For more information about Aircuity Advisor Services please click here.
Aircuity's next Owner Training Class is scheduled to take place December 5th and 6th. This program is intended for facilities operations and maintenance technicians with a mechanical aptitude. Students who complete the course will gain the skills to perform basic trouble-shooting and maintenance of the OptiNet solution including sensor exchanges and replacement of critical components. The course will provide participants an overview of the OptiNet system components, the breadth of applications covered by Aircuity solutions, system troubleshooting, the capabilities of Advisor information services and hands-on experience performing the 6-month sensor replacement service. For more information and to sign up please contact Shane Mattson,

smattson@aircuity.
---
Project Highlight
Masdar Institute of Science & Technology
Masdar Institute, a part of the world's largest low carbon city, is the Middle East's first graduate research institution dedicated to alternative energy, environmental technologies, and sustainability. Aircuity is helping to implement centralized demand control ventilation in the university's classrooms, conference rooms, library and labs on campus. As a result of Aircuity's DCV solutions, Masdar Institute saves an estimated 55% annually of the total HVAC energy consumption of the affected lab and non‐lab areas.