Market News
University of Houston's, Biomedical Sciences Center Enhances Energy Efficiency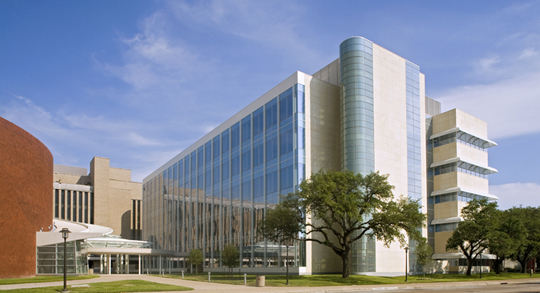 A first‐class research facility, the Health and Biomedical Sciences Center (HBSC) is a key clinical, educational and interdisciplinary research center. The university implemented Aircuity's OptiNet system in the building's office, classroom, ambulatory surgery suite, vivarium and laser center areas of the Biomedical Center.
Aircuity's multiplexed air sensing and measurement system continuously senses and analyzes the building's indoor environment. It provides intelligent inputs to the building management system, and sends signals to adjust the ventilation flow as needed ensuring the room remains a healthy and productive environment for its occupants. Using Aircuity to optimize ventilation rates resulted in a

ROI payback of just 2 years

and created the opportunity to

reduce the first cost of the facility by $500,000

by employing mechanical diversity.
Aircuity Events
Northern New England
(NNE-ERAPPA) Spring Conference
Come visit Aircuity and see the energy savings our Turnkey Energy Services are providing at Dartmouth College!
When: March 21, 2013
Where: Dartmouth College, Hanover NH
Register Today
2013 Laboratory Design Conference
Visit Aircuity at booth # 14
&
Attend the tour of top facilities to see how Aircuity has been implemented into these sustainable laboratories:
- Texas Children's Hospital, Feigin Research Building
- Rice University, Bioscience Research Collaborative
- University of Houston, Health & Biomedical Science Center
When: April 8-10, 2013
Where: JW Marriott, Houston TX
Register Today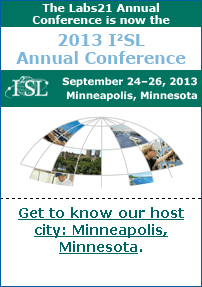 In The SPOTLIGHT
The New IEQ; Energy Efficiency without Sacrificing Performance of Critical Facilities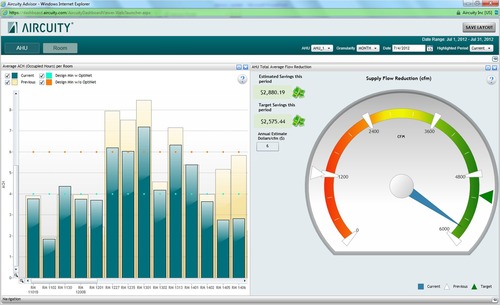 Controlled environments, including laboratories and cleanrooms, consume tremendous amounts of energy, making them highly visible targets for efficiency initiatives. Comfort, safety, and quality control objectives often restrict building owners' and facility managers' ideas about potential energy savings. Standard operating practices and rules of thumb have morphed into pseudo-code requirements. As research begins to question these practices (and even standards), designers and operators grapple with the ultimate challenge: becoming more energy efficient without compromising the performance of critical facilities.
Continue Reading
Advisor Highlights
Work SMARTER and FASTER at Monitoring Building Performance
- Smart Notifications are event driven email alerts. Notifications are sent based on the severity, duration and the frequency of ventilation or IEQ anomalies.

- Dashboards provide valuable information on airside usage over time. Analyzing hundreds of data points creating graphical representation of ventilation or IEQ parameters.
Dashboards allow users to:
- Verify desired ventilation rates are achieved/maintained
- Analyze/identify spaces and areas for energy optimization initiatives
- Receive insight into over/under ventilated spaces
- Obtain information on frequency of event occurrence
- Summary reports provide a proactive approach in maintaining continued energy savings and ensuring the building is operating at it's peak performance.

Summary Reports deliver:
- Information on current vs previous HVAC energy performance
- A record of ventilation and IEQ performance for reporting or documentation
- Insight into HVAC efficiency - Is it improving, declining or staying the same?