Attention Advisor Services Users:
Updated guides are now available for lab/vivarium, commercial office and IEQ monitoring application users!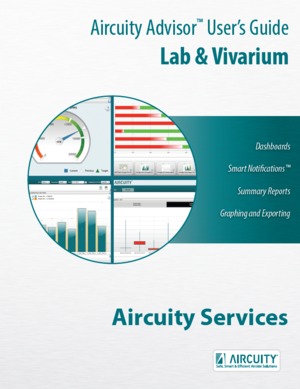 Advisor services provides actionable information
to multiple people within an organization and Aircuity takes pride in supporting users. After Advisor users receive in-depth training through Aircuity's Client Services team, the revised user guides will serve as an additional resource.

The guides are available by application and include sections on each of the four Advisor components along with navigation instructions
.
To obtain your copy contact Client Services via email
or by calling 866.602.0700
.
---
The Brigham Building For the Future

Transforming the Future of Medicine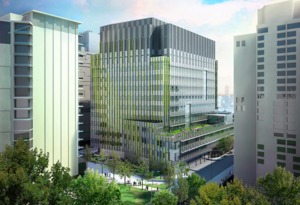 Image courtesy of Brigham & Women's Hospital and nbbj
In 2016, Brigham and Women's Hospital will open the 360,000 square foot Brigham Building for the Future, a facility designed to transform the future of medicine. This cutting edge building will help accelerate breakthroughs in biomedical research that will enhance the hospital's ability to fulfill a vital mission: to provide the most comprehensive and compassionate care to patients.

Advancing patient care is the first priority of the Brigham Building for the Future, bringing together the world's finest clinicians and scientists in the neurosciences, orthopedics, and rheumatology. Uniting caregivers and investigators in one place enhances collaborations, helping to save more lives. With its innovative construction and state-of-the-art research space, the building will foster translational medicine—bringing research discoveries from the laboratory bench to patients—to solve neurologic, orthopedic, and rheumatologic puzzles.

The building will include three clinical floors for integrated outpatient visits, conference space, a floor dedicated to advanced imaging, an infusion suite and eight floors of laboratory space. Through Aircuity's channel partner, Flow Tech Inc., Aircuity will be installed in both lab space along with Siemens control systems and in non-lab areas. Aircuity's solution complements the hospital's priority on green design, construction and maintenance solutions. The energy reduction will help the hospital in attaining LEED Gold certification and enhancing efficiency and sustainability.

Click here for a video on the exciting new building.
In the SPOTLIGHT
Energy Savings & IEQ Opportunities Abound in Hospitals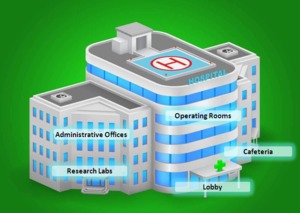 Aircuity's ability to provide deep energy savings while enhancing the indoor environmental quality and delivering smart analytics on such things as humidity and particles makes it an solution for a healthcare facility. Within the hospital there are numerous locations that benefit from an Aircuity installation. These spaces include operating rooms, research lab/vivaria, lobby and administrative offices- just to name a few.
In critical areas of the hospital, such as operating rooms and laboratories, Aircuity optimizes the most intensive component of energy use- ventilation. Aircuity's Clean Standby application saves energy by reducing the ventilation in operating rooms when they are not in use, while actively monitoring TVOCs, particles and dewpoint to ensure that the OR can be utilized immediately if necessary. Laboratories and vivaria, which also use high rates of 100% outside air, benefit from optimized ventilation rates and generally see an energy reduction between 40 - 60%!

Non-critical spaces such as waiting areas, offices and cafeterias, where populations vary, are also excellent opportunities to save energy in a hospital. Aircuity can reduce energy use by 10 - 30% in these areas and generally provide a payback of 3 - 5 years.

Aircuity Advisor™ provides enhanced reporting for internal use and for regulatory agencies. Readings can be trended to show how a particular issue was handled to justify temperature and humidity readings if a regulatory body had any questions during their visit. Facility engineers extract the data and present graphical reports during their monthly meeting with infectious control.
Implementing Aircuity in a hospital significantly reduces energy use, provides a healthier environment for patients and occupants and enables detailed tracking and documentation along with smart analytics. For information on current customers and to review Aircuity's application healthcare resources

click here.
---
New Customer Welcome
We'd like to extend a warm welcome to those organizations that have recently become BRAND NEW Aircuity customers!
| | |
| --- | --- |
| Customer | Location |
| SUNY - Oneonta | Oneonta, NY |
| Hillsborough Community College | Tampa, FL |
| University of Maryland | College Park, MD |
| Liberty University | Lynchburg, VA |
| Loyola University - Chicago | Chicago, IL |
| University of Texas - Dallas | Dallas, TX |
| Creighton University | Omaha, NE |
| Pittsburg State University | Pittsburg, PA |
| University of Michigan - Flint | Flint, MI |
| St. Mary's University | Alberta, Canada |
| Aberdeen University | Aberdeen, Scotland |
| University of Basque Country | Leioa, Spain |
| Allen Institute for Brain Science | Seattle, WA |
| Apple | Cupertino, CA |
| Bradesco | São Paulo, Brazil |
| Torre Rioja | Madrid, Spain |
| Central City Community Schools | Central City, IA |
| Bell County School District | Pineville, KY |
| Cambridge Public School District | Cambridge, MA |
| Dartmouth-Hitchcock Medical Center | Hanover, NH |