Aircuity in the News

Airside Efficiency is Making a Splash...and Helping Customers to Save Energy!




Oklahoma State University:
Partnership with Johnson Controls Will Mean More Energy Savings at OSU
Washburn University:
Air Quality on Campus
Michigan State University:
MSU Zeroing in on Energy-Reduction Goals
Business Energy Magazine:
A New Era of Energy Efficiency
University of California Irvine

:
---
Aircuity Events

Summer is almost officially here and our 2014 conference season is in full swing! We invite you to join us at one of the events below to learn more about the opportunities for deep energy savings through airside efficiency.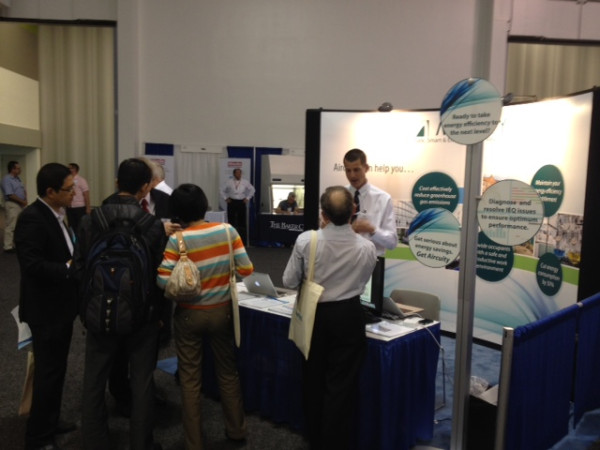 California Higher Ed Sustainability Conference
June 16 - 20
San Diego, CA
Booth #35

Sustainable Labs Canada
June 18 - 19
Toronto, Canada
Booth #8

SUNY/PPAA and NYAPPA Summer Conference
July 15 - 17
Binghamton, NY
Booth #26

Appalachian Energy Summit
July 28 - 30
Boone, NC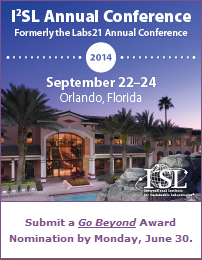 In the SPOTLIGHT
Medical Research Council: Greening of the Hutch
The MRC Cancer Unit are always looking for ways to leverage the best value from their budgets in order to maximize support for their scientists' research while working to be a more sustainable organization. A blog posting by the Cancer Unit describes how Aircuity allowed them to do both!
Eighteen months ago the Hutchison/MRC Research Centre began a green crusade on all fronts to lower its energy consumption, its environmental impact, and hopefully its utility bills.
Driven by the core management team, the Research Centre has always been good at recycling everything from paper and cardboard, printer cartridges, aluminum foil, cans, glass, and plastic cups, to ice packs, pipette tip racks, batteries, and polystyrene (quite uniquely in a laboratory environment). We have signs asking folk to switch off lights and equipment, we use PIR sensors on lighting, have hand driers and water efficient taps in washrooms, all our core printers default to black and white and duplex printing, we have installed economical 'point of use' purified water systems, we consider energy efficiency and whole life costs when purchasing equipment, and we provide guidance to users on how best to operate heating and ventilation systems. We thought we were doing pretty well!
But with the continual, and alarming, rate of increase in utility costs, coupled to the static (at best) nature of our budgets, we needed to do more. There was a real concern that utility bills could only be met if funds were diverted from the science budgets- not a palatable option for any of us.
So we formed a 'Green Team' made up of volunteers from the scientific staff along with key staff from laboratory management, IT, and senior management. This was a team that had the desire to act, was able to influence, and had authority to implement.

How did the Green Team address the challenges before them? Read on to find out!

---
Aircuity Advisor™
A Day in the Life of a Facility Manager
Last month we explored the ways which Advisor improves the efficiency and effectiveness of EH&S personnel. This month we will take a look at a day in the life of a fictional commercial office building facility manager as he leverages the capabilities of Advisor reports, dashblocks, graphs and proactive notifications!
9:00am- After arriving to work I sat down at my desk to read through my emails. I received my weekly summary report that lets me review building performance by AHU at a glance. This report helps me to understand whether efficiency is improving, declining or staying the same over time. A few areas were highlighted in orange, which indicates that the ventilation is outside of designated parameters. I made a note to research this issue further after lunch.
12:30pm- After meeting with a vendor to bring in a new nighttime office cleaning crew, I received a Smart Notification™, which I consider my "call to action" since I know they are sent out only when there is a pervasive event. It appeared as though humidity levels were high in a space within the building. I visited the space and found that the chilled water valve was leaking, which I quickly addressed.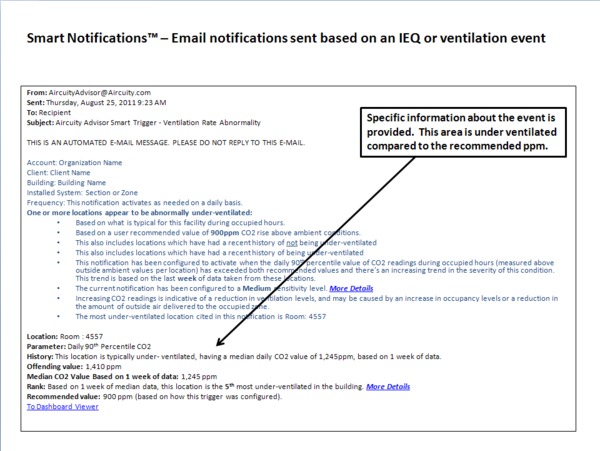 3:00pm- I looked into the under ventilated spaces that were highlighted in orange on the Summary Report that I had received that morning. Upon investigating the issue, I found that an outside air damper was not functioning correctly and stuck shut. I went up to the roof and took care of the problem.
4:00pm- Towards the end of the day I received one more Smart Notification. It told me that there were high levels of TVOCs in an area that had been recently renovated. The off-gassing of the new carpet and furniture created a strong odor which could give occupants a headache, so I temporarily bumped up the ventilation to slightly higher than the current level. The Smart Notification allowed me to become aware and fix the issue before it was reported by office staff, which keeps building tenants happy.