Aircuity Advisor™
Introducing...
Enhanced Summary Reports
After the recent release of our new IEQ analytics, we are excited to share with you the latest addition to the Advisor tool set – enhanced Summary Reports.

Summary Reports provide a snapshot in time of all monitored areas, color coded to quickly and easily identify those spaces that may have IEQ issues that need to be addressed. The newly enhanced Summary Reports allow users to select just the spaces, parameters, and measurements of interest to create custom reports, delivered to you via email.
A few of the subtle, yet powerful features available with this new summary report include:
-The ability to classify spaces using a Location Type and Sub-Type for grouping or filtering purposes.

This feature is leveraged in the enhanced Summary Reports to analyze classes of spaces relative to one another.
For example: Location Type = Laboratory, Sub-Type = Chemistry, Biology and Physics. All Labs may be analyzed for IEQ conditions, or Chem labs analyzed versus Chem labs, and Biology labs versus Biology labs.
-Custom thresholds, by parameter, by Location Type, by Sub-Type, or individual spaces. Thresholds may be configured to provide a visual indication of acceptable, marginal or poor performance allowing users to quickly identify spaces requiring attention. Areas known to have higher levels of containments, which pose no risks to occupants, may have higher thresholds so as not to create false positive results – thereby tailoring the analytics to what is significant for the space.
Summary Reports can analyze each parameter based on all measured spaces, or a particular Location Type or Sub-Type and report on the average, peak, maximum or extreme value recorded over the specified time period.
-The ability to view the report on screen as well as view previously generated reports in the Advisor portal without searching through emails.

As with every new analytic release by Aircuity, our Client Services team will proactivly provide on-line training for all registered users. If you are interested in finding out more about Aircuity Advisor Services and how it can benefit your organization, please contact info@aircuity.com.
---
Aircuity Events
We invite you to join us at one of the events below to learn more about the opportunities for deep energy savings through airside efficiency.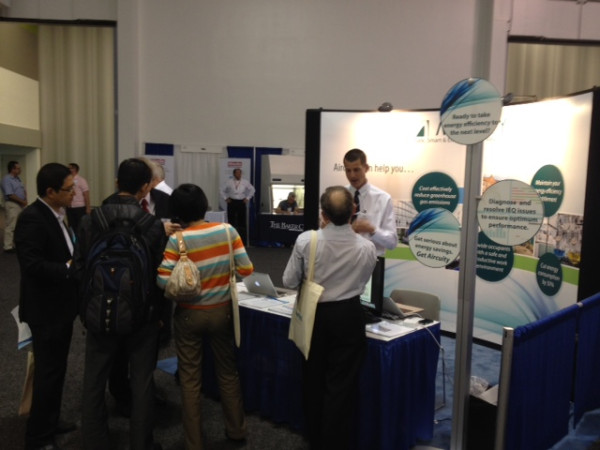 Appalachian Energy Summit
July 28 - 30
Boone, NC

AIRI Annual Meeting
September 7 - 10
Denver, CO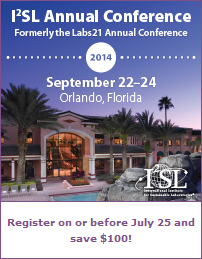 In the SPOTLIGHT
Case Study:
Meade County School District
Aircuity vs Discrete CO2 Sensing for Demand
Control Ventilation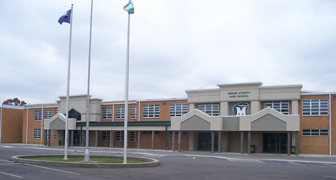 Image courtesy of Meade County School District
The Meade County School District was looking to save energy by implementing demand control ventilation within their schools. The school district was presented with two different ideas about how to achieve CO2 based DCV: using discrete CO2 sensors throughout the building or using Aircuity's centrally located CO2 sensors with remote sampling. The school district had implemented both strategies at two different schools previously and wanted to decide which should be implemented during upcoming renovation to the high school.
A study was conducted at Brandenburg Primary, where discrete CO2 sensors were installed a few years earlier. The results showed a troubling situation. Of the 65 sensors installed at the school, less than 10 of them were operating within a 10% margin of error. Almost 2/3rds of the sensors had errors exceeding 25%, in fact the average error across all sensors was 62%! This would cause the HVAC system to believe there were many more occupants than actually were present and drive the ventilation way up and diminish all potential savings by providing 2.7 times more ventilation than needed.

With these results in hand the district decided to implement Aircuity's centralized sensing solution in the high school and explore potential installations at other schools within the district as well.

Click here for more on this case study and to review the table of sensor test results.
---
Case Study:
Binghamton University
Using Airside Efficiency to Meet Energy Goals and Monitor Lab Conditions
As a member of the state university system, Binghamton University is subject to New York State Executive Order 88, which requires all state facilities to reduce 20% of their energy consumption per square foot by the year 2020. The university is also a signatory of the American College & University Presidents' Climate Commitment has and pledged to reduce greenhouse gas emissions 60% by 2030 and become carbon neutral by 2050.
Recognizing that HVAC typically acounts for 50 - 70% of the total operational cost in lab buildings, the facility planning department determined that one of the most impactful ways to reduce campus energy use in order to meet their goals was to implement conservation methods in their labs.
Through Aircuity's airside solutions the university was able to reduce energy use in thier labs while providing occupants with a high indoor environmental quality.

Based on the group of rooms that are not currently fume
hood driven, the university has achieved a 42% reduction in CFM in approximately one half of the 32 rooms; the remaining rooms are currently undergoing additional analysis.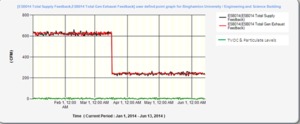 CFMs were reset in mid March 2014. Room ESB014 base: 624 CFM,
10 ACH; post OptiNet targets achieved: 238 CFM, 4 ACH.
The university implemented Aircuity Advisor™
Services
as a way to proactively manage the labs and track their
energy reduction. Advisor has also been instrumental
in investigating the rooms that were flagged as operat
ing above the target CFM and are fume hood driven.
Want to find out more about the project and what Binghamton plans to do next?
Click here!