Employee Feature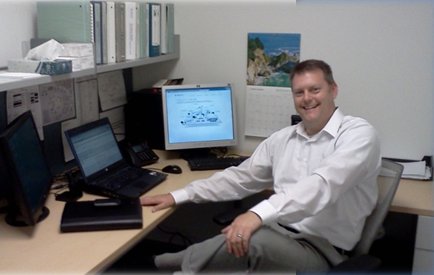 Shane Mattson
Product Support Manager

Shane is in charge of overseeing the Customer Support Team. He and his team provide training, proactively monitor customers' systems and can always be reached with questions.
Education: University of New Hampshire
Years in the Field: 16
Years with Aircuity: 11.5
Members of Your Team: 3 Customer Support Engineers
Assistance Your Team Provides Customers: The Customer Support Team provides a variety of services to Aircuity customers. On a routine basis we remotely review the status of customers' OptiNet systems to ensure proper operation. Monitoring includes data upload reliability and hardware/sensor performance. We provide formal training, such as the Owner Training Program, where customers can come for a facility tour and get trained on how to perform light service on the system. Our group is also responsible for managing all aspects of Advisor for the customer including the implementation of services, training and notifying proactively about new features. Of course we provide customer support as well! We are available for customers who call in for a variety of reasons and work with them to get their concerns or questions resolved.
Favorite Thing about Aircuity and Your Job: The commitment to innovation and Aircuity's overall approach to the energy efficiency and HVAC industry is what keeps things new and fresh for me every day...even after being with the company for almost 12 years now. Aircuity's technology has almost limitless possibilities and it is exciting to support a solution set like that. From day one Aircuity has placed a strong emphasis on building successful relationships with its customers. Our customers' success is our success and our ongoing initiative is to help drive that.
When is your team available: 8am - 6pm EST with off-hour support available from the on-call support engineer
Ways to reach customer support: 866-602-0700 option 3 or customersupport@aircuity.com
Additional Information: Our next Owner Training class is coming up on October 10 - 11th. There are still seats available, so if customers are interested, please contact me (smattson@aircuity.com) for more information and the registration form.
Pacific Coast Association of Physical
Plant Administrators Conference
Join Aircuity in San Diego for PCAPPA's annual meeting and learn how we have worked with many physical plant administrators to provide universities with significant energy savings and insight into building performance through Advisor Services.
When
: September 14-18, 2013
Where: San Diego Marriott Marquis & Marina
Register Today
Project Highlight
The Crocker Art Museum

Public assembly buildings of all kinds can be challenging environments when it comes to providing appropriate environmental control. Museums bring extra challenges due to the need for proper ventilation and indoor air quality for preservation of priceless artifacts in their collection. The Crocker Art Museum in Sacramento, California is using technology from Aircuity to manage the quality of the environment within the facility.
The Crocker Art Museum Success Brief
In the
SPOTLIGHT
Aircuity Partners with Appalachian State University on Energy Efficiency Projects
Appalachian State University will be implementing Aircuity's energy efficiency solutions in three science facilities on the Boone, N.C., campus. Aircuity and channel partner Hoffman Building Technologies have been subcontracted through Pepco Energy Services for the project, which is the second contract awarded to the firm. Aircuity's centralized demand based control solutions will be installed in the Chemistry, Astronomy and Physics (CAP) Building and both the north and south wings of the Rankin Science Hall. In the CAP Building and the south wing of the Rankin Science Hall, Aircuity solutions will be implemented in both lab and non-lab spaces and in the north wing of the Rankin Science Hall Aircuity will be installed in both labs and a small animal vivarium.Energy savings in both lab and non-lab areas are expected to exceed 1 million kWh of electricity!
Aircuity Advisor™
Check Out What's New!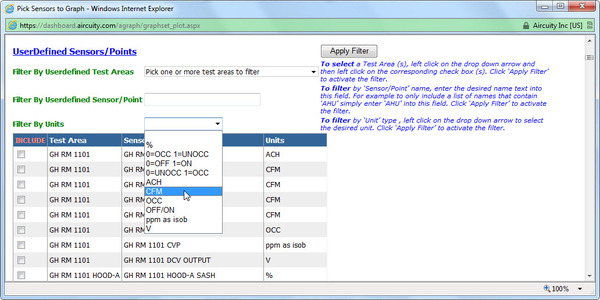 The software engineers at Aircuity are continually working around the clock to make Advisor even better for users. Here is one of the recently released enhancements:
Graphing & Exporting Tool:
These filters allow you to quickly streamline what could be an extremely long list of user defined points. The function can be applied to both the graphing and exporting of data. There are three filter options that may be used independently, or in combination:
Filter by Units: This filter is the most commonly used. It selects all the Sensors/Points with the specified units of measure to be included in your Graph or Export set. You can choose one unit type to filter on; therefore using this in conjunction with the Filter by User Defined Sensor/Point can be very powerful in streamlining your point list.
Filter by User Defined Sensor/Point

:

This filter all

ow

s

you to enter any text string that appears in the Sensor/Point column and select just the points that include that text string. You can enter a partial text string to select matching Sensor/Points, filters are not case sensitive.
Filter by User Defined Test Areas:

Filtering by test area

allows you to choose all or a subset of the test areas previously selected. If you selected all available test areas on the previous selection page because you wish to capture data for all the "Standard Sensors", but not all the User Defined Sensor/Points – this filter allows you to deselect them.