Market Focus


IEQ & Sustainability - A Royal Flush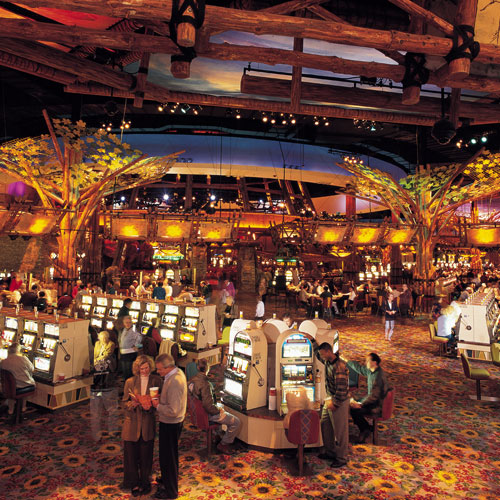 Photo courtesy of Mohegan Sun
Casinos are a unique environment that must be clean and enjoyable for the continually fluctuating population of guests and employees 24/7. Management are also sensitive to environmental concerns and therefore typically look for sustainability measures that can be easily incorporated into the casino environment without affecting the comfort of occupants.
Aircuity solutions are ideal for these spaces as they not only provide an enhanced indoor environmental quality (IEQ) for guests but also save energy. During times when the air in a certain area of the casino is determined to be clean, ventilation rates can be reduced, saving energy and during times when a higher level of contaminants are sensed ventilation is increased. Aircuity's centralized demand control ventilation goes beyond what traditional discrete sensors can provide, as the company's unique approach senses total volatile organic compounds and particulates in addition to CO2.

Aircuity Advisor Services are also a key component of the total value an Aircuity solution can deliver in a casino environment. Data on the environment is continually stored and users have access to a variety of intelligent analytics. This data can help to identify trends in the IEQ and specific issues can be researched for further investigation into the root cause. Advisor's graphing feature also affords users easy access to reports on the environment being provided to guests and employees.

Casinos around the world have been fast discovering the benefits of implementing Aircuity. Some current customers in this market include Mohegan Sun in Connecticut, Harrah's Casino in North Carolina, and the MGM and Wynn Casinos in Macau, China.

To read about the Aircuity installation in Mohegan Sun, please click here.
---
Aircuity Events

From California to Milan, Aircuity is on the move this coming month. We invite you to join us at one of the events below to learn more about the opportunities for deep energy savings through airside efficiency.

Egnaton Conference
May 27 - 28
Milan, Italy
California Higher Ed Sustainability Conference
June 16 - 20
San Diego, CA
Sustainable Labs Canada
June 18 - 19
Toronto, Canada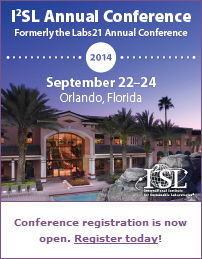 In the SPOTLIGHT
University of California, Irvine Honored by DOE for Surpassing Their Energy Savings Goal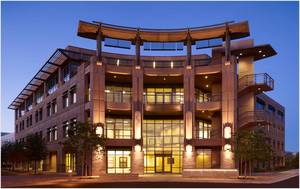 Photo courtesy of University of California, Irvine

The University of California, Irvine was honored earlier this month during the 2014 Better Buildings Summit for their superior progress in reducing energy use on campus. UCI along with several other Better Buildings Partners not only met their goal, but surpassed it! UCI had initially committed to a 20% reduction by 2020 and has now doubled that goal, committing to a 40% reduction by 2020.

The university has become a leader in energy reduction thanks to their internationally recognized smart labs program as well as other high impact, low risk efficiency measures.UC Irvine recognized that their research and science facilities were the major contributors to building energy use on campus- in fact, just seventeen lab buildings accounted for a full two-thirds of all energy consumed on campus! UCI's Smart Labs program is a collection of 12 - 15 different conservation measures with an emphasis on optimizing air change rates through centralized demand control ventilation.
This allowed the university to reduce energy use by 50% across their lab facilities!



The university has also documented their low, risk, high impact energy efficiency projects, publishing a "Home Run" list of projects that every institution should feel confident in implementing.
Click here for the press release issued by the DOE.
---
Aircuity Advisor™
A Day in the Life of EH&S
Ever wonder how Advisor services improves the efficiency and effectiveness of EH&S personnel? Read the following excerpts from our fictional safety professional…inspired by real life customer experiences leveraging the capabilities of Advisor reports, graphs, and proactive notifications!
9:00am- Arrived at my desk and opened up my email. Reviewed several messages that came in overnight including my weekly Advisor Summary Report of ventilation and IEQ in campus labs. With a quick glance at the colored coded report, I identified which spaces were performing outside of my defined guidelines. I emailed this report to my colleague asking him to research the higher priority events coded in orange.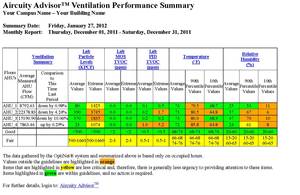 12:00pm- While doing some routine inspections of equipment in one of the lab buildings, I received a Smart Notification to the email account on my phone. The notification informed me of a persistant ventilation issue in the lab down the hall. I know that Smart Notifications filter out normal occurances, so this was an issue that needed my attention. The notification came with a link leading directly to a graph of the incident so I dug a little deeper into what was going on and was able to easily identify the source of the issue. Advisor allowed me to determine where, when and how severe the deviation was from normal ventilation. Turns out it was an improper use of a snorkel so I reviewed the safety protocol with the researcher.
2:00pm- In the afternoon I was working on some standard reporting on the facilities under my responsibility. Using Advisor made the ventilation reporting easy and enabled me to provide a very detailed history on the performance of my spaces. Using the historical data I was able to establish normal contaminant levels versus IEQ events in the labs.
4:00pm- Almost time to go home for the day. Finished up working on a new procedure document that I have been developing. Since Advisor's implementation our department has been able to reduce our reliance on handheld instruments and resolve issues faster. It has allowed me a little more time on other things- like these new procedures I created.