Advisor Highlights
Knowledge on Ventilation Performance is Key to Optimizing Efficiency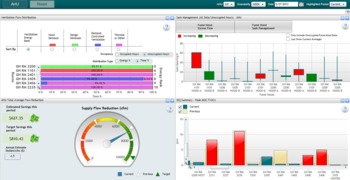 Research facilities have complex HVAC systems that make energy optimization and system performance analysis extremely difficult. Knowledge of the ventilation performance, including fume hood usage is key to optimizing efficiency while maintaining a healthy workspace.
Ensure a safe environment for personnel and protect the integrity of the research being conducted.
Learn More

Aircuity Events
California Higher Ed Sustainability Conference
Join Aircuity in Santa Barbara and learn how our solution has been providing many California universities such as the University of California-Irvine with significant energy savings and insight into building performance through Advisor Services.
When: June 23-27, 2013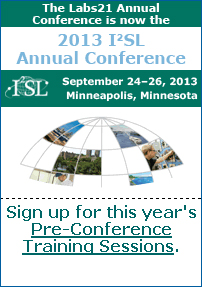 Project Highlight
Iowa Central Community College Reduces Energy Use in the Bioscience and Health Sciences Building by 40-60%
Aircuity's OptiNet® system was installed in four labs on campus, totaling over 5,000 square feet, to significantly reduce energy consumption. Aircuity's implementation is saving the college money year after year, which they are then able to direct else- where within the institution. The safe reduction in air change rates coupled with energy savings and awards, is proof positive that installing Aircuity brings resounding results that can be shared campus-wide.
Industry News
New Technologies Enable Repurposing Academic Buildings into Labs
Report Finds Increasing Energy Efficiency in Buildings by 30% Would Free $275 Billion
In The
SPOTLIGHT
Campus-wide Airside Efficiency Programs:


"This can save my university HOW much??"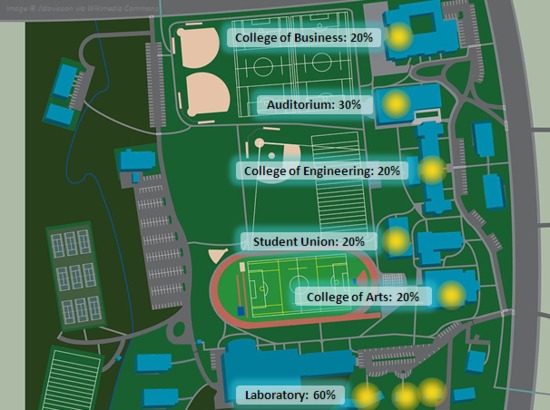 (This mock campus map shows the impact of airside energy reduction efforts across a university campus)
Those who are familiar with Aircuity are likely aware by now of the energy savings that Aircuity solutions typically can provide in lab spaces on a college campus (40-60%). Even one lab installation can have a large impact on the amount of energy used. However, through an airside energy efficiency program, Aircuity can be implemented in a variety of buildings across campus for maximum energy savings.
When designing a personalized campus-wide program for a college or university, we recommend first tackling lab or research buildings that use 100% outside air as these are the buildings that offer the largest potential energy savings. Next non-critical, variable population buildings should be examined such as auditoriums, student unions and classroom buildings. These spaces can realize energy savings of 10% on up to 30%! With HVAC being one of the largest consumers of energy on campus, creating a campus-wide program with Aircuity can help to reduce a campus's carbon footprint, save on utility costs and help to meet university goals such as those set through the ACUPCC!

For more information on how a campus-wide program with Aircuity can benefit you, please visit www.aircuity.com or contact your local Aircuity channel partner.
Market News
Aircuity's Solution to the Weaknesses of Traditional DCV
It is the nature of sensor technology and the way that they are used that limits the success of traditional DCV. Aircuity has created a solution that works by overcoming the weaknesses of sensor technology and traditional DCV.
Sensor Accuracy: The first difficulty in implementing a traditional DCV solution is the sensors themselves. All sensors drift and require re-calibration on a regular basis. Aircuity addresses this issue by managing the process and providing freshly calibrated sensors for the life of the installation.

Lifecycle Costs:
To maintain the accuracy of a traditional DCV system with discrete sensors labor costs must be added to calibrate every sensor twice a year (this is according to ASHRAE standards). The life cycle costs of maintaining these distributed sensors leads to diminished energy savings over time, assuming that organizations can find the time/labor to keep on top of this new maintenance requirement. Aircuity's Assurance Services makes certain that your system continues to run safely and effectively over time.

Differential Measurement:
Conventional DCV solutions deploy many discrete sensors throughout a facility, with another sensor placed outside for reference. Unfortunately, these sensors quickly lose their accuracy, and this error is magnified when two inaccurate sensors are compared to one another. Aircuity's approach uses a single sensor to test both indoor CO2 and outside air, providing a true and accurate CO2 differential measurement.