Market News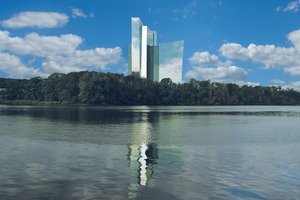 Airside Energy Efficiency for Casinos
Implementing Aircuity's unique demand control ventilation approach for variable occupancy buildings takes DCV to a new level. While traditional DCV technologies would measure the amount of indoor CO2 in an area to determine occupancy and ventilation rates. Aircuity's approach senses CO2, particulates, and total volatile organic compounds (TVOCs) that negatively impact the indoor air quality and adjusts ventilation rates to ensure energy savings and maximum occupant comfort, thus providing energy savings and indoor environmental quality.
Mohegan Sun Case Study
Aircuity Events
Tradeline Animal Research Facilities
Gordon Sharp, Chairman of Aircuity speaks at Tradeline!
Gordon Sharp scopes out operating cost savings and environmental quality advantages that result from real time air monitoring. He also examines capital cost savings that can be realized with scaled-down HVAC infrastructure.
Forum C: reduce cost and improve environmental quality with new HVAC and rack/cabinet combinations
Location: Hyatt Regency Scottsdale, AZ
Date: December 3-4, 2012

Aircuity in the News
Utilites Services Save on Energy Projects

Success Story
The University of California, Irvine (UCI) implemented Aircuity's OptiNet® system and Aircuity Advisor™ Services as part of their Smart Lab design, which has helped the university to significantly reduce their energy consumption. The Sue & Bill Gross Hall: A CIRM Institute not only achieved LEED Platinum certification, it became
the first facility to outperform the California energy efficiency code by 50.4%.
The "Smart Lab" initiative was first launched in 2008 by UC Irvine and uses an integrated design approach. Measures including centralized demand control ventilation, sharply reduced lighting power-density, efficient heat exhaust for equipment and the elimination of acoustic attenuators have been combined and provide the ability to achieve a 50% or higher reduction in laboratory energy use.
In The SPOTLIGHT
Aircuity Offers Building Information Modeling Objects (BIM) for the Design Community
Aircuity has partnered with SmartBIM, a leading company in BIM objects to offer architects and engineers three dimensional objects for facility design and documentation for all design decisions. Aircuity currently offers a library of nineteen BIM objects for the design community to utilize. Documentation on Aircuity's OptiNet system can also be found in SmartBIM's ecoScorecard®, this tool helps designers understand and aggregate data about sustainable design elements while helping to create green documentation during the design phase. These resources are great for architects and engineers when specifying Aircuity in a project.

Advisor Highlights
Helping Environmental Health & Safety Professionals Achieve Safety and Sustainability
EH&S personnel play a critical role in ensuring that building safety protocols are being met. Aircuity Advisor provides a platform to improve the overall effectiveness of EH&S policies and procedures, while still reaching sustainability goals. IEQ events can be readily identified and tracked to establish and reinforce protocols ensuring all occupants are provided a healthy, safe and productive work space.
Data Visualization Dashboards:

Advisor Dashboard analytics make a vast range of data immediately visible across lab facilities and highlight areas that may be operating out of appropriate ranges. Dashboards are easily arranged and saved in a custom view and provide such details as the time of the incident, location of events, severity and duration and frequency of occurrence in graphical format.
Ventilation Summary Reports:
These reports are generated weekly and monthly and emailed to a user defined distribution list. They provide a snap shot of the building ventilation, IEQ and comfort performance. Results are organized in a tabular format and color coded as "within range", fair and poor, based on ASHRAE standards to provide an at-a-glance summary of operating conditions. The color-coding, and a list of "most affected areas" allows EH&S professionals to quickly and easily prioritize their response.
Smart Notifications:
Smart Notifications are used to alert EH&S personnel of IEQ events deserving their high priority attention. They are a timely way to identify deviations from established source control or other lab protocols.
Graphing and Data Exporting:
Advisor's graphing and data exporting component can help identify both the rise and fall of key IEQ parameters over time. Detailing the timing and severity of the event provides safety personnel specific information to better understand lab mishaps