In the SPOTLIGHT

The Jackson Laboratory Case Study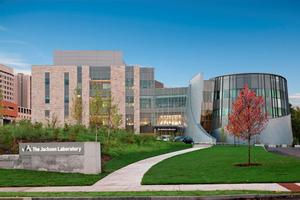 Courtesy of The Jackson Laboratory
In an effort to expand their research impact, Maine-based Jackson Labs proposed The Jackson Laboratory of Genomic Medicine. The
new 16-acre, 183,845 square-foot, state-of-the-art genomic research facility was built on the campus of the University of Connecticut Health Center (UConn Health) in Farmington, Connecticut and opened October 2014.
JAX was acutely aware of the large amount of energy consumed by a research facility. Based on the organization's priority of sustainable operations and focus on energy reduction initiatives, Jackson Labs wanted to ensure the new facility was designed to operate as efficiently as possible from the very beginning. The building also needed to be flexible in order to respond quickly to changes in research trends and accommodate unknown end users. To meet the goals of flexibility, the team of Centerbrook Architects, Tsoi/Kobus & Associates, BVH Integrated Services and BR+A acting as the energy modeler needed to create a modern research space that could accommodate a variety of scenarios while keeping sustainability a priority.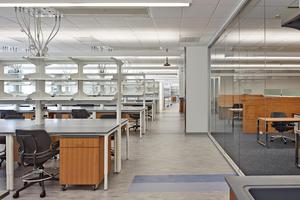 Based on the ongoing energy savings
that Aircuity was generating at Jackson Labs' headquarters, the project engineers from BVH worked with Aircuity's channel partner, Flow Tech Inc., to design the solution into the new genomics facility as well. Including Aircuity in the design plans enabled Jackson Labs to achieve a substantial energy reduction while maintaining a high indoor environmental quality (IEQ). The Jackson Laboratory traditionally follows established guidelines of 12 ACH occupied, 6 ACH unoccupied, however Aircuity allowed for air change rates to be reduced to 4 ACH occupied and 2 ACH unoccupied in the new facility. Compared to the organization's typical baseline, Aircuity is saving Jackson Labs approximately $80,000 annually. When combined with eligible energy conservation utility incentives, the project had a payback of approximately 3 years.
To learn more about Aircuity's involvement in he and the benefits provided at Jackson Lab's new facility, click here.
---
Campus-wide Airside Programs
Your lighting retrofits on campus are complete, so now what? An airside efficiency program is the next big thing!
Lighting efficiency projects are a great first step in taking a bite out of energy use on a college campus! We have seen many customers who have made good progress towards energy goals by starting this way. With many universities having now completed lighting retrofits, they are asking themselves, now what? With 33% of a commercial building's energy consumption coming from HVAC, an airside efficiency program is the ideal next step.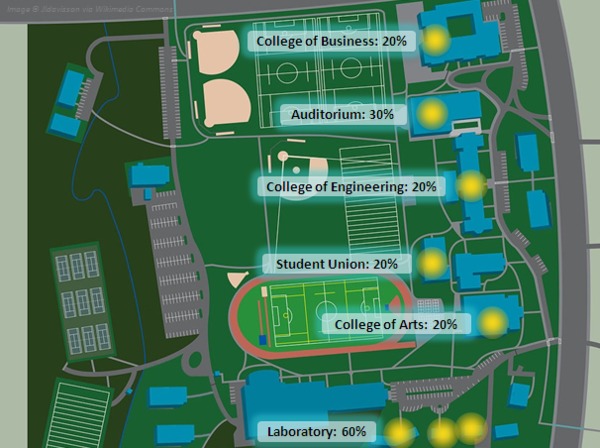 (This mock campus map shows the impact of an airside efficiency program across campus)
Those who are familiar with Aircuity are likely aware by now of the energy savings that Aircuity solutions typically can provide in lab spaces on a college campus (40-60%). Even one lab installation can have a large impact on the amount of energy used. However, through an airside energy efficiency program, Aircuity can be implemented in a variety of buildings across campus for maximum energy savings.
When designing a campus-wide program for a college or university, we recommend first tackling lab or research buildings that use 100% outside air as these are the buildings that offer the largest potential energy savings. Next non-critical, variable population buildings should be examined such as auditoriums, student unions and classroom buildings. These spaces can realize energy savings of 10% on up to 30%! With HVAC being one of the largest consumers of energy on campus, creating a airside program with Aircuity can help to reduce a campus's carbon footprint, save on utility costs and help to meet university goals such as those set through the ACUPCC!
If you would like to find out more about the impact an airside efficiency program can make on your campus please
contact
an Aircuity representative.
---